Good Saturday morning.   Before I start my post let me remind you of the 50% to 70% off CLEARANCE Sale at Ellen Hutson and the 10% off Sale at Stamp-n-Storage.  And if you didn't see my New Year's Day blog candy post then you may want to check it out for a chance to win a lovely Sizzix die collection. The details are here.
My project today was made for the Splitcoaststampers Inspiration Challenge and the inspiration site for the challenge is The Wildlands at Etsy.  This site is full of wonderful watercolor inspiration and I decided to give a city skyline a try.  Thus I mention" experiment" in the title of my post.  LOL!  There were several different city skyline projects that inspired me and I especially loved the color combination of the Nashville Skyline piece.  I pulled out the Impression Obsession City Landscape Layers to use to create my mask.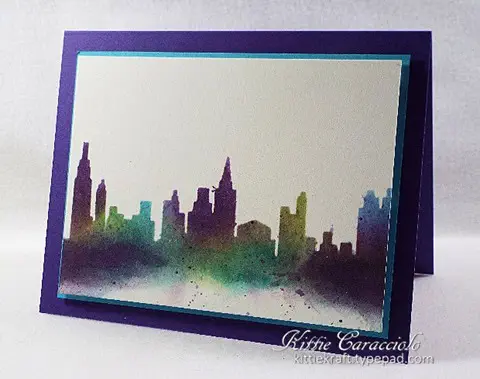 I attached a piece of two inch  removable labeling tape to a piece of scrap cardstock.  Attaching the tape to the cardstock allows for cutting with the die.  I cut the landscape layer out and carefully peeled the tape away from the cardstock.  I used the negative landscape layer and attached it to the piece of watercolor paper.  I cut a second piece of tape and covered the remaining portion of the sky to complete the mask. I secured all the little die cut sections of the negative tape so no water or ink could slip under and spread into the sky area.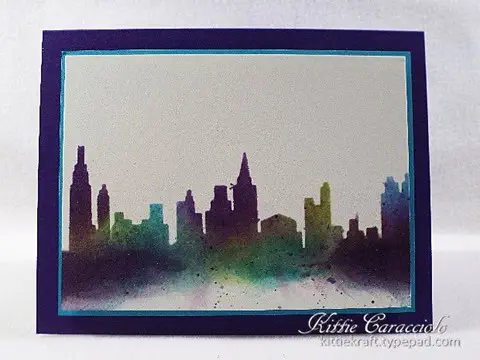 The inspiration site artist uses watercolor techniques to create her works of art but I sort of cheated.  I used my Color Box Stylus and foam tips and sponged in the three different colors of distress ink-dusty concord, broken china and peeled paint.  Once I was satisfied with my ink coverage I lightly misted it with water to spread the ink and brighten the colors. Then I dried the ink and water with my heat gun.  I used a large brush to splatter a mixture of dark purple reinker and water to add some texture.  I was afraid to spatter too much as the ink sort of blobbed in a few places.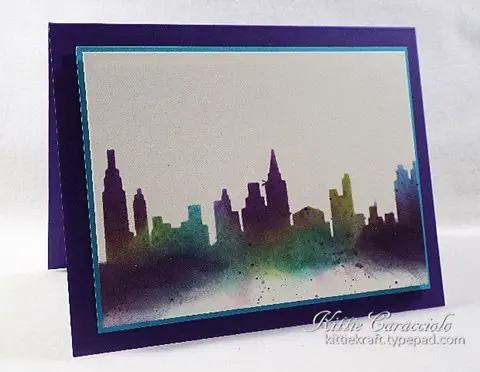 I attached the landscape layer to the teal cardstock with strips of mounting tape and then attached both layers to the card base with more mounting tape. My one regret with this project is that I wish I had set the mask higher up in the sky area so the city scene would be larger and the sky area smaller.  I will most likely add a sentiment to fit whatever occasion I use the card for.  Although this kind of card is definitely out of my wheelhouse I am pleased with how it turned out.  I had to laugh as I was feeling kind of proud of myself for creating a totally clean and simple card with no die cuts and then it dawned on me that I used a die to create my city skyline.  LOL!
Thanks for stopping by and I hope you are enjoying your Saturday.  Don't forget to check out my blog candy offering for a chance to win some Sizzix dies.
Card size:  5.50" x 4.25"