Good Monday morning.  As I browsed through the CLEARANCE Sale at Ellen Hutson yesterday morning I saw the Marianne Designs Oval Frame on sale for 50% off.  I really like the frame and thought I would use it along with the Marianne Designs Petra's Large Ovals to create a double layered decorative frame. I knew I wanted to put a flower inside the frame so I pulled out both of Susan's Hydrangea and Hydrangea 2 sets and combined the small and large petals from both sets to create my flower.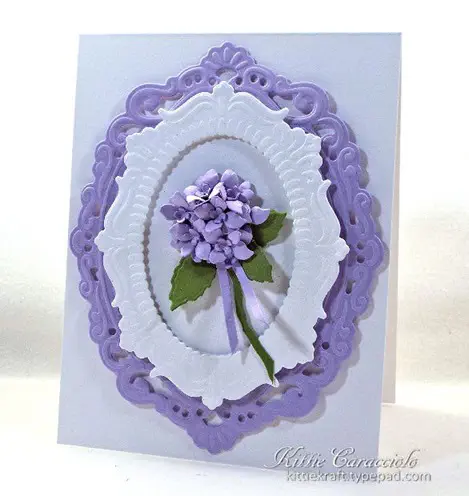 I cut the larger rectangle layer and attached it to the card base with mounting tape.  I applied mounting tape to the back of the frame and attached a piece of white cardstock to the back.  I applied ATG adhesive to the back of the frame section and attached it to the purple layer.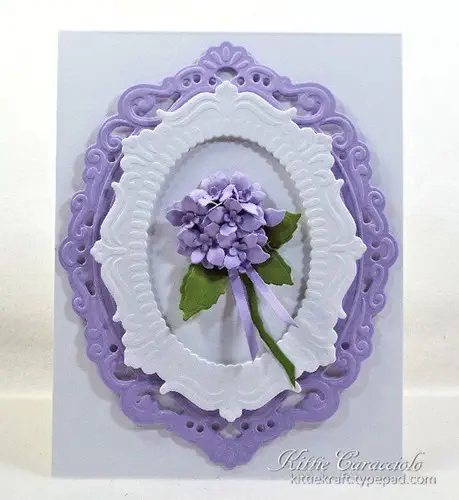 I cut the leaves and base from the small hydrangea set to use as the base for my flower and cut petals from both sets.  I hand cut a tiny green circle about half the size of the flower base to use as a platform  to add height in the center for assembling the flower and attached it with a piece of mounting tape.  Check out my Hydrangea tutorial if you would like to see photos of how I add height and roundness to my hydrangea.  The tutorial shows the use of several layers of platforms but I only used one on my project today.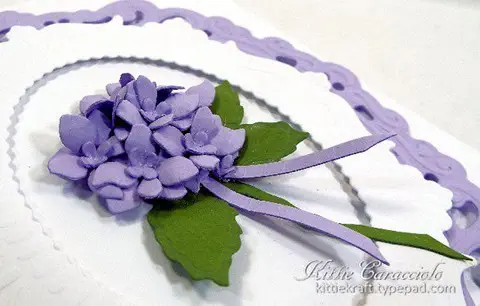 I formed both the large and small petals using my stylus and molding pad started assembling the flower by placing the large blossoms around the outer lower base using glossy accents.  I worked my around the lower base and then added petals in the center.  When I completed adding the large petals I attached the tiny petals in the centers of all the large and attached with glossy accents.  I liked the look of both size petals together.  I attached the flower and stem to the card base with glossy accents and then tucked the formed leaves in under the flower and attached with glossy accents.  I added two thin cardstock strips coming out from under the flower to look like ribbon streamers.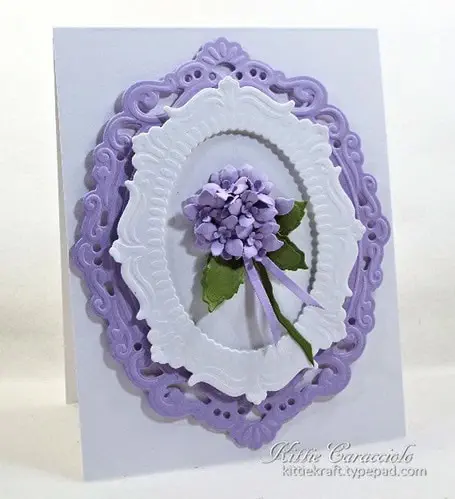 Thanks for coming by today and I hope you have a great week.
Card size:  5.50" x 4.25"