Good Saturday morning.  I can't quite seem to stop using my favorite color combination of red, green and white.  I made lots and lots of holiday cards with these colors but I thought I would create a pretty framed floral spray project using my Impression Obsession Hollyhocks stems paired with the Foliage stems and framed using the All-in-One Frames Rectangles 2.  I love to create interest and dimension using frames to highlight the main focal point and still allowing the white card base to show through as contrast for all that red and green.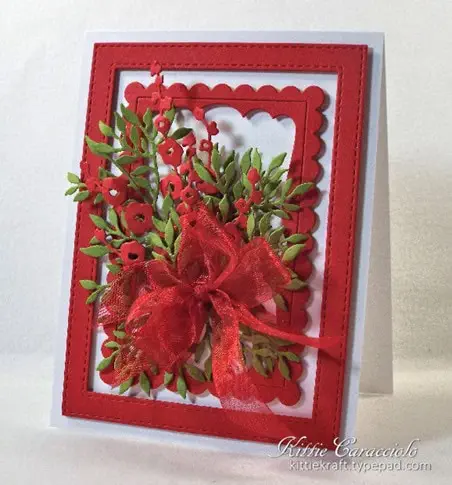 I cut the frames, attached the two smaller ones together using double stick tape and then mounted them to the card base with strips of mounting tape.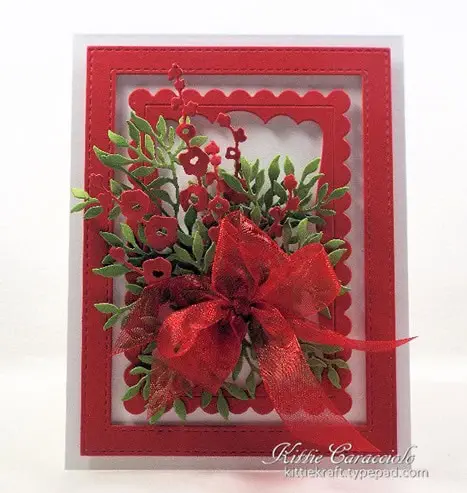 I cut several sections of the foliage and lightly formed the stems and leaves using my stylus and molding pad. I created a foliage base for my flowers by attaching several of the stems to the card base with glossy accents.  I cut the hollyhocks and tucked them into the foliage and attached with glossy accents.  I tied a red multi loop bow  and attached to the bottom of the floral spray with glue dots.  I attached a few more foliage stems with glossy accents to surround the bow.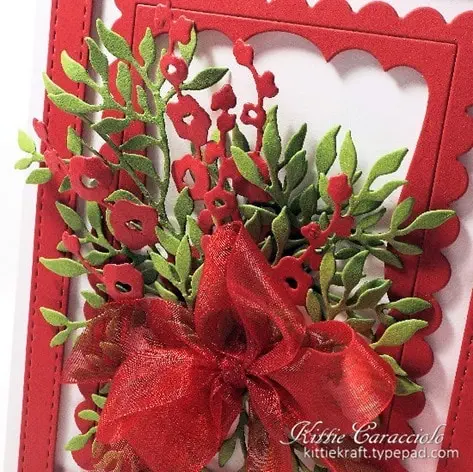 Here's a closer view of the flowers and foliage.  If you would like to see how I made my bow you can check out my ribbon tying video tutorials. Check out my step by step picture tutorial if you would like see how I create my floral sprays.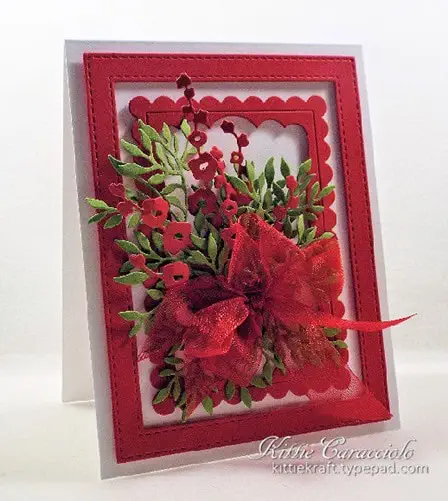 Thanks for stopping by today and I hope you have a wonderful weekend.  I have to admit I was really looking forward to having two days off after a full five day work week.  I got a little spoiled being off so many days during the holidays. 
Card size:  5.50" x 4.25"