Good Thursday morning and welcome to the Impression Obsession"Splashes of Color" design team challenge.  My project today was made using the new Strawberry Basket paired with the Butterfly set, Tiny Flowers, Leaves and Stems and Small Grass Border.  I love how the bright red strawberries and green berry caps and grass pop against the white background.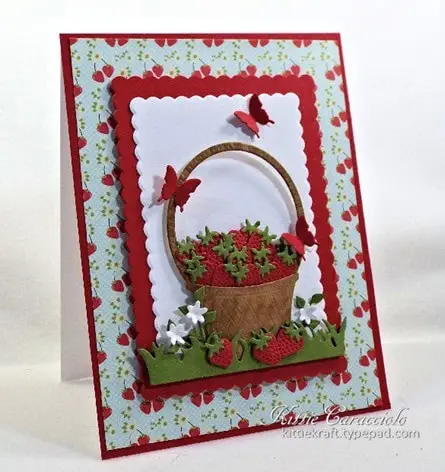 I cut the basket and sponged it with brown ink using a mini applicator.  I cut three sets of berries and caps and attached them together to form the completed berries.  I attached the berries to the back of the basket with glossy accents, starting with the front row and working my way back until the basket was full.  I applied a piece of mounting tape to the back of the basket and attached it to the white scalloped layer.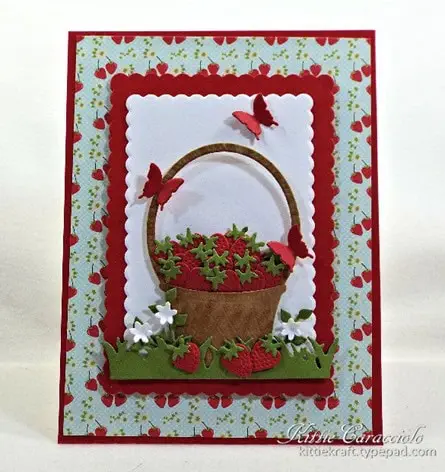 I cut the grass border and trimmed it with my scissors to fit across the front of the scalloped layers and attached it with a thin strip of mounting tape.  Three strawberries were attached with rolled up glue dots in the grass along the bottom of the basket.  I formed three tiny flowers using my stylus and molding pad, attached them to three stems of foliage with glossy accents and tucked them in behind the grass attaching with glossy accents. I added three tiny butterflies to draw the eye up and to fill in some of the white space at the top of the scene.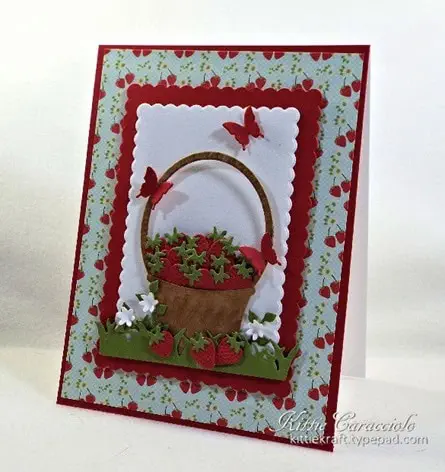 Why don't you come along and play with us. To enter the challenge go to the Impression Obsession Blog (all the details are there!). A random challenge card will be selected to showcase on the IO blog and you can enter to win a $25 gift certificate to IO just by playing! I hope you will go check out what the other IO teams members created for the challenge.
Kittie Caracciolo  (that's me)
Thanks for coming by and I hope you have a great day.
Card Size 5.50 X 4.25"