Good Monday morning.  I love the Poppystamps Leafy Frame and thought it would be pretty framing an outdoor nature scene.  I created the scene using the Art Impressions Watercolor Tree Set, Watercolor Foliage Set and Watercolor Flower Set.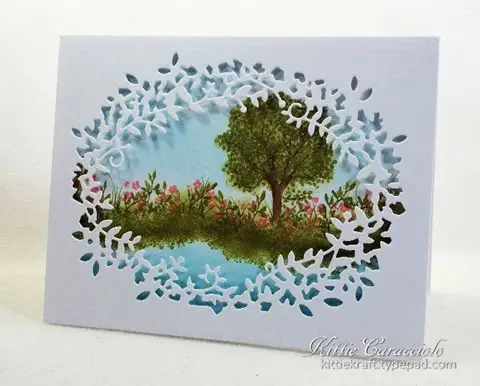 I cut a piece of white cardstock just a little bit smaller than the frame to create my scene on.  I started the scene by sponging in the blue water using an ink blending tool and  used a mini applicator to sponge in the green ground border.  I filled in the ground area with the leaves stamp from the foliage set to add a bit of texture.  I used a brown marker to apply ink to the tree, masked off a portion of the ground area and stamped the tree.  I wanted the tree to appear behind all the foliage and didn't want the bottom of the trunk to show. I used small inked portions of the leaves stamp to apply the leaves to the tree and then lightly sponged green ink over the leaves using a mini applicator to fill in.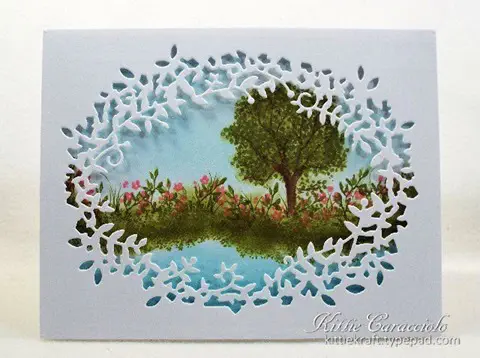 I applied green ink with a marker to the top portion of the small vines from the foliage set and stamped it several times across the ground area. I added the tiny flowers across the vines using a stamp from the flower set.  I finished the scene by heat setting the scene and then applying a light shade of blue ink with ink blending tool to fill in the sky area. I attached the scene layer to the card base with ATG adhesive and then applied thin strips of mounting tape to the back of the frame and attached it to the card base.  I love looking through the leafy branch opening to the pretty and colorful scene.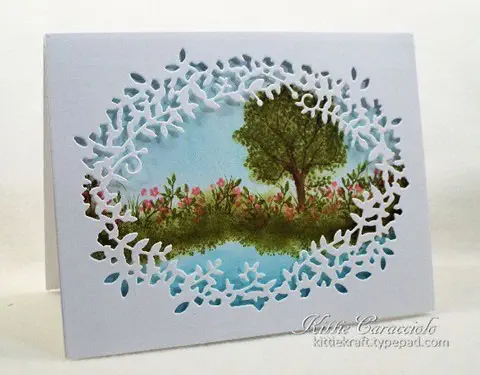 Thanks for stopping by today and I hope you have a great week.
Card size:  5.50" x 4.25"