Good Sunday morning.  My project today was made for the Splitcoaststampers Inspiration Challenge and the inspiration site this week was ~Napkins~ Pinterest Board.  I almost went into inspiration overload as there are so many gorgeous napkins, flowers and table settings.  After browsing the whole site I was most inspired by the beautiful purple floral arrangement and table setting from Style at Home.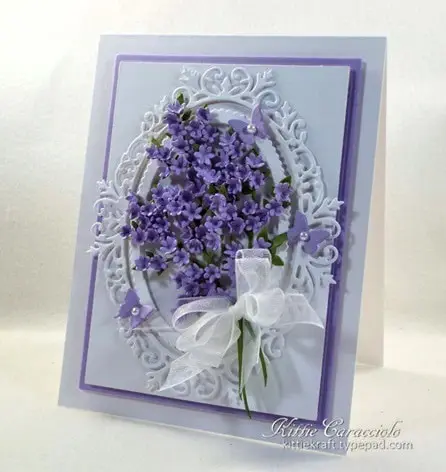 I started by attached the purple and white layers to the card base with thin strips of mounting tape.  Popping the layers up adds an element of dimension and interest.  I attached the larger frame to the card base with rolled up double stick tape and the smaller inner frame with tiny pieces of mounting tape.   I cut the tiny flowers die twice (72 flowers) and formed them with my tiny tipped stylus and molding pad.  I cut two sections of the leafy branch and began assembling the arrangement.  I cut one leafy branch apart and attached the sections to the other branch with glossy accents to create a fuller branch. I began applying tiny dots of glossy accents, four or five at a time and attaching the tiny flowers.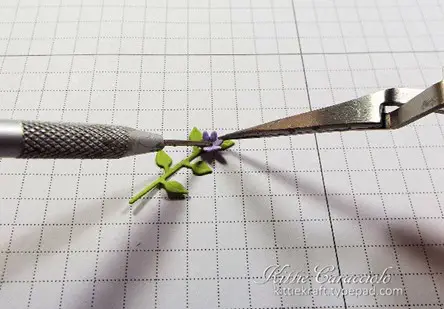 I have used several different methods to pick up and place tiny flowers over the years but find using my tweezers is the most efficient.  I pick up the flower with the tweezers in my right hand and place it on the glue spot and use my paper piercer in my left hand to push down lightly in the center of the flower to secure it in place. I took the picture above this morning to show my process. Now is a also good time to point out how much I love using the fine tip applicator on my mini glossy accents. It allows perfect precision in applying the glue.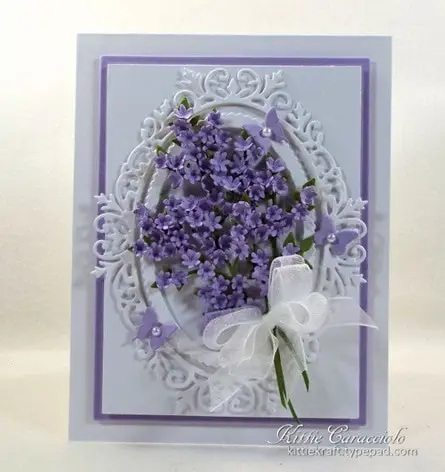 Once I had attached all the flowers I hand cut two extra stems and attached to the branch with glossy accents so it would appear that there are more than one stem of flowers. I applied rolled up glue dots to several key places on the back of the flower stems and gently attached the arrangement to the card base.  I attached a multi loop bow to the base of the arrangement with glue dots.  I finished by attaching three tiny butterflies with pearls.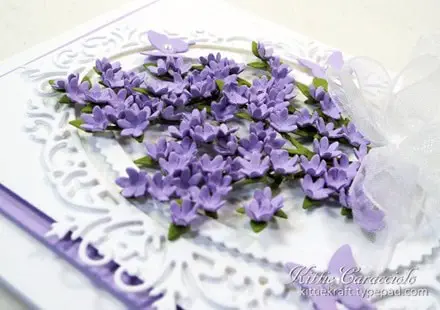 Here's a closer side view of the branches and flowers.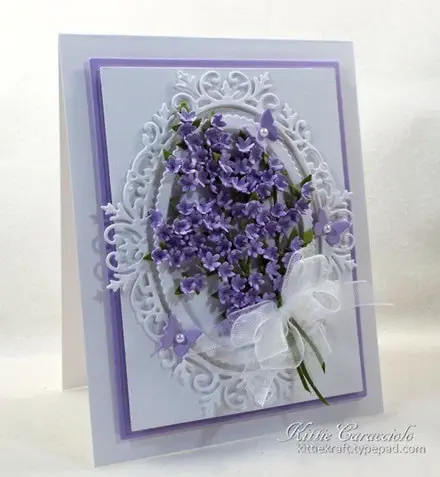 Thanks for coming by today and I hope you have a wonderful Sunday. 
Card size:  5.50" x 4.25"