Good Friday morning.  I have an all white silhouette nature scene to share with you today made using the Memory Box Grand Stag Oval Frame, Pine Branch Oval Frame paired with pine foliage made using the Martha Stewart Branch Punch and three sparkly little stars from the Sun and Moon set.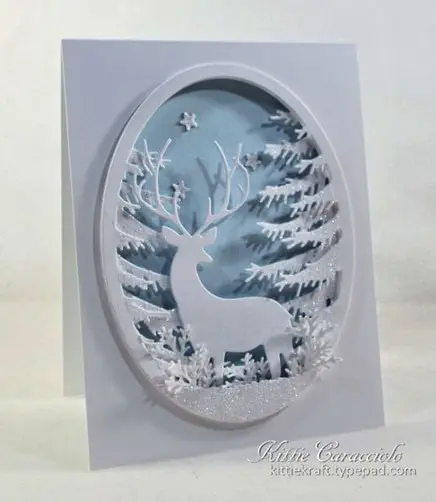 I cut the Grand Stag Oval Frame and Pine Branch Oval using white cardstock. I applied Cosmic Glitter glue to the pine branches on both layer frames and dusted with clear glitter. I punched out several branches, applied glue and glitter and set them aside to dry.  I used a Spellbinder Oval die to cut the opening in the card base. I cut an Icy Mint layer and attached it with mounting tape over the opening on the inside of the card.  I used the oval die to cut the small ground section to use at the bottom of the deer feet, applied glue and glitter. I cut three little stars, applied glue and glitter and set aside to dry.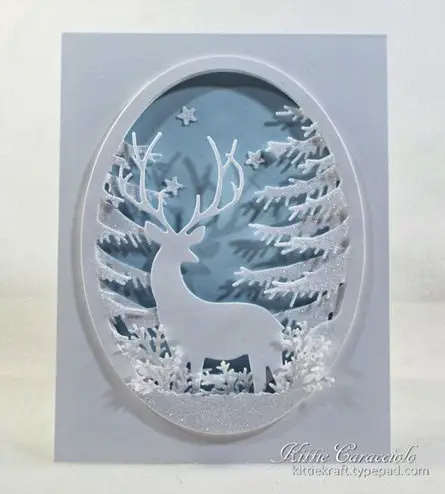 The Pine Branch Oval Frame was attached directly to the card base with double stick tape to cover the opening on the front side of the card.  I applied thin strips of mounting tape to the back of the Grand Stag Oval Frame and attached it directly over the branch frame. I like the layered dimension created by attaching the blue layer on the inside of the card with mounting tape and the two front frames being separated by another layer of mounting tape. I trimmed off the bottom portion of the white branches and tucked them in behind the ground piece to soften.  I attached the three tiny sparkling stars in the sky area for the finishing touch.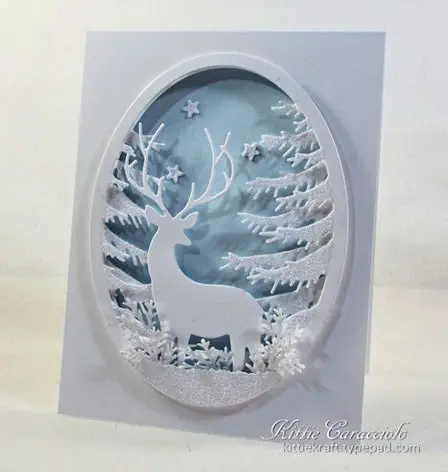 I received a few other Memory Box dies that I'll be showing off over the next few days.  I really appreciate you coming by today and I hope you have a wonderful weekend.
Check out Ellen's 10% off  Sale on We R Memory Keepers.  Sale ends on Saturday October 1.

Card size:  5.50" x 4.25"
Save