Good Saturday morning.  I have another fall leaf project to share with you today using the Impression Obsession Leaves, Small Leaf Set, Twig Wreath, Foliage and Wide Tree.  I really enjoy coloring leaves for fall projects.  I decided I wanted to get one or two more in before we head full time into Christmas.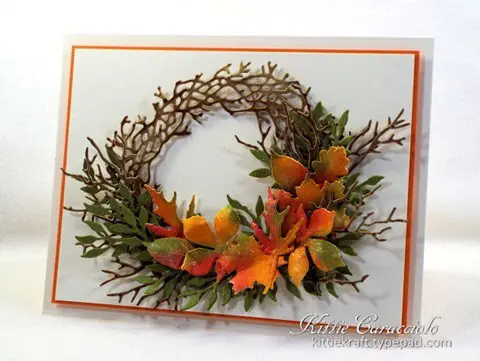 I cut the wreath and wide tree sections and applied Antique Linen and Vintage Photo ink by swiping the ink pad directly on the paper.  I swiped the lighter ink first to add color and then lightly swiped the darker brown ink so some of the lighter color would show through.  I applied Fired Brick, Wild Honey and Peeled Paint ink to the leaves with mini applicators, let them dry and then applied clear Wink of Stella to add some sparkle. I cut the foliage sections using green cardstock and applied the Wink of Stella to match the leaves.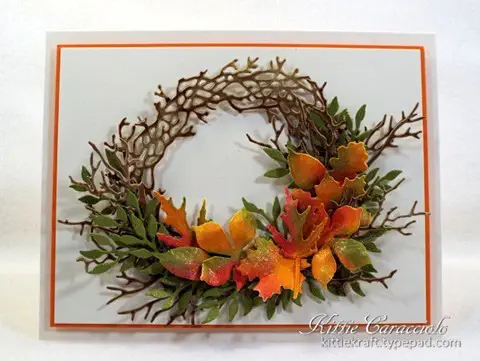 I attached the wreath to the card base using glossy accents applied to the area that is covered with leaves.  The rest of the twig wreath is loose so it would look natural and not too flat.  I started the wreath design by attaching foliage section to create a base for the leaves.  Next I started attaching the leaves around the foliage in a fairly loose arrangement.  I filled in around the leaves with added sections of foliage and pieces of the wide tree.  I like the natural appearance of the twigs peeking out from the leaves and foliage.  I may have gone a little too far in my design.  You when you feel you should stop adding things but just keep on going anyway…!  LOL!!!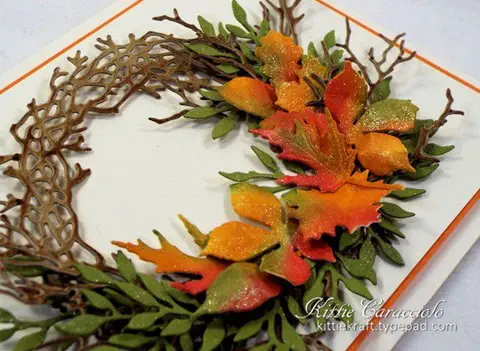 I took a side view of the wreath that shows off how pretty and sparkly the leaves are.  Pictures sometime don't do the project justice.  This is far more beautiful in person than in these photos.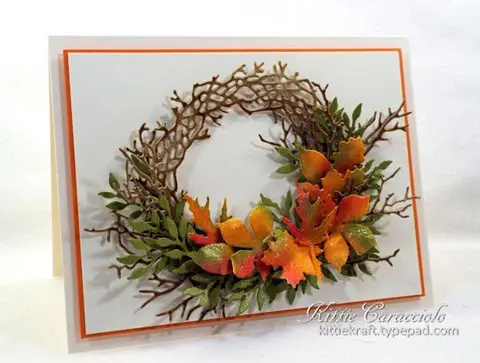 Thanks for coming by today and I hope you have a great weekend.
Card size:  5.50" x 4.25"
Save