Good Sunday  morning.  I have had the Penny Black Tall Trees for several weeks and have been looking forward to using them.  I paired them with the stars from the Essentials by Ellen Hearth and Home and double framed the scene using the My Favorites Things Stitched Rectangle Scallop Frames and Pierced Rectangle Frames.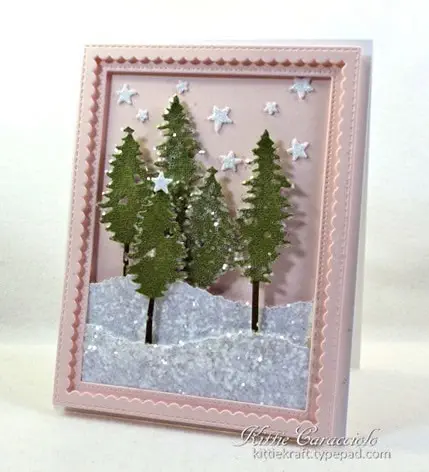 I started by hand cutting the ground snow layers using my deckle scissors.  The trees were cut using green cardstock and I colored the trunks with a brown Copic marker. I applied Cosmic glitter glue to the ground pieces and tree tops and used my Martha Stewart Coarse Crystal Glitter  to create sparkle and texture.  The glitter on the trees doesn't show well in the photos but they are pretty and sparkly in person.  I cut several stars , applied the glitter glue and the diamond glitter. I cut the two frames and attached them together with thin strips of mounting tape.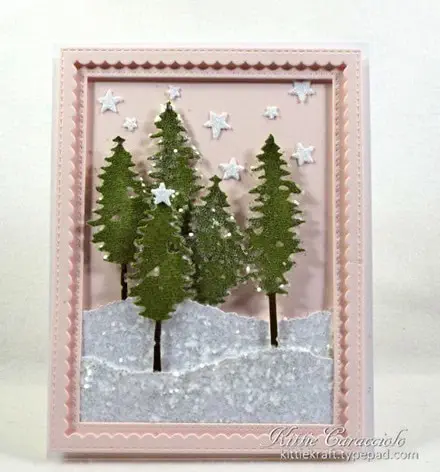 I began assembling the pieces by applying double stick tape to the lower back of the frame and attaching the ground snow pieces.  I applied another layer of thin strips mounting tape to the back of the frame and attached it to the card base.  The The tallest tree in the background was attached with a single layer of mounting tape.  The others were attached with two layers of mounting tape.  The stars were attached in the sky area with glossy accents.  I think the different size stars look too busy and if I had it to do over again I would have only applied a few of the tiniest stars.  Oh well….next time!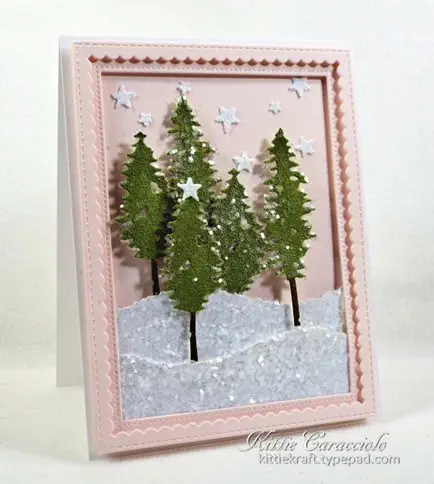 My favorite thing about this project is the double frame and the texture of the coarse glitter.  Oh….. can you imagine how much glitter I have sticking to my work surface.  It's everywhere.  LOL!  I hope you are having a lovely weekend.  Thanks for stopping by.
Save