Good Monday morning.  Do you remember when Poppystamps came out with the Grand Madison Window?  I think both the grand and small windows were released in 2011 and I just went crazy for both of them.  I have no idea how many projects I have made with them but it is plenty.  I had a hankering to make a see thru window card this past weekend with the Grand Madison Window and paired it with the Poppystamps Small Blooming Poinsettia and Impression Obsession Holly Flourish.  I couldn't resist coverring the poinsettias and holly with clear glitter for an extra holiday touch.  I have gotten asked quite often where I put my greeting when I make a see thru window.  I just turn it over and stamp my sentiment or hand write my note on the back.  I know it is a little strange but I love the effect of seeing thru the window.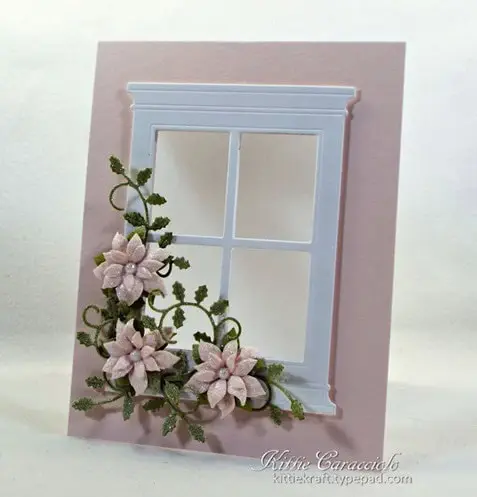 I attached a piece of pink cardstock to the front of my white card base.  I cut two windows, one for the front and one for inside to cover the raw cut edges of my see thru window. I used one of the windows as a template to draw cutting lines and then used my kraft knife to cut out the opening.  You can see my step by step see thru window tutorial if you would like to check out the steps to cutting and assembling my card. I applied thin strips of mounting tape to the back of the window and attached it to the front of the card base.  I applied ATG adhesive to the back of the second window and attached it to the inside. I took a quick shot of the inside of the card after it was finished to show how clean and neat it looks with no raw edges showing.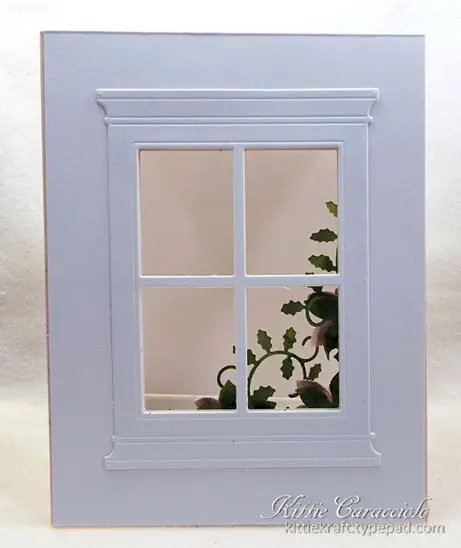 I cut three pairs of poinsettia flowers in the pale pink and three in green.  I like to use the largest flower in green as the foliage for the assembled flower.  I formed the flowers using my stylus and molding pad and assembled them using glossy accents.  I cut two sections of the Holly Flourish to use for the foliage.  I gently formed the holly stems with my fingers to remove the flat appearance and then attached one to the window with glossy accents in two or three spots to hold. I attached the three poinsettias with glossy accents and then tucked a few cut up pieces of the holly flourish to fill in.  I attached the small pearls in the flower centers to finish.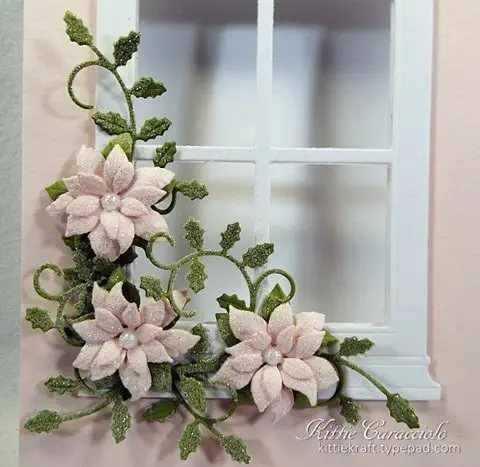 I applied Cosmic glitter glue to the foliage and flowers with my finger and then sprinkled the clear glitter.  I love the sparkle but it doesn't really show well in the pictures.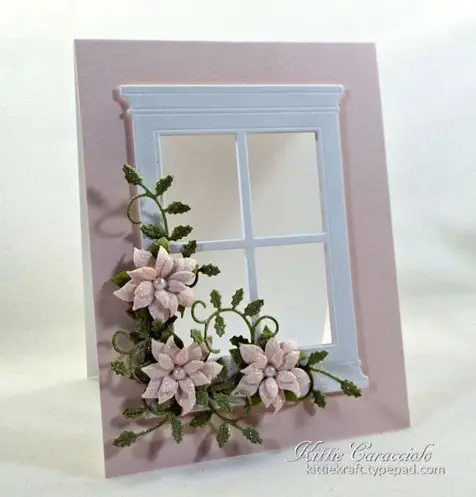 Thanks for coming by today and I hope you have a great week.
Card size:  5.50" x 4.25"
Save