Good Sunday morning.  I have a clean and simple floral project to share with you today using the Impression Obsession Lily Trio, Foliage and Bouquet of Kindness.  For some reason this card was very hard to photograph and get the true colors. The flowers in all of my pictures turned out looking orange instead of the fuchsia pink.  I had to play around in my PaintShop Pro editing quite a bit to get fairly close to the real colors.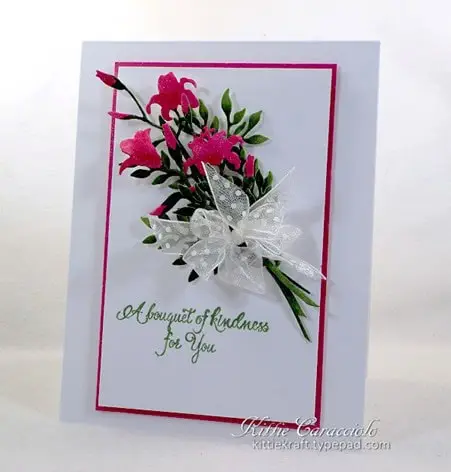 I cut the flowers and foliage using hot pressed watercolor paper and watercolored using ink applied to an acrylic block using Rose Bud and Bamboo Leaves Memento markers.  I applied  Spectrum Noir Pink Garnet Sparkle to the flowers and buds.  I cut a piece of Lollipop cardstock to layer behind the sentiment.  None of my pink cardstock was quite the right color to match my flowers so I applied the Pink Garnet sparkle around the border and got almost a perfect match.  
I loosely arranged the flowers and foliage on my table to see how I wanted it to look on my card and began attaching the sections together with glossy accents. I placed the largest section of foliage first so it would be the base for the arrangement. Then I attached the flowers one at a time with glossy accents and then attached another section of foliage in front of the flower stems to cover.  I hand cut a few faux stems to attach the bottom of the bouquet to finish.  I secured my sentiment base in my MISTI with magnets, placed the sentiment where I wanted it to stamp, applied the green ink and stamped.  I love my MISTI.  It's the best stamping tool ever.  I attached the sentiment layer to the pink base with mounting tape and then attached it to the card base with ATG adhesive.  I attached the bouquet in place using glossy accents and then attached a few tiny pieces of mounting tape in behind some of the foliage to hold the flowers in place.   This card is so much prettier in person than shows in these photos.  Oh well…..you can't win them all.  LOL!

Thanks for coming by today and I hope you have a great Sunday.
Card size:  5.50" x 4.25"
Save