Good Monday morning.  I know you probably wonder if I will ever get tired of making beach cards but the answer to that is no.  I just love creating little snippet scenes of the beach with sparkly foamy water rolling up on the sand.  These fun images are from the Impression Obsession Fun in the Sun Die Set and  Fun in the Sun Stamp Set.  I sure would love to be there right now.  Actually it won't be long until Bob and I will be enjoying Cape Hatteras and celebrating a week long family reunion with my sisters, brother-in-law, grand kids and our nephew and his soon to be bride..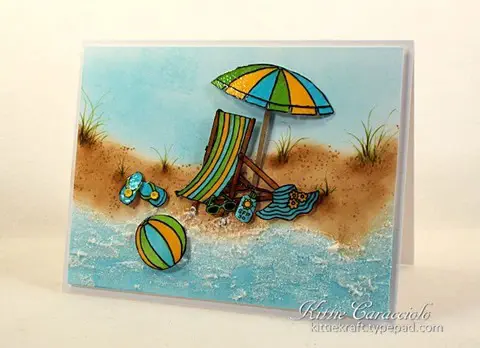 I stamped all the images, colored them with Copic markers and cut them out.  I applied versa and clear embossing powder to all the pieces to add shine and brighten the colors.  I die cut the pieces and trim med then down a little with my snips.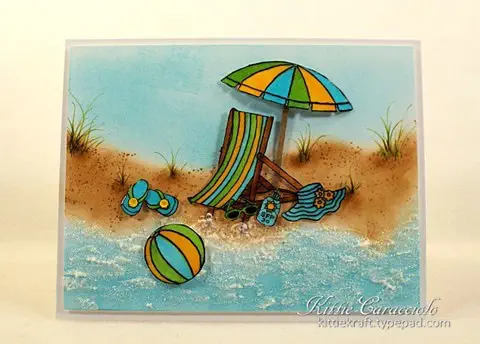 I used ink blending tools and mini applicator to apply the water, sand and sky area using Broken China and Vintage Photo Distress Ink.  I applied the white embossing paste to the water and allowed it to roll up the sand like sea foam and added  sparkle to the paste by sprinkling on Rock Candy clear glitter.  I set the chair and umbrella in place using mounting tape and then attached the hat, flip flops, sunscreen and sunglasses with tolled up glue dots.  The ball was attached over the water with a strip of mounting tape.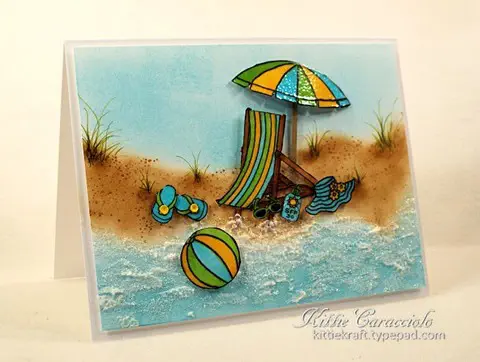 I finished the scene by using my Peeled Paint marker to add sea grass along the sand dunes and then lightly added more brown ink with the mini applicator to fill in around the clumps of grass. I toyed with putting a couple sea birds in the scene but it was just a bit too much with all that was already going on in the scene.
Thanks for coming by and I hope you have a great week.
Card size:  5.50" x 4.25"
Save