Good Saturday afternoon.  Beach scene cards are one of my favorite things to make and I wanted to make one today showing you another way to use the new Impression Obsession Palm Trees and Hammock die. This scene die comes framed and all the images are together in one die which makes it fun and easy to color and mount it on your card front. For my project today I cut the palm trees out of the frame and cut the hammock off the trees so I could use only the trees for my scene.  I used the  Small Grass to add foliage to the palm tree clumps and the smallest bird from the Sea Birds set to draw the eye up to the upper sky area.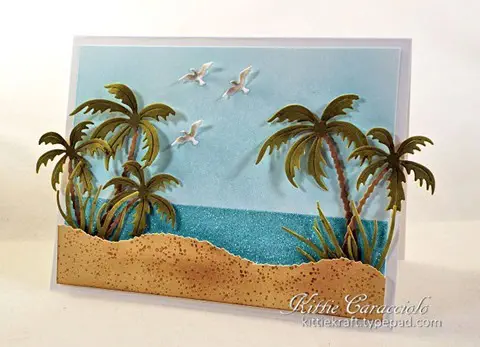 I placed a piece of 3M adhesive roll across the page about a third  of the way from the bottom of the card to create a mask line for my water. I applied Broken China ink to the bottom of the card using an ink blending tool. I removed the mask and set aside to use again.  I applied a lighter shade of blue the sky area using the ink blending tool.  I replaced the mask across the water line, spread out Cosmic glitter glue to the water portion with my finger, removed the mask and then applied clear glitter. I applied Vintage Photo ink to a piece of white card stock and cut it with my deckle scissors to create the sand dune edge. I used one of the images from my retired Stampin' UP! Itty Bitty set and brown ink to add speckles to the sand.  The scene base was attached to the card base using ATG adhesive.  The sand layer was attached with mounting tape.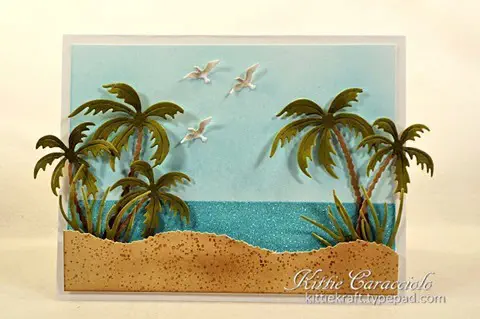 I colored all the palm trees and grass with Copic markers.  I colored the birds using a mini applicator and Pumice Stone ink.  The palm trees were attached to the card base with mounting tape and glue dots.  The grass sections were tucked in behind the sand and attached with glossy accents.  I bent the bird wings with my fingers and attached them in the sky area using glossy accents. to finish the scene.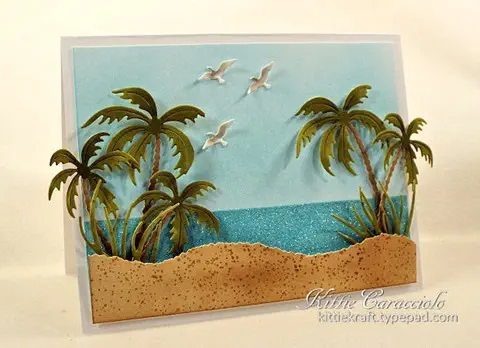 This card shows using the Palm Trees and Hammock in it's original framed scene setting.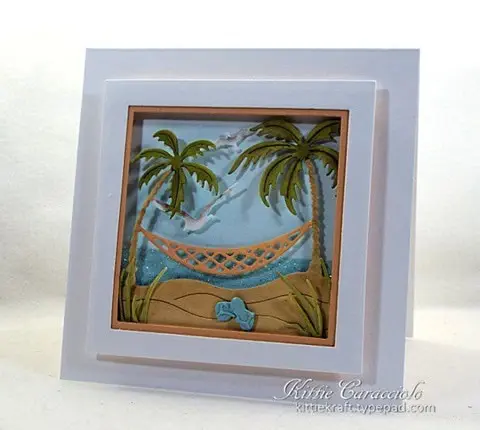 Thank you for coming by today and I hope you are enjoying your Saturday.
Card size:  5.50" x 4.25"
Save