Having a template for a double shutter card is a great thing to have in your card making arsenal. They are easy to make, can be done in an endless variety of papers, motifs, themes and you can dress them up or down any way you want. AND a double shutter card is PERFECT for when you want to send something but don't have a lot to say because there's naturally not a ton of room to write a message! Unless of course, you want to fill the back of the whole card, at which point you have TONS of space. So you can see why this is such a great idea to have handy!
For this project I used the Rubbernecker Nested Rectangle Scallop w/Holes, Leaf Group, Small Flowers #2 and Blooms Your Way.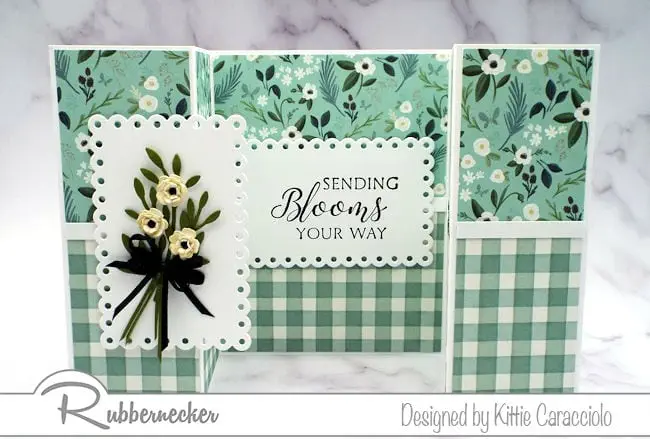 The Card Base
The card base was made using a pre scored A2 sized card from  White Double Shutter Card kit.
Use your bone folder to sharpen the folds of the card.
Cut the Carta Bella Home Again designer papers to fit the card base. I used two different papers to add interest to the card.

Cut 4 2.00″ x 2 3/4″ pieces of paper in each design.
Cut 1 4 1/8″ x 2 3/4″ pieces of paper in each design.

Apply ATG adhesive to the designer paper and attach them to the card base.
Cut 4 1/4″ strips of white cardstock and 1 4 1/8″ strips of white cardstock.
Attach the white strips to the card base using double stick tape.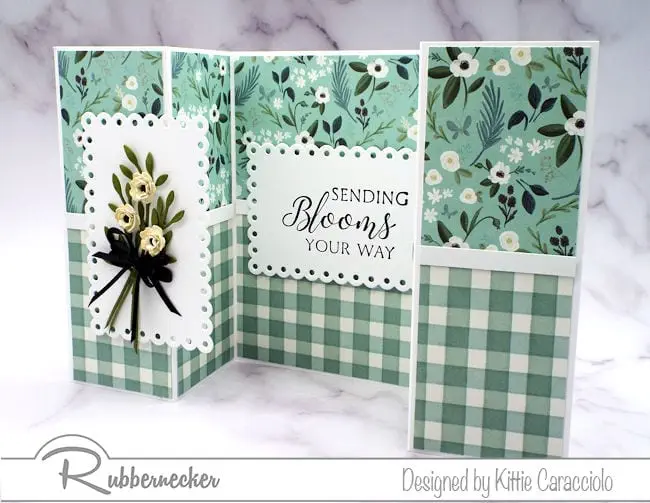 The Rectangle Scalloped Layers
Cut two scalloped layers using white cardstock.
Pull out your Stamp-a-ma-jig set and make ready to use to line up the red rubber sentiment and acrylic block.
Secure the stamp on an acrylic block, apply ink, secure the block in place against the Stamp-a-ma-jig and stamp on the clear image sheet.
Line the image sheet up over the white scalloped layer where you want the sentiment to be stamped and secure the Stamp-a-ma-jig against the corner of the clear image sheet and secure in place.
Remove the image sheet, apply ink to the stamp and stamp the sentiment by lining up the acrylic block against the Stamp-a-ma-jig.
Check out this video to see how to use a Stamp-a-ma-jig to line up your stamped images.  It's makes so much more sense when you see it in action.  I have wasted lots of paper over the years by thinking I could line up a red rubber stamp and get it perfectly straight where I wanted it.
Apply strips of mounting tape to the back of the sentiment layer and attach it to the middle of the card base.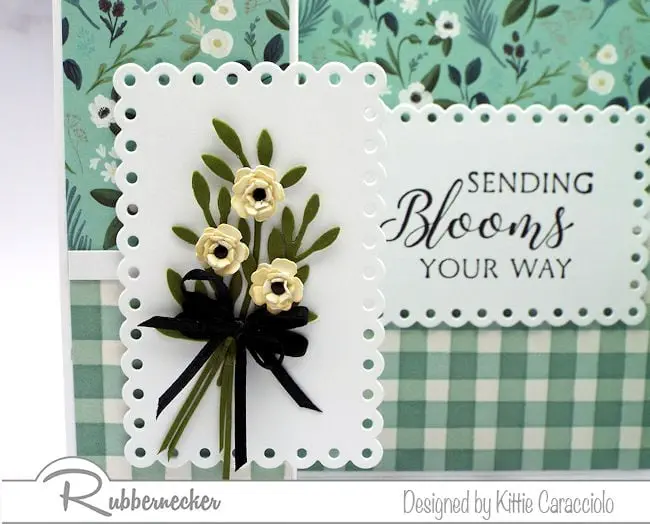 The Flower Bouquet
Cut the small flowers using white cardstock.
Apply a light shade of Antique Linen ink to the flowers using a mini applicator. I wanted the flowers to match the flowers in the paper but needed to add the light shade of Antique Linen so they would show up well against the white scalloped layer.
Place the flowers face up on a molding pad and form them using the small round stylus.
Attach the flower layers together using glossy accents.
Apply glossy accents to the flower centers and attach pre made black Nuvo Crystal Drops.
Use green cardstock to cut the leafy branch and attach it to the white scalloped layer using glossy accents.
Attach the flowers to the branch using glossy accents.
Hand cut a couple thin strips of cardstock to use to extend the blower bouquet branches and attach to the end of the leaf branch using glossy accents.
Create a black multi loop bow and attach it to the bouquet using glue dots.
Apply strips of mounting tape to the left side of the flower bouquet layer and attach it to the front of the card base.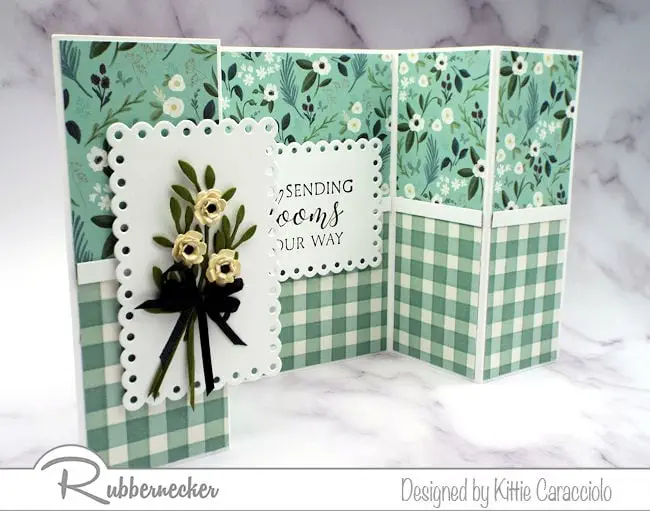 I'd love to hear about your trying out a double shutter card – be sure to let me know what you thought in the comments!  Thank you for coming by and I hope you have a great Sunday
Here are the dies and stamp used for my project.
Nested Rectangle Scallop w/ Holes 5141D

5210-05D Small Flowers #2 Die Cut

Leaf Group die 5118D

1319-17 Blooms your way
Here are the tools and supplies I used for the project.
| | | |
| --- | --- | --- |
| Carta Bella Paper – Home Again… | The Paper Cut: White DOUBLE Shutter Card | Bazzill Card Shoppe Cardstock,… |
| Solar White Heavyweight 110 lb – 25… | Antique Linen, Ranger Distress Ink Pad | VersaFine Clair Ink Pad, Nocturne |
| Mini Applicators, 12 pk, PanPastel Sofft | Clear Acrylic Block 3.25″ X 4.25″… | Susan's Garden Tool Kit, Elizabeth… |
| McGill Paper Blossoms Molding Mat-8.3… | Stamp-a-ma-Jig, EK Success | Offray 1/8″ Wide Double Face Satin… |
| Tonic Nuvo Crystal Drops, Black Ebony… | Mini Glossy Accents, Ranger Accents | Glue Dots, Mini (3/16″) |
| Scotch Foam Mounting Tape | Fiskars 01-005452 Recycled Bypass… | ATG Kit, Advanced Tape Glider |
| Teflon Bone Folder, Essentials by Ellen | Scor-Pal Measuring & Scoring Board 12×12 | Crossover II Fabric & Paper Cutting… |
Making a double shutter card is so much fun.