Today I wanted to share with you a cute way to use a stair step card template – this one from The Paper cut – as a base for any kind of card. For this card I chose a sweet little country cottage with some easy-to-do evergreen trees.  I used the Rubbernecker Spooky House, Evergreen Trees, Wrought Iron Fence, Grass, Small Ivy, Small Flowers #1, Tiny Flower Buds, Leaf Buds and Small Birds.  The card base was made using the Inner Stair Step Card kit. This card folds to an A2 sized card.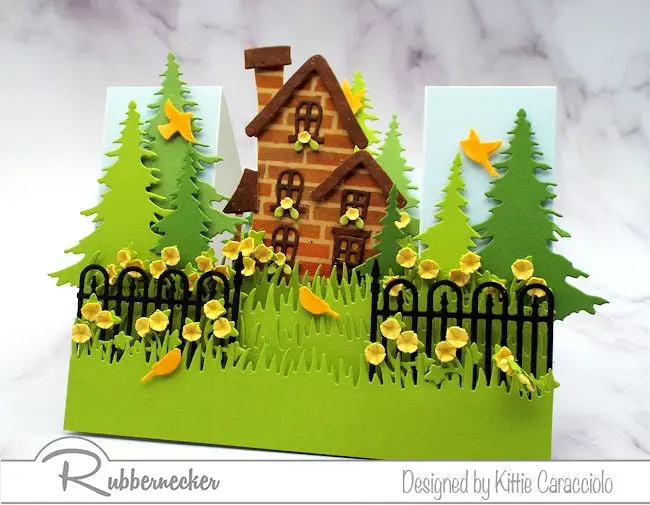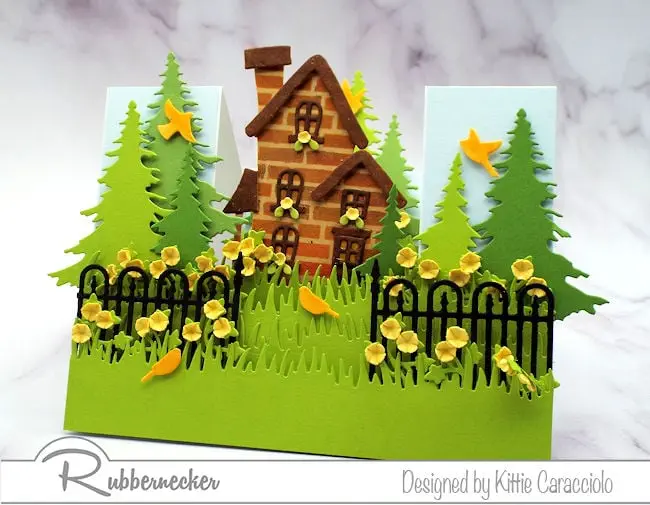 The Brick House
Use Kraft cardstock to cut the house base , roof and window sections.
Secure the brick stencil and house with masking tape.
Apply Antique Linen, Rusty Hinge, Fired Brick, Pumice Stone and Vintage Photo inks using blender brushes and mini applicators to create the colorful brick pattern.
Remove the brick stencil and run the Antique Linen ink pad directly over the house to apply color to the mortar lines and blend all the brick colors together.
Apply Vintage Photo ink to the windows and roof sections using a mini applicator.
Attach the windows using glossy accents and the roof and chimney sections using ropes of rolled up double stick tape.
Cut leaf buds using green cardstock and tiny flowers using yellow cardstock and attach to the windows using glossy accents.
Note: I modified the Spooky House by cutting off a section of the roof to create a more traditional style house.
The Inner Stair Step Card Base
Cut blue cardstock sections to fit on the front of the card base and attach using ATG adhesive.
Use green cardstock to cut three grass sections to fit all the way across the front of the base and smaller sections to fit on the inner stair steps.
Attach two of the front grass sections to the base using double stick tape.
Apply strips of mounting tape to the front grass layer and attach it to the card base.
Use double stick tape to attach the small grass sections to the inner stair steps.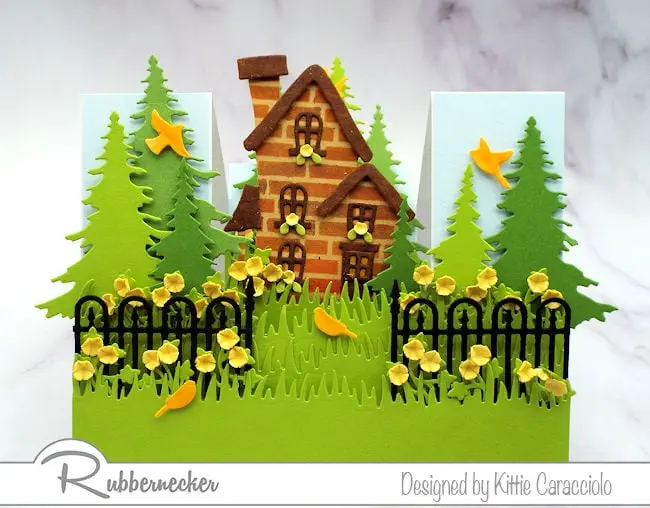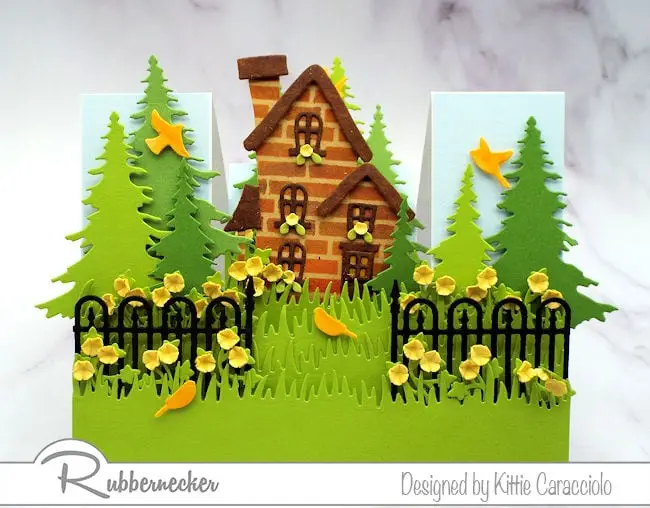 The Evergreen Trees, Flowers, Fence and Birds
Use two different colors of green cardstock to cut the evergreen trees.
Cut the small ivy using green cardstock and the small flowers and birds using yellow cardstock.
Apply touches of Wild Honey ink to the birds using a mini applicator.
Form the small flowers using a stylus and molding pad and attach them to the small ivy sections using glossy accents.
Cut the fence sections using black cardstock.
Assemble The Card
Secure the house in behind the grass on the middle stair step sections and attach using mounting tape.
Tuck the evergreen trees in behind the grass sections on the front card base and on the last stair step section in the back and attach using mounting tape.
Attach the small ivy/flower sections in behind the top grass section on the card front using glossy accents.
Apply glossy accents to the bottom portion of the fence sections and attach in behind the front grass section.
Attach a row of small ivy/flower sections along the front of the fence and attach using glossy accents.
Finish by attaching birds to the scene using small pieces of mounting tape.
Note:  I attach small cardstock tabs to the inside of the card base so that it will stand tall and doesn't allow it to collapse back when opened.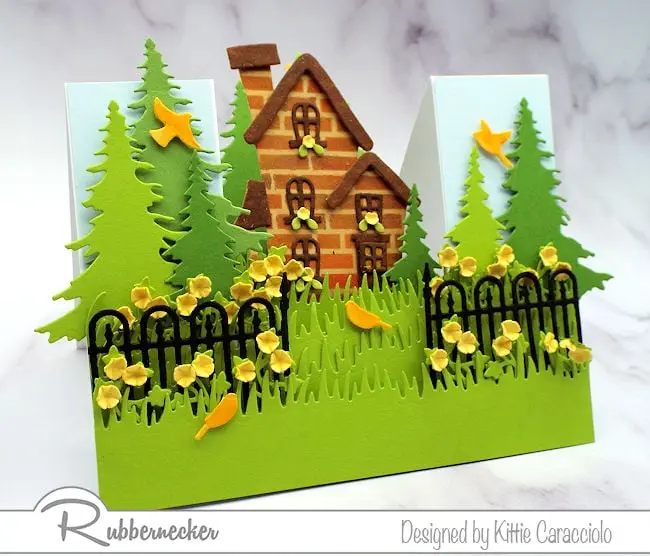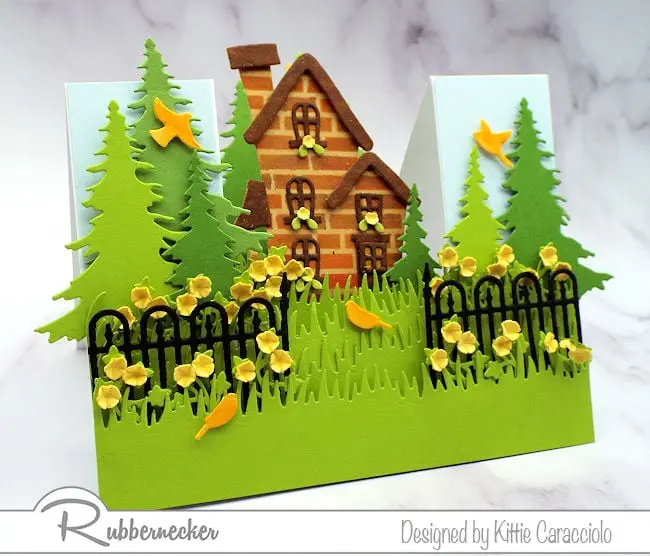 I encourage you to get or make a stair step card template to use to make easy dimensional cards that you can execute in any way – check back for more inspiration and ideas around this kind of card!.  Check out some of my other step cards in the Step Card Category.  And, there is tons of Step Card inspiration on Pinterest.  Thank you for coming by and I hope you have a great week.
Here are the dies I used for my card.
| | | |
| --- | --- | --- |
| 5216-05D Spooky House Die | 5215-07D Wrought Iron Fence Die | 5217-01D Evergreen Tree Die |
| Tabed Grass Set Die Cut 5152-03D | 5162-03D Small Ivy | 5210-04D Small Flowers #1 |
| Tiny Flower Buds Die Cut 5147-10D | Leaf Buds Die 5147-03D | Small Birds Die 5147-06D |
Here are the tools and supplies used for this card.
The Paper Cut: INNER Stair Step Cards

Bazzill Card Shoppe Cardstock,…

Bazzill Card Shoppe Cardstock, Icy…

Bazzill Card Shoppe Cardstock,…

Bazzill Card Shoppe Cardstock, Easter…

Lawn Fawn – 8.5 x 11 Cardstock -…

Bazzill Card Shoppe Cardstock,…

Solar White Heavyweight 110 lb – 25…

Brick Wall, Small, My Favorite Things…

Life Changing Blender Brush Set,…

Mini Applicators, 12 pk, PanPastel Sofft

Pumice Stone, Ranger Distress Ink Pad

Rusty Hinge, Ranger Distress Ink Pad

Wild Honey, Ranger Distress Ink Pad

Fired Brick, Ranger Distress Ink Pad

Vintage Photo, Ranger Distress Ink Pad

Antique Linen, Ranger Distress Ink Pad

Twins, Judikins Eclipse

Susan's Garden Tool Kit, Elizabeth…

Mini Glossy Accents, Ranger Accents

Scotch Foam Mounting Tape

Fiskars 01-005452 Recycled Bypass…

ATG Kit, Advanced Tape Glider

Teflon Bone Folder, Essentials by Ellen

Scor-Pal Measuring & Scoring Board 12×12

Crossover II Fabric & Paper Cutting…
Using a stair step card template is lots of fun and makes such a creative dimensional card.