As much as I love a card with a simple white background I do like making pretty backgrounds for cards where something needs to stand out with some context. Like this beach chair – it's cute, but floating in mid-air, well, that would be odd. So creating a background where it could be the star makes the card that much more interesting.  Some of the prettiest backgrounds can be made using blender brushes and ink to create something realistic yet artistic. Here's how you can do this.
For this card I used Rubbernecker's Beach Umbrellas, Beach Chairs #2, Mixable Flower Stack 5107D and Small Birds.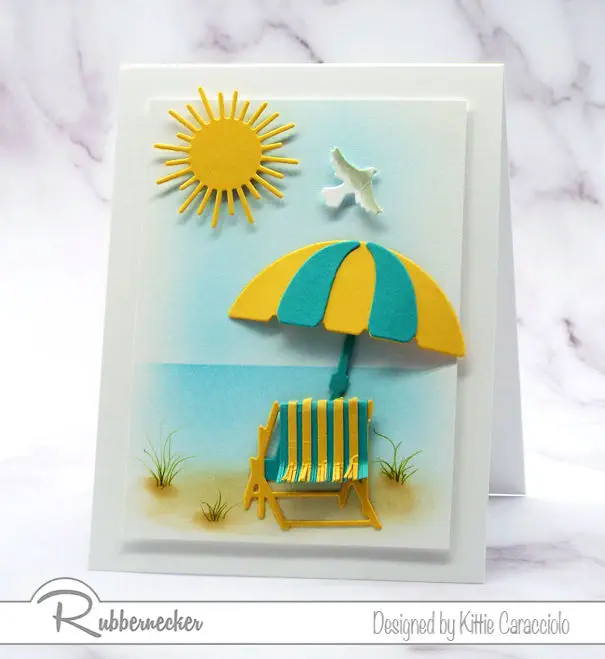 The card Base and Scene Layer
Cut an A2 sized card base and scene layer using white cardstock.
Apply light brown ink to the lower section of the scene layer using a small blender brush to create the soft sandy beach.
Place a strip of masking tape across the lower half of the scene layer.
Use a large blender brush to apply light blue ink to create the ocean water line.
Remove the masking tape and apply the sky area using a large blender brush and light blue ink.
Sketch a few sections of sea grass in the sand using a green marker.
Apply touches of darker brown ink to the base of each sea grass section using a mini applicator.
Apply strips of mounting tape to the back of the scene layer and attach it to the card base.
Note:  I wanted the sky, water and sand colors to fade out to a white edge to create the appearance of a dreamy summer day.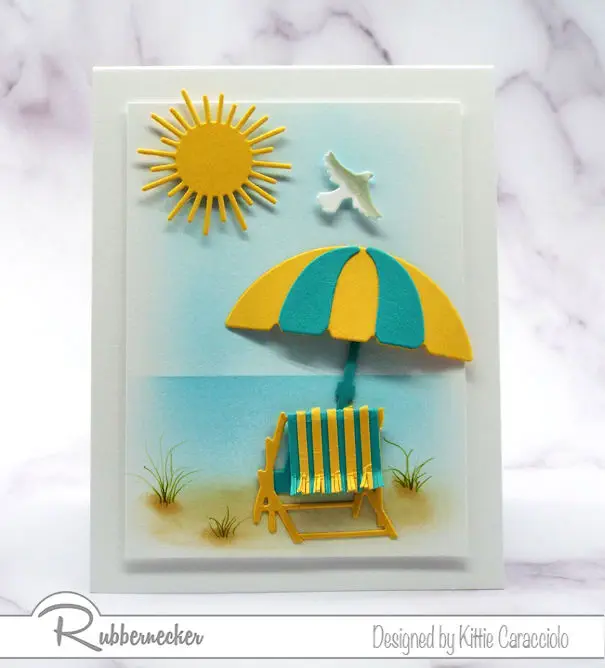 The Die Cut Beach Images
Cut the umbrella and chair sections using bright yellow and teal cardstock.yellow
Assemble the pieces and attach them together using glossy accents.
Cut a small strip of teal cardstock and several thin strips of yellow cardstock to create the beach towel.
Attach the yellow strips to the teal piece using glossy accents and use snips to cut the fringe and then attach it to the back of the beach chair using glossy accents.
Cut the sun using yellow cardstock and attach it to the top of the scene using a piece of mounting tape.
Attach small pieces of mounting tape to the top center and sides of the umbrella and attach it to the scene.
Apply a piece of mounting tape to the back of the chair and touches of glossy accents to the lower frame of the chair and attach it to the scene.
Finish the scene by cutting a small bird, apply gray ink to the wings using a mini applicator and attach it to the scene using a small piece of mounting tape.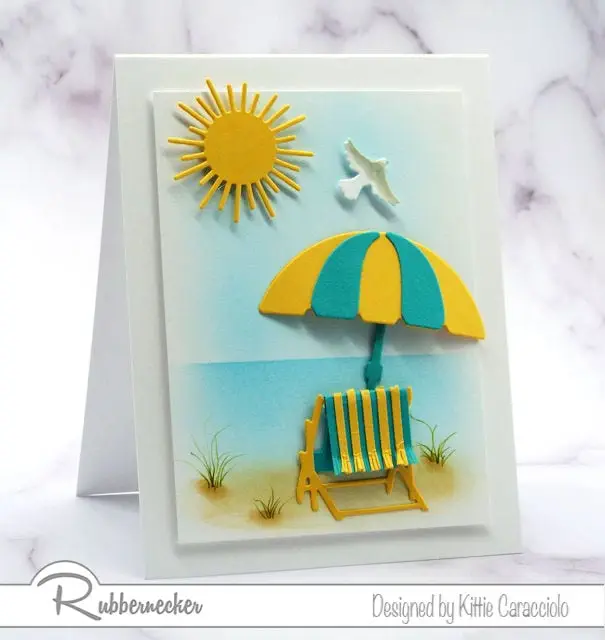 Here are the the Rubbernecker products used for this card.

| | | |
| --- | --- | --- |
| 5212-02D Beach Umbrellas Die Cut | 5212-01D Beach Chairs #2 Die Cut | Mixable Flower Stack Die 5107D |
| Small Birds Die 5147-06D | Color Fuse Set #9 | Color Fuse Set #12 |
| | | |
| --- | --- | --- |
| Peeled Paint, Ranger Distress Marker | Life Changing Blender Brush Set,… | Mini Applicators, 12 pk, PanPastel Sofft |
| Scotch Foam Mounting Tape | 5mm (1/4″), Be Creative Tape | ATG Kit, Advanced Tape Glider |
| Mini Glossy Accents, Ranger Accents | Teflon Bone Folder, Essentials by Ellen | Scor-Pal Measuring & Scoring Board 12×12 |
| Crossover II Fabric & Paper Cutting… | Vintage Photo, Ranger Distress Ink Pad | Antique Linen, Ranger Distress Ink Pad |
Now that you have some tips to make different pretty backgrounds for cards like this one, try your hand at other scenes. I am betting you will get hooked!