I was playing around with the new slimline skyline die from Rubbernecker and was layering pieces together to see what they looked like. It was when I arrived at this combination that I felt like it was really brought to life with all those lit windows peeping through. And, it ever so slightly reminds me of scenes of Bethlehem so I thought this might make a really interesting take on a Christmas card! To make my card I used the Slimline Skyline, Slimline Nested Scallop with Stitch, Stars and Slimline Waves.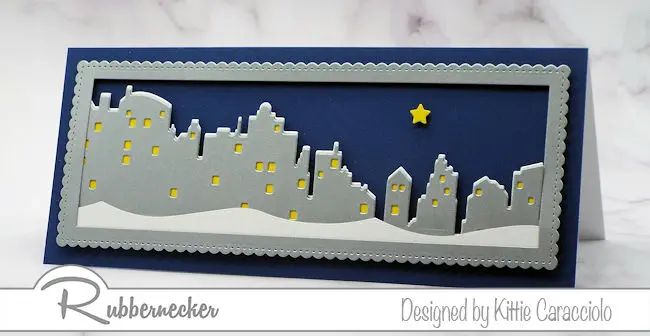 The Card Base
Cut the 8.50″ x 7:00″ card base and the slimline frame using white cardstock.
Cut the 8.50″ x 3.50″ background layer using dark blue cardstock.
Score the card base at 3.50″, fold and use your bone folder to sharpen the fold crease.
Apply ATG adhesive to the back of the blue layer and attach it to the card base,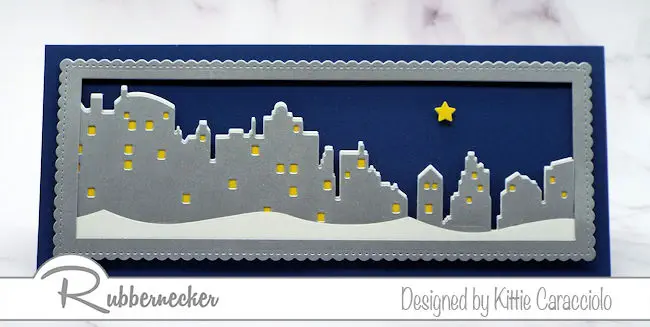 The Frame and Snow
Use the largest Slimline Nested Scallop die to cut a gray cardstock layer.
Place the gray layer back on the cutting platform, line up the second die in the set and cut the frame.
Use the Wave die to cut the snow layer using white cardstock. Note:  There are three wave dies in the set and I used the one with the least amount of waves in the design.
Turn the frame face down, apply double stick tape to the bottom and attach the wave die.
The Slimline Skyline and Star
Cut one Slimline Skyline using gray cardstock and one using white cardstock.
Turn the skyline face down, cut yellow sections to attach to cover the window openings and attach with glossy accents.
Slightly offset the white skyline behind the gray skyline and attach together using double stick tape.
Trim the skyline to fit behind the frame.  
Apply double stick tape to the sides and bottom of the frame and attach the skyline.
Apply strips of mounting tape all the way around the back of the frame and attach to the card base.
Cut the yellow star using the Stars die using yellow cardstock and attach it to the sky using a small piece of mounting tape.  Note:  The Stars die not only creates a fun die cut image to use on a card but it also cuts out stars of several sizes to save and use on other projects.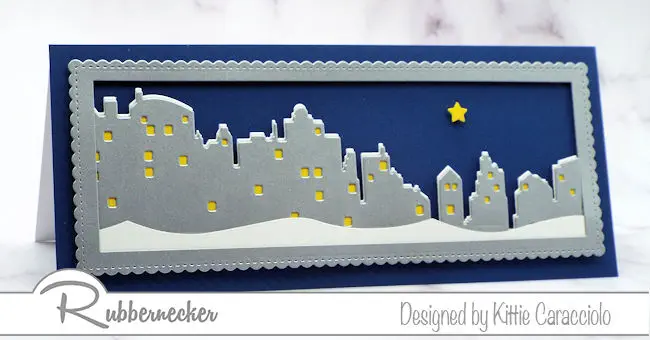 5329-01D Slimline Nested Scallop w/…

5328-04D Slimline Skyline

Stars Die 5127D

5328-03D Slimline Waves Die
| | | |
| --- | --- | --- |
| Sizzix – Paper Sculpting Kit | Scotch Foam Mounting Tape | 5mm (1/4″), Be Creative Tape |
| ATG Kit, Advanced Tape Glider | Mini Glossy Accents, Ranger Accents | Teflon Bone Folder, Essentials by Ellen |
| Scor-Pal Measuring & Scoring Board 12×12 | Crossover II Fabric & Paper Cutting… | Precision 5 Inch Scissors with… |
This is just one way you can use this very fun slimline skyline die to add some instant interest to your slimline cards. What would YOU do with this cool skyline?