When I started these guys, I had no idea how adorable these snowman tags would turn out! Rubbernecker does such an incredible job of designing and including all those little extra elements that make adding so much detail to projects like this SO EASY! These are so cute that I am thinking they would even be the perfect things to be the only focal image on a Christmas card. Or……..ORNAMENTS!!!  Can you just picture one of those tabletop trees with a few of these on it? AND what about grouping some together in little sets and giving them as gifts? People LOVE gifts they can use and these snowman tags would be just perfect!
To make these tags I used the Nested Tag Stitch, Winter Snowmen, Santa Mini, Christmas Mini, Greenery #1, Tiny Leaves #1, Reindeer and Birds (just the birds) and Deckle Hills.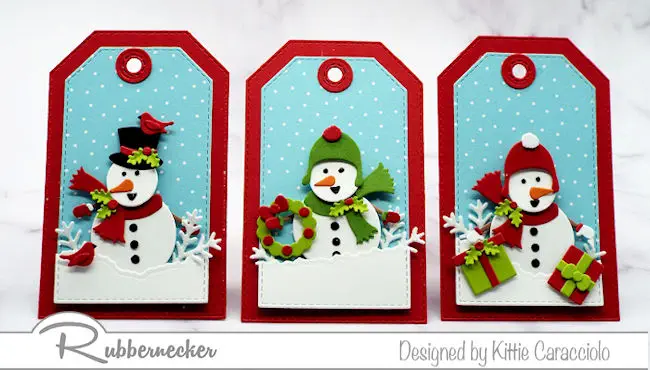 The Tag Base
Use the largest tag die to cut three red tag.
Cut the designer paper tag layers using the next largest tag.
Cut three deckle snow layers using white cardstock.
Place each snow layer on the cutting platform, line up the bottom of the second sized tag and cut.  Note:  I love to make the stitched edges of the background tag layer and snow layer match up. 
Apply ATG adhesive to the designer paper tag layer and attach to the red tag layer.
Apply strips of mounting tape to the back of the snow layers and attach them to the tag base.
Use a 1/4″ circle punch to punch the hole for the tag tie.
Punch out a red 1/2″ circle, place on the cutting platform, line up the stitched circle die and run through the die cutting machine to cut. Note:  The tag hole die is made to cut the hole for the tag and it is great to use for a single layer tag.  But it is a little too difficult to cut the hole in two tag sections to make them line up perfectly. It is just easier to punch out the 1/4″ hole and create the covers.
Attach the tag cover to the cover the hole using glossy accents.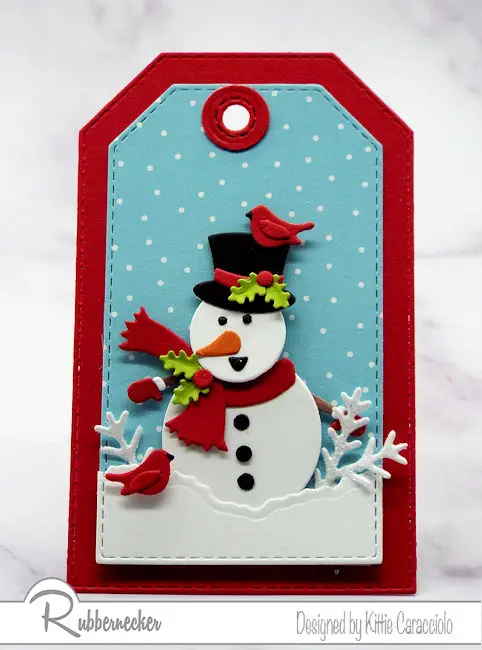 The Snowmen
Cut the snowmen and accessories using red, white, orange, brown and black cardstock.
Assemble the pieces and attach them together using glossy accents. Note:  I place the small pieces like the nose, eyes, mouth and buttons on my molding pad because it makes them easier to pick up with my tweezers.
Cut tiny leaves using green cardstock, form them with your fingers and attach them to the snowmen hats and scarves using glossy accents.
Use a 1/8″ circle hole punch to punch out tiny red circles and attach them to the leaves using glossy accents.  Note:  I love to add a touch of Christmas whimsy by embellishing the snowmen with holly and berries.
Apply pieces of mounting tape to the back of the snowmen, tuck them in behind the snow layer and attach to the tag base.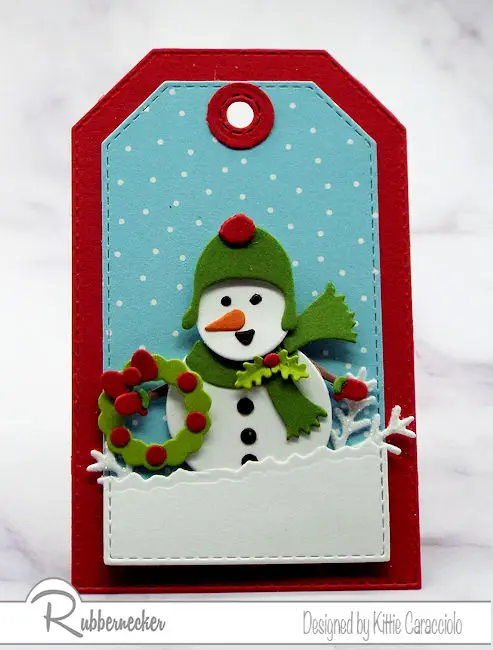 Decorative Accessories
I love adding different elements to tags to make them more special than just having a snowman.  The tiny presents, wreath, birds and white sparkly greenery add so much more interest and it was so much fun to add different elements to each tag to give them their own personality.
Use red and green cardstock to the packages, wreath and birds.
Assemble the pieces using glossy accents.
Attach the present, wreath and birds to the tags using small pieces of mounting tape.
Cut greenery sections using white cardstock, apply Cosmic glitter glue to the branches and sprinkle with clear glitter.
Finish by tucking the sparkly branches in behind the snow layers and attach using glossy accents.  Note:  I didn't add twine or ribbon to my tags yet so they would be easier to photograph.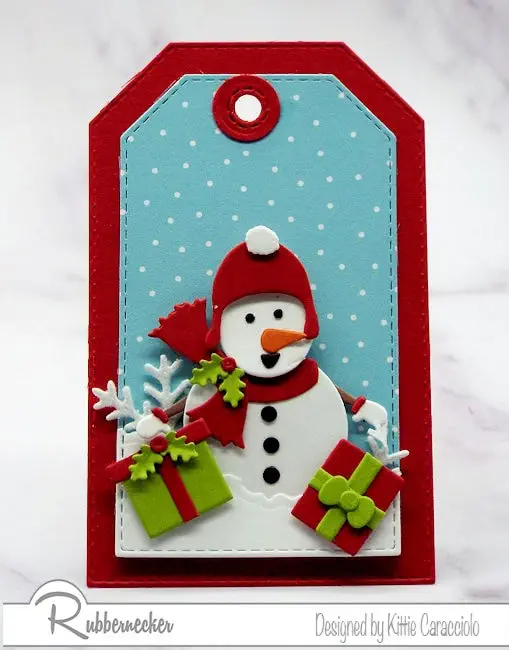 Aren't you just itching now to make your own versions of these snowman tags? Check out my Tag Category to see lots of other tags for the holidays.  Did you come up with other ideas as you were looking at this post? I love to hear how you used these inspirations in your own crafting so please feel free to leave a comment and let me know!
Nested Tag Stitch 5149D

5337-03D Winter Snowmen Die

5338-01D Santa Mini Die

5338-02D Christmas Mini Die

Greenery #1 Die Cut 5162-09D

5162-04D Tiny Leaves

5337-01D Reindeer and Bird's Die

5173-02D Deckle Hills Die Cut
| | | |
| --- | --- | --- |
| Sizzix – Paper Sculpting Kit | Mini Glossy Accents, Ranger Accents | Scotch Foam Mounting Tape |
| ATG Kit, Advanced Tape Glider | Teflon Bone Folder, Essentials by Ellen | Scor-Pal Measuring & Scoring Board 12×12 |
| Crossover II Fabric & Paper Cutting… | Dress My Craft – Hole Punch – One… | Dress My Craft – Hole Punch – One… |
| Amazon.com: EK Tools Circle Punch,… | Cosmic Shimmer Flake & Glitter Glue -… | Dry Glitter – Clear Rock Candy,… |
What is more fun than making snowman tags to use on your gifts, hang on the tree or give away as holiday gifts.