Save this in your homemade birthday card ideas file!
I am always playing around with homemade birthday card ideas because I feel like those are one of the kinds of cards we always need. I love simple cards designs with touches of detail and this idea is definitely a keeper!  For this card I used the Nested Circle Scallop with Holes, Branches and Leaves, Flower Buds, Nested Circles and the sentiment from the It's Spring Time.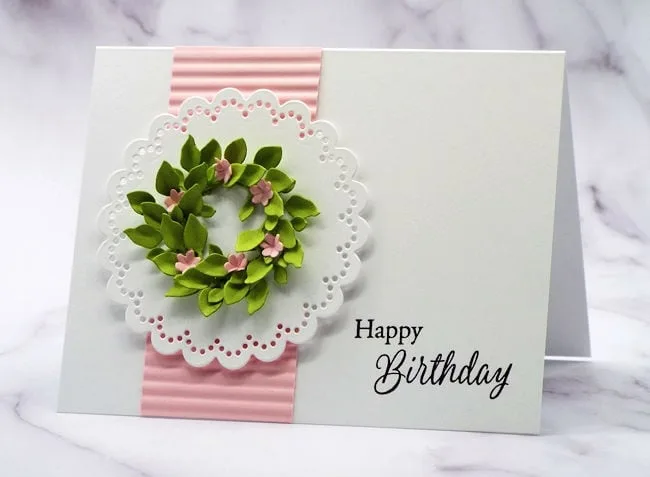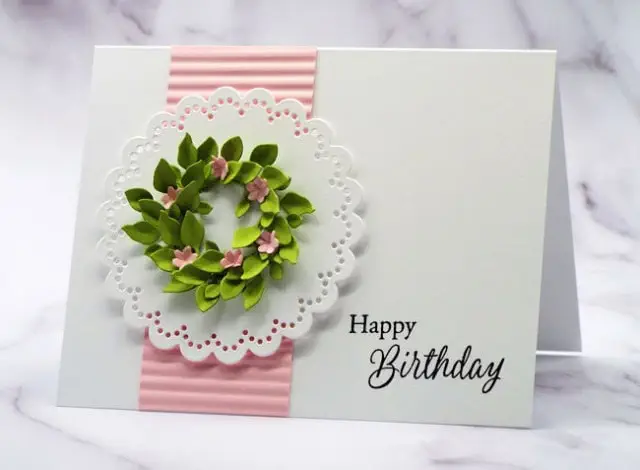 The Card Base
Use white cardstock to cut the A2 sized card base and white scallop layer.
Stamp the Happy Birthday sentiment on the card base using Nocturne ink.
Cut a strip of pink cardstock and run it through your straight crimper.  
Apply ATG adhesive to the crimped pink strip and attach it to the card base.
Apply pieces of mounting tape to the scallop layer and attach it to the card base.
The Wreath
Cut a circle wreath base using two small circle dies.
Use green cardstock to cut the two small leaf sections of the Branches and Leaves set.  
Place the leaf branches face up on the molding pad and gently form them using your leaf tool or small tipped stylus.
Begin attaching leaf branches to the base using glossy accents and over lapping the branches all the way around to fill in the wreath.
Use pink cardstock to cut tiny flowers.
Place them face up on the molding pad and push down in the center of each using a small tipped stylus.
Attach the flowers to the wreath using glossy accents.
Apply a generous amount to glossy accents to the back of the wreath base and attach it to the scalloped layer.
I like creating simple card designs that are fast and easy to make yet pack a big creative punch.  My project today is very feminine but you can check out my Sweet and Simple Birthday Card Ideas to see a project perfect for anyone.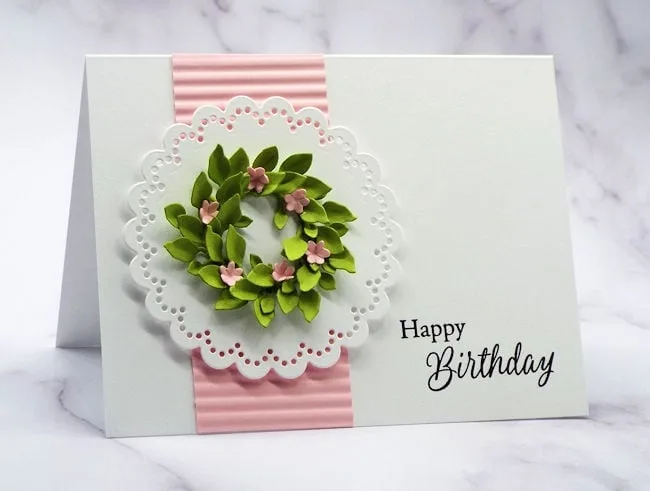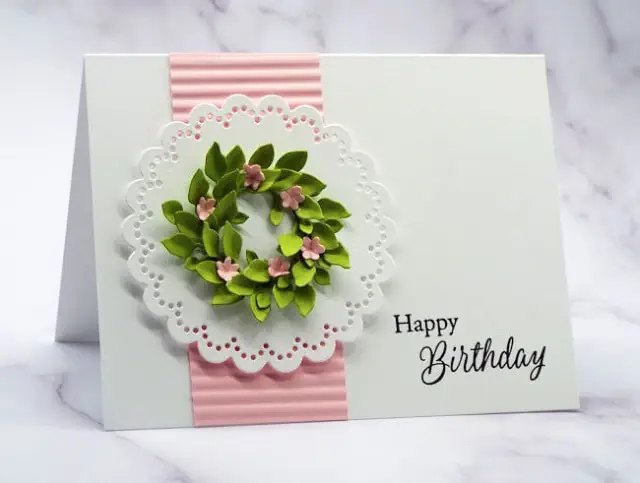 I hope this is one of those projects that makes it to your homemade birthday card ideas folder! It's so flexible and adaptable! And I would love to hear what you think of this and what you do to make it your own!
| | | |
| --- | --- | --- |
| Nested Circle Scallop w/ Holes Die… | Nested Circle Die Cut Set 5002D | 5404D Branches and Leaves Die |
| Flower Buds Die Cut 5147-09D | 3309 It's Spring time | Versafine Clair Nocturne Pad |
| Paper Blossom Tool Kit 4/Pkg | Paper Blossoms Molding Mat | Glossy Accents .5oz |
| Scotch Advanced Tape Glider & Tape | Scor-Tape .125″X27yd | Crossover II Fabric & Paper Cutting… |