Have you ever seen a cuter die cut Christmas cottage?
This card is an example of what happens when you are happily playing around with new dies – this die cut Christmas cottage practically designed itself thanks to two new die sets just released in my own Kittie Kraft by Rubbernecker line. Honestly, this turned out way cuter than I had envisioned and I can see SO many different variations of this sweet little structure being created.
There are two dies that work together to create all the magical details, the new Shed die set and the Shed Winter Add Ons. I just love how many ways this little building can be created – a garden shed, this little Christmas cottage, maybe a little gingerbread house, a she-shed to beat all she-sheds, a greenhouse…… There are SO many creative opportunities! And thanks to Rubbernecker being so attentive to all the details we paper crafters love to have at our fingertips, the Shed die set cuts 18 different elements that you can use (or not) and the Winter Add Ons give you six more to decorate and change up the windows. 
Let's dive in to this card with its little die cut Christmas cottage where I am SURE there's a cozy fire burning and cocoa on the table!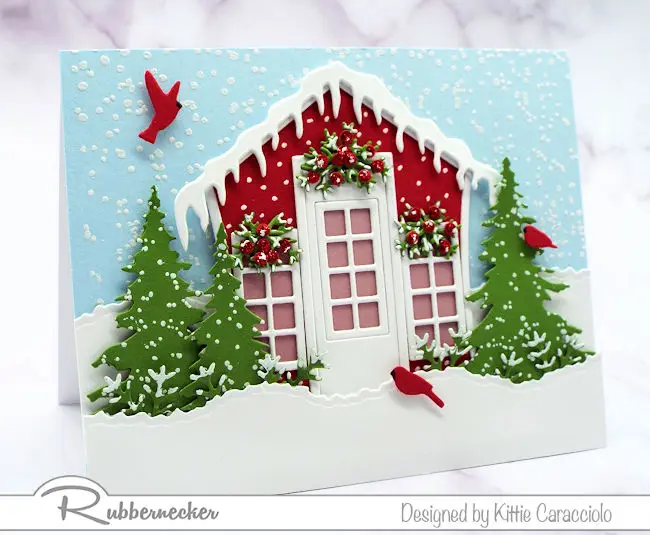 Assemble the Die Cut Christmas Cottage
The newly released Shed and Shed Winter Add On sets work together to create this precious Christmas house. scene  I love how the two sets together provide a mix and match opportunity to create lots of different houses.
Use red and white cardstock to cut out the shed, windows and snowy roof sections.
Attach vellum to the windows using glossy accents.
Attach the windows and door to the house using glossy accents.
Apply snowflakes to the house using a white gel pen.
Use rolled up strips of double stick tape to attach the main roof section to the house.
Apply a strip of rolled up double stick tape to the snowy roof section and attach it to the roof.  Pro Tip:  Attaching the snowy roof using a rope of double stick tape adds a second layer of dimension over the main roof to create a more prominent snowy overhang.  
Embellish the Door and Windows
Use green cardstock to cut a couple sets of greenery.  Set a few pieces of greenery aside for later.
Cut the small individual branches off of the greenery pieces.
Create tiny greenery swags by attaching the small greenery pieces to the windows and doors using glossy accents.
Punch out several 1/8″ red circles and attach them to the greenery using glossy accents.
Apply red stickles to the berries, allow them to dry and then add touches of snow using a white gel pen.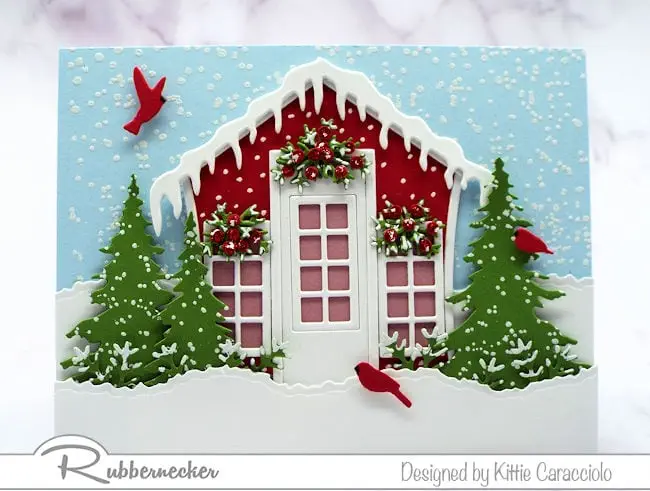 The Card Base, Snow Layers and Evergreen Trees
Use white cardstock to cut an A2 sized card base and two snow layers.  
Cut a 5.50″ x 4.25″ layer using light blue cardstock.
Use green cardstock to cut the evergreen trees.
Stamp the blue layer and evergreen trees using the Splatter Background and white pigment ink. NOTE: Rubbernecker has rereleased their perfect splatter pattern in CLEAR! I LOVE this because now I can see exactly how I am placing this pattern on my scenes.
Heat emboss the blue layer and trees using white embossing powder. Set the evergreen trees aside for later.
Apply ATG adhesive to the back of the blue layer and attach it to the card base.
Attach the back snow layer to the blue card base using ATG adhesive.
Apply a strip of mounting tape to the back of the front snow layer and attach it to the card base.
Assemble the Christmas Cottage Scene
Apply pieces of mounting tape to the back of the hose, tuck it in behind the front snow layer and attach to the card base.
Tuck the trees in behind the front snow layer and attach them to the card base using small pieces of mounting tape.
Apply snowy tips to the remain greenery sections using the white gel pen, tuck them in behind the snow layer and attach using glossy accents.
Use red cardstock to cut the birds, color the beaks with a black marker and attach them to the scene using small pieces of mounting tape.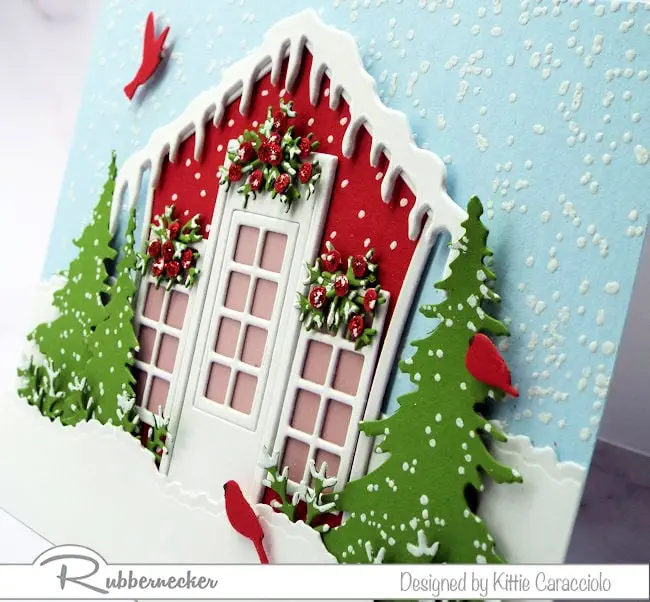 I love creating snowy scenes on my holiday cards,  Here are a couple of my favorites.  Christmas House Z Fold Box Card and Shadowbox Gingerbread House. I hope you have enjoyed seeing all the steps used to make this festive card.
5422-01D Shed Die

5422-02D Shed Winter add on Die

5173-02D Deckle Hills Die Cut

5217-01D Evergreen Tree Die

Greenery #1 Die Cut 5162-09D

3461 Splatter Background

Small Birds Die 5147-06D
The Color Catalog by Sarah Renae Clark

Uni-ball Impact Gel Pen, White

Hero Arts – Hero Hues – Pigment Ink…

Ranger Embossing Powder – White,…

Dual Speed Heat Tool, WOW

40 lb. Vellum – 25 pk, Essentials by…

Amazon.com : Accent Opaque White 8.5"…

New & Improved MISTI Laser Etched…

Amazon.com: Scotch CAT 085 Advanced…

Mini Glossy Accents, Ranger Accents

Amazon.com: Mini Foam Dots…

Amazon.com: Scotch 1/2-Inch by…

Fiskars 01-005452 Recycled Bypass…

Teflon Bone Folder, Essentials by Ellen

Scor-Pal Measuring & Scoring Board 12×12

Glue Dots, Mini (3/16″)

Embossing Magic Bag, Inkadinkado

What do you think? Are you envisioning all the ways you can change up this little die cut Christmas cottage to create your own little backyard sweet spots? Grab these before they sell out – they are marching out the doors – and become a die cutting architect!