Make some cute cards for crafty friends and use up all those random, leftover die cuts!
So the other day I was cleaning up my work space and had all these little bits and pieces of die cuts leftover from other projects. I also happened to have the new  Crafty Phrases set on my desk and a HUGE lightbulb went off in my head! Why not use these bits and pieces to make cute cards for crafty friends with any one of the sassy sayings? Anyone who is a card maker would "get it" and I wouldn't have to either – GASP! – throw away these little gems or put them in yet another baggie…… Sound familiar?
Here is a list of all the different die cut elements I used to make this Crafty Phrases, Outside Scallop Frame, Watering Cans, Picket Fence, Grass, Branches and Leaves, Small Flowers #4, Wide Terracotta Pots, Bunnies, Ducks, Birds, Small Butterflies and Flower Stems.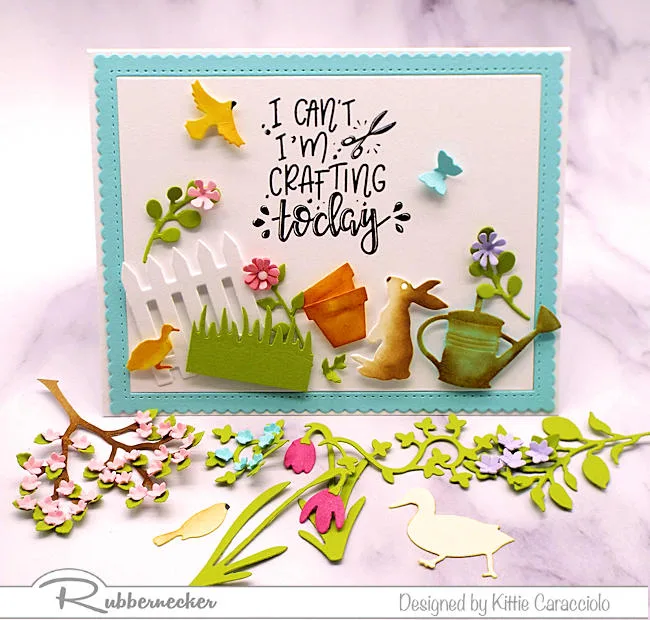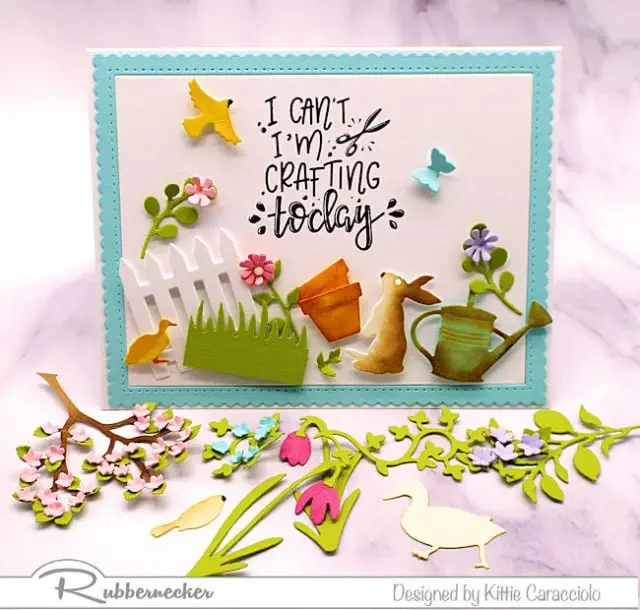 Card Base and Sentiment
Use aqua cardstock to cut the outer frame and white cardstock to cut the A2 sized card base and the inside layer 
Secure the white layer and the stamp in the MISTI, apply Nocturne ink and stamp the sentiment.
Turn the frame face down on the desk and insert the inside layer.
Attach the two sections together using double stick tape.
Remove the tape backing and attach the framed layer to the card base.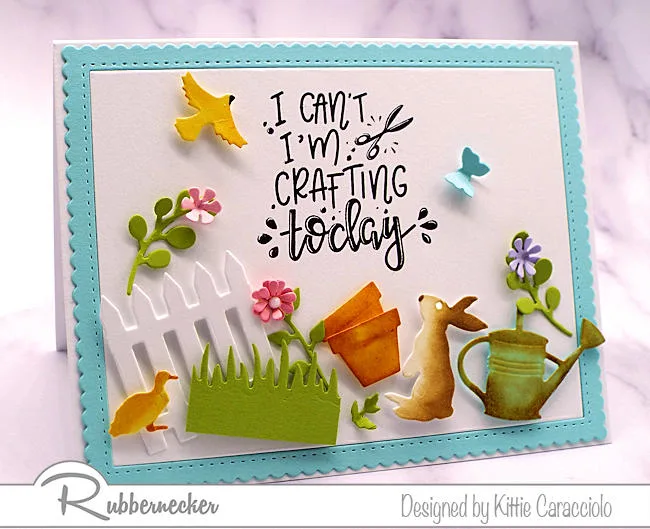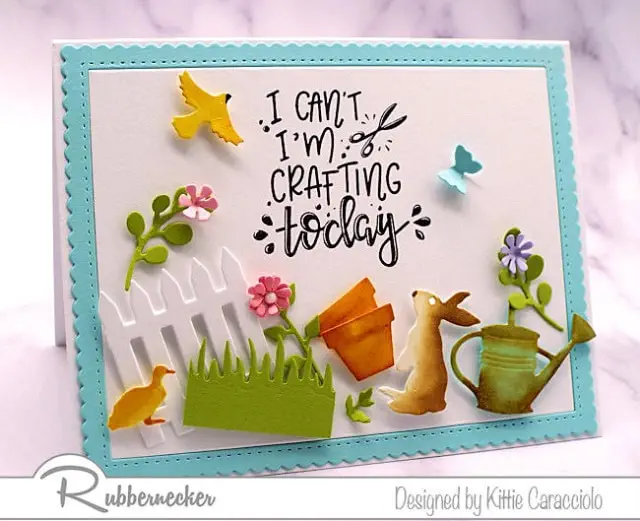 Crafty Pieces
Here are links to several of the projects that allowed me to have these leftover pieces.
Attach the Crafty Pieces
I chose to randomly place the die cuts around the sentiment and attached them using pieces of mounting tape and glossy accents.  I have made many, many crafty friends over the years and I know that any one of them would love this card. Would you?  I know I would.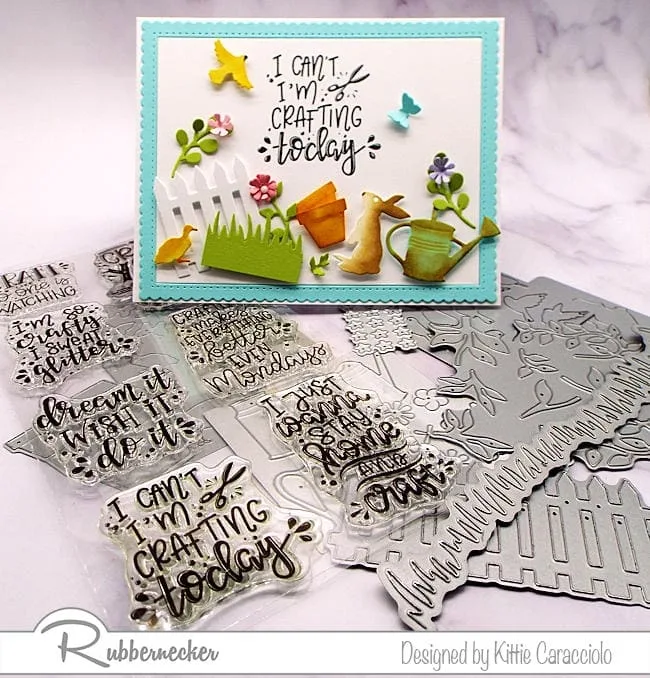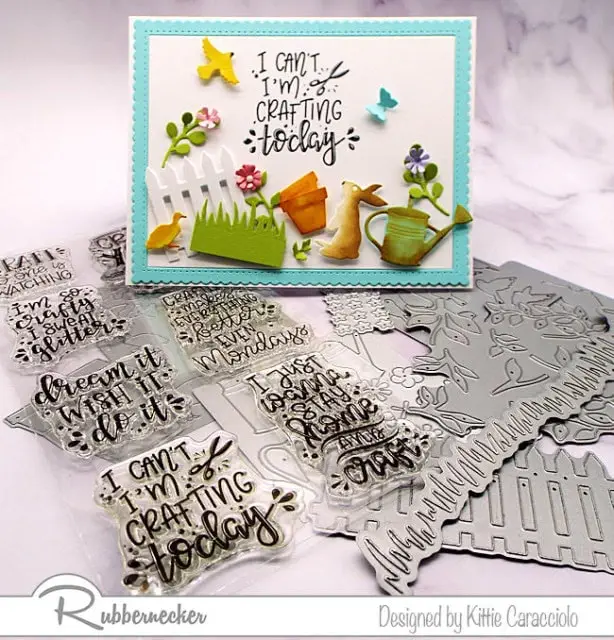 To the best of my recollection, here are the products that I had used on the previous projects that supplied my leftover die cuts. Of course, you can use what you have – that's the point! – but if there's a design you love, grab it because you WILL use it in plenty of ways!
3491 Crafty Phrases

5500-02D outside scallop frame Die

5506-02D Watering Cans Die

Picket Fence Die Cut 5152-01D

Tabed Grass Set Die Cut 5152-03D

5404D Branches and Leaves Die

5422-04D Small Flowers #4

Wide Terracotta Pot Die Cut 5147-17D

Bunnies Die 5142-01D

Ducks Die Cut 5142-02D

Birds Die 5142-05D

Small Butterflies Die 5147-08D

Flower Stems Die 5147-05D
The Color Catalog by Sarah Renae Clark

Sizzix – Paper Sculpting Kit

Paper Blossom Tool Kit 4/Pkg

Paper Blossoms Molding Mat

Black MISTI Laser Etched Stamping…

Versafine Clair Nocturne Pad

Amazon.com : Dahle 550 Professional…

Scotch Advanced Tape Glider & Tape

Crossover II Fabric & Paper Cutting…

Mini Glossy Accents, Ranger Accents

Amazon.com: 1000 Pieces Foam Sticky…

Amazon.com: Mini Foam Dots…

Amazon.com: Scotch 1/2-Inch by…

Teflon Bone Folder, Essentials by Ellen

Scor-Pal Measuring & Scoring Board 12×12

Glue Dots, Mini (3/16″)

Amazon.com : Accent Opaque White 8.5"…

I can't think of anyone who is a paper crafter who wouldn't get a kick out of any version of these cute cards for crafty friends you might put together and send. Are you now looking at all your little leftover die cuts in a completely different way? Good – go make some fun – and EASY! – cards!