Get my 6 tips for how to layer die cuts in card making to add tons of dimension!
There are plenty ideas on how to layer die cuts in card making and today I wanted to share some of my tips for how to add these easy-to-create extra special details to your own cards and paper crafts. 
Most people know that I love making cards that create scenes – little vignettes all made using paper and dies to get the basic shapes. I then use shaping to add dimension and hints of realism to many of those shapes and then layer them to give all that texture, depth and make my cards look like little sculptures.
Here's a big secret – making cards like these is NOT hard! Yes you have to have a vision – your own or one that you see in the world that you want to recreate. Yes, you need to have dies and tools to bring the shapes to life. But as far as difficulty……once you know some basic tips and tricks, you will be able to start putting the elements and your skills together to make cards that will truly wow your friends.
Lately, I am having so much fun making spring themed cards with lots of pretty flowers.  This card was made using the Mini Slimline Nested with Stitch, Bicycle, Branches and Leaves, Tiny Flowers #2, Grass, Small Butterflies and Kittie Says Spring Time. Because there are so many little details and layers to create the focal elements, I figured this was a good example to show you some of my tricks for layering die cuts. Shall we dive in?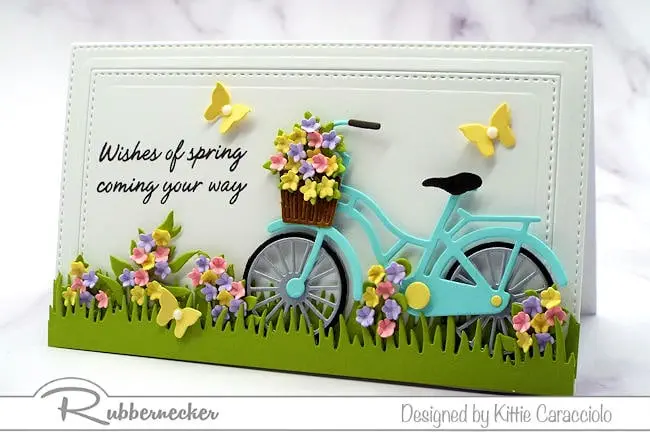 Card Base and Nested Layers
Cut an A2 sized card base using white cardstock.
Use the largest die from the Mini Slimline Nested with Stitch to cut a white layer.
Place the white layer back on the cutting platform, line up, center and secure the next size die from the set in place and run through the machine.
Secure the smaller layer and stamp in the MISTI and stamp the sentiment from the Kittie Says Spring Time set using Nocturne ink.
TIP 1: Place the frame face down on the work surface and tuck the smaller layer inside the frame and attach together using double stick tape. This is a super simple tip that helps you create the look of an additional layer without adding thickness at this stage of making your card.
Remove the paper backing from the tape and attach the layers to the card base.  Pro Tip:  Creating the double stitch layers for the card base added an element of interest to the clean white card base. And because I knew I would be adding lots of depth with my decorative elements, I wanted to keep this part of the card flat.
Bicycle and Flower Basket
Cut the Bicycle sections using aqua, black and gray cardstock.
Use double stick tape to attach the tire to the wheel and spokes section. TIP 2: Using tape, or thin layers of liquid glue, helps to keep elements look unified – as one piece – while being able to use different colors and papers for the different elements of a multi-piece die cut.
Color the handlebar and seat part using a black marker.
Attach the bicycle to the wheel center sections using small pieces of mounting tape. TIP 3: Using dimensional adhesive like thinner foam tape or rolled adhesive adds that realistic dimension to a multi-part die cut without adding so much thickness that all the elements have the same layer depth. This is why I like to have different thicknesses of dimensional adhesive in my stash.
TIP 4: If you don't want to have multiple thicknesses of foam tape or dimensional adhesive, get the thinnest one you can find and "stack" pieces to get that different thickness you need.
Use glossy accents to attach the yellow pieces to the bicycle frame. TIP 5: I personally use glossy accents because it's what I am used to. You will want to experiment until you find a liquid glue you like to use. Liquid glue is the easiest way to add tiny elements to your projects because you can dot the glue exactly where you want your detail and then place that detail with your fingers or tweezers AND have a few seconds to maneuver the detail into the perfect spot.
 Cut the bicycle basket using brown cardstock.
Cut the Tiny Flowers #2 using pink, yellow and purple cardstock and Small Ivy sections using green cardstock.
Place the tiny flowers face up on the molding pad and form them by pushing down in the centers with a small tipped stylus.
Attach the flowers to the ivy sections using glossy accents.
Use glossy accents to attach the ivy and flowers sections to the back of the basket using glossy accents.
Apply glossy accents to the back of the basket and attach it to the bicycle frame.  Set the bike aside.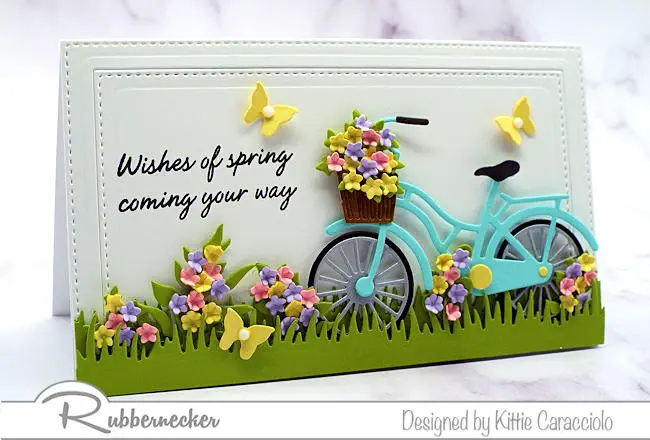 Grass, Flowers and Butterflies
Use green cardstock to cut two Grass sections.
Attach one grass section to the card base using double stick tape.
Apply a strip of mounting tape – foam tape – to the back of the second grass section and attach it to the first grass section on the card base. TIP 6: There are times when using a whole strip of foam tape works better than small pieces. When you are adding a strip element that spans a card, it is a good idea to do this because it will help support the other elements AND keep that area from getting dented.
Cut more of the tiny flowers using pink, yellow and purple cardstock and form them using the stylus and molding pad.
Use green cardstock to cut a section of the Branches and Leaves.
Attach flowers to the branches using glossy accents.  Pro Tip:  Using the smaller and larger branch sections filled with flowers creates a more natural line of flowers.
Use yellow cardstock to cut the Small Butterflies.
Finish the Scene
Apply pieces of mounting tape to the back of the flower basket, seat and wheels of the bicycle, tuck it in behind the grass and attach to the card base.
Tuck the flower branch sections in behind the grass leaving space around the bicycle and attach them using glossy accents.
Apply small white pearls to the center of each butterfly and attach them to the card base using glossy accents.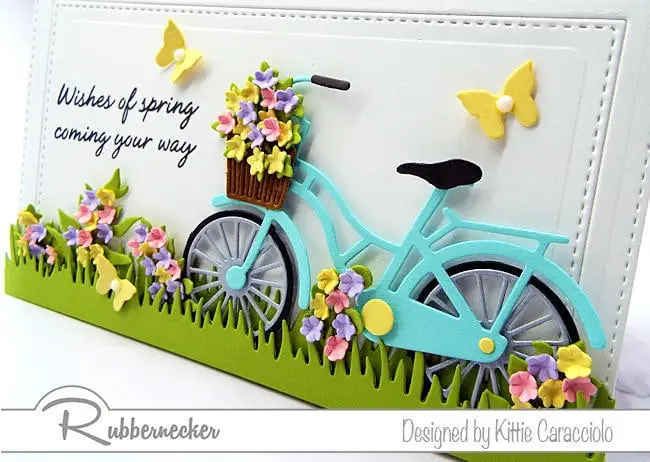 Click this link if you would like to see several different bicycle card layouts. One of my favorites is the Die Cut Bicycle Z Fold card.
| | | |
| --- | --- | --- |
| 5209-01D Bicycle Die Cut | 5422-03D Tinny Flowers #2 Die | 5404D Branches and Leaves Die |
| Small Butterflies Die 5147-08D | Tabed Grass Set Die Cut 5152-03D | 3411 Kittie Says Spring time |
The Color Catalog by Sarah Renae Clark

Sizzix – Paper Sculpting Kit

Paper Blossom Tool Kit 4/Pkg

Paper Blossoms Molding Mat

Black MISTI Laser Etched Stamping…

Versafine Clair Nocturne Pad

Amazon.com : Dahle 550 Professional…

Scotch Advanced Tape Glider & Tape

Crossover II Fabric & Paper Cutting…

Mini Glossy Accents, Ranger Accents

Amazon.com: 1000 Pieces Foam Sticky…

Amazon.com: Mini Foam Dots…

Amazon.com: Scotch 1/2-Inch by…

Teflon Bone Folder, Essentials by Ellen

Scor-Pal Measuring & Scoring Board 12×12

Glue Dots, Mini (3/16″)

Amazon.com : Accent Opaque White 8.5"…
Now you have some great tips for how to layer die cuts in card making that you can start using today. You don't have to try all of them at once, but try them out to see which ones give you the results you want and build from there. As I said, it's not difficult to use die cuts to build layers to make a scene and the more you practice the better you will get and as you are practicing you will be making gorgeous cards!