Check out this way to use your fancy edge nesting dies to create the most elegant look!
If you are like me, you've got lots of fancy edge nesting dies in your stash. And while they are ideal for creating those nested layers, using them alone as a tone on tone layer can add instant elegance to any card with practically zero effort.
When you layer any color over the same color, you instantly create richness and visual depth. White on white – or any very light color – creates more of that effect because you can better see the shadows.
So when I went to make this card, I really wanted to show off that gorgeously intricate edge design. So white on white it was! The beauty of starting with this design element is that you can add just about anything over that and your card will be gorgeous! Let's check out all the details.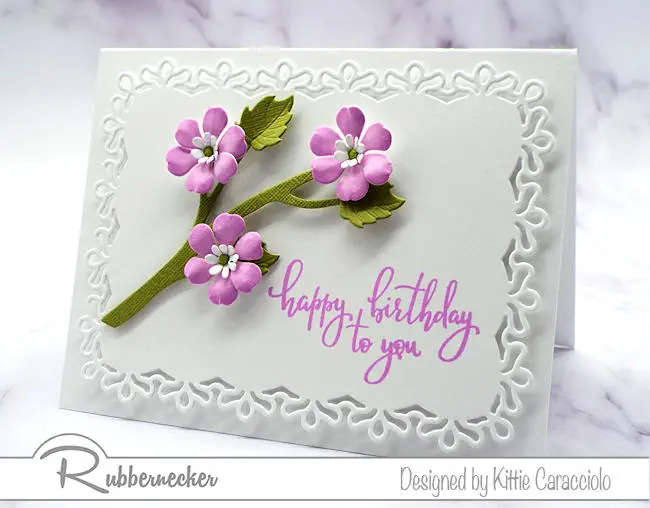 Card Base, Decorative Layer and Sentiment
Use white cardstock to cut an A2 sized card base and the Fancy Decorative Nested die.
Secure the Happy Birthday sentiment stamp from the Birthday Lilies set and the decorative layer in the MISTI.
Apply Lilac ink to the stamp and stamp it on the decorative edge layer.
Apply strips of mounting tape to the back of the decorative edge layer and attach it to the card base.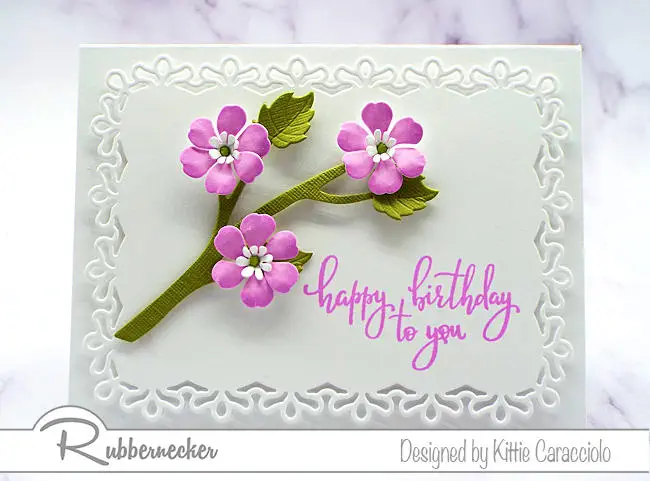 The Flowers and Branch
Use white cardstock to cut the flowers from the Stackable Flowers and Leaves #3 set.
Cut the Branch and leaves using green cardstock. 
Gently form the leaves with your fingers and attach them to the branch using glossy accents.
Apply a light layer of Lavender ink over each flower using a mini applicator. Pro Tip:  You need to use a soft gentle touch with the applicator when you want to apply a very light shade of the ink to the white flower.  
Use Lilac ink to apply touches of darker ink around the edges of the petals.
Place the purple flowers face down on the molding pad and form them by gently pushing and rolling the large round stylus over each petal.
Turn the flowers and small white flowers face up and push down in the center of each with a small tipped stylus.
Use glossy accents to attach the white flowers to the center of the larger flowers.
Attach the flowers to the branch using glossy accents.
Finish by attaching a small green circle to the center of each flower.  Pro Tip:  I cut the green circles using the edge of the largest die from the Nested Rectangle Scallop with Holes set.  The circles were the perfect size for these flowers.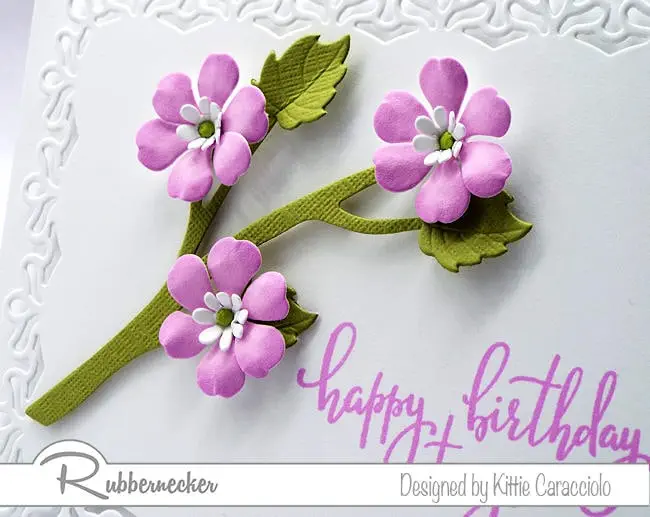 I love how pretty the colorful flowers, leaves and sentiment looks on the all white card base and I make lots of cards in this style.  Check out my White on White category to see more mostly white cards with pops of color. 
5508-03D stackable flowers/leaves #3 Die

5509D Fancy Decorative Nested Die

5510-01D Branch Dies

3494 Birthday Lilies set
The Color Catalog by Sarah Renae Clark

PanPastel Sofft Applicators 12/Pkg

Color Fuse Set #6

Sizzix – Paper Sculpting Kit

Paper Blossom Tool Kit 4/Pkg

Paper Blossoms Molding Mat

Scrapbook.com – Magic Mat – Standard…

Scrapbook.com – Magic Mat – Standard…

Crossover II Fabric & Paper Cutting…

Amazon.com : Dahle 550 Professional…

Scotch Advanced Tape Glider & Tape

Mini Glossy Accents, Ranger Accents

Amazon.com: 1000 Pieces Foam Sticky…

Amazon.com: Mini Foam Dots…

Amazon.com: Scotch 1/2-Inch by…

Teflon Bone Folder, Essentials by Ellen

Scor-Pal Measuring & Scoring Board 12×12

Glue Dots, Mini (3/16″)

Amazon.com : Accent Opaque White 8.5"…
I hope this gets you to see all the additional creative opportunities your fancy edge nesting dies can give you. And of course, I would LOVE to hear what YOU try out so let me know!