Pierced background dies are your best friends for making easy cards!
I've been on a kick using the new pierced background dies from Rubbernecker and today I am sharing the third die that just happens to perfectly coordinate with one of the flower die sets. Just look at how this Flowering Vine Pierced Cover die works so wonderfully with the Gentian and Stems die set! I love that one of the dies was a graphic design, one was more of a regulated floral pattern and this one is so whimsical and breezy. I am sure hoping Rubbernecker makes more of these – they are so easy to use and add so much with just one whirl through your die cutting machine!
When I say this card is easy, I am not even the slightest bit kidding. All I could think of when I was making it was that I could make an enormous stack of these in tons of colors, add any sentiment and have an all occasion card ready to go in less than a minute! Let me share the details with you.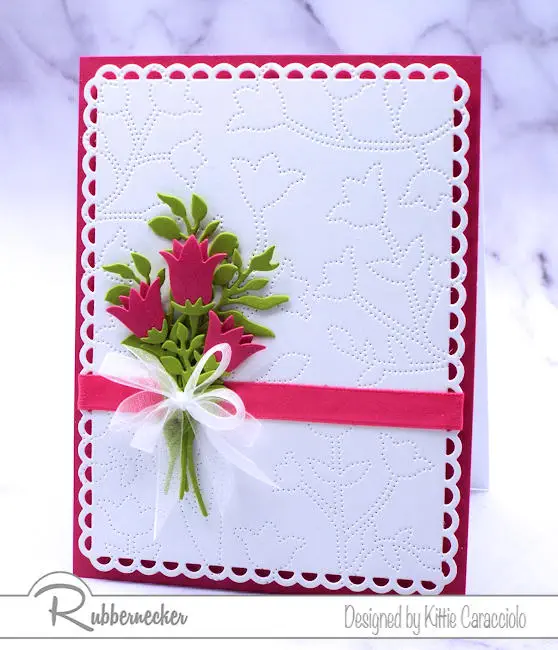 Flowering Vine Pierced Cover Die
Use bright pink cardstock to cut an A2 sized card base.
Use white cardstock to cut the Flowering Vine Pierced Cover die.
Line up the Nested Scallop with Half Holes over the pierced layer and cut.
Apply a pink strip of ribbon across the front of the pierced layer and attach it to the back  using double stick tape.
Apply strips of mounting tape to the back of the pierced layer and attach it to the card base.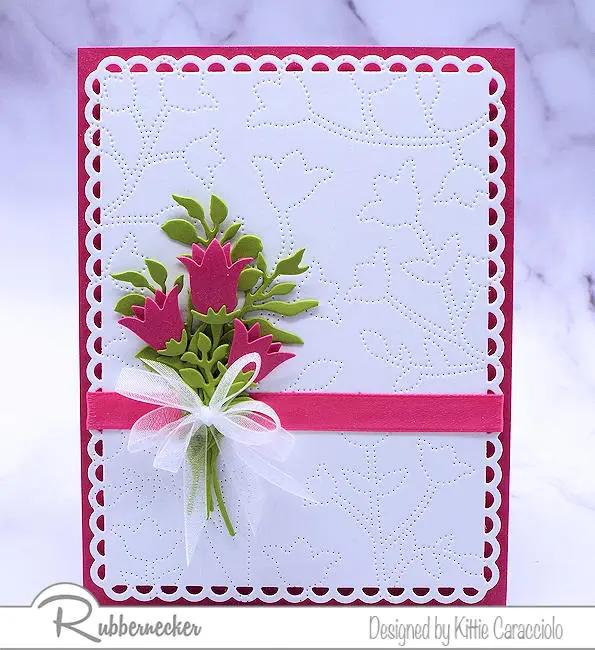 The Mini Bouquet
Use bright pink and green cardstock to cut three of the Gentian Flowers and Stems.
Attach the back flower layer to the front using tiny pop dots.  Pro Tip:  Using the pop dots to secure the two flower sections together instead of directly to the back with adhesive provides dimension and interest to the flowers.
Apply glossy accents to the stems and attach them to the flowers.
Use green cardstock to cut the Branches and Leaves sections.
Attach the three flowers and stems together using glossy accents.  
Apply glossy accents to the front of the three green branch sections and attach to the back of the flowers.
Fill in the front of the bouquet by attaching a small green branch with glossy accents.
Apply glossy accents to the back of the bouquet and attach it to the card base.
Finish by attaching a pretty white organza multi loop bow using glue dots.  Pro Tip:  Check out my Multi Loop Bow video if you would like to see how I make my bows.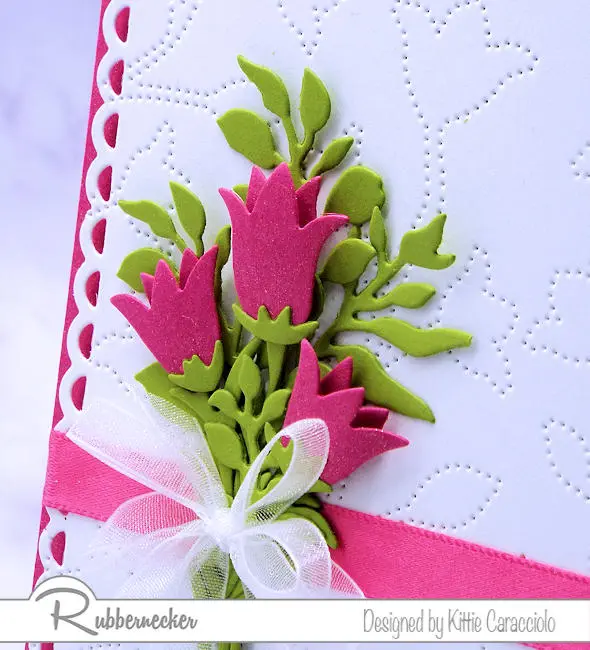 You can see my How to Make Paper Flowers Step by Step two part videos post showing how I assemble these flowers and how to create a paper flower bouquet. 
5511-03D Flowering Vine Priced Cover

5402-02D Gentian and Stems Die

5404D Branches and Leaves Die

5320D Nested Scallop w/ Half Holes
| | | |
| --- | --- | --- |
| The Color Catalog by Sarah Renae Clark | Sizzix – Paper Sculpting Kit | McGill – Paper Blossoms Collection -… |
| Amazon.com: McGill Paper Blossoms… | Amazon.com: PoshNPretty 1/4″ Simply… | Scrapbook.com – Magic Mat – Standard… |
| Scrapbook.com – Magic Mat – Standard… | Crossover II Fabric & Paper Cutting… | Amazon.com : Dahle 550 Professional… |
| Scotch Advanced Tape Glider & Tape | Mini Glossy Accents, Ranger Accents | Amazon.com: 1000 Pieces Foam Sticky… |
| Amazon.com: Mini Foam Dots… | Amazon.com: Scotch 1/2-Inch by… | Teflon Bone Folder, Essentials by Ellen |
| Scor-Pal Measuring & Scoring Board 12×12 | Glue Dots, Mini (3/16″) | Amazon.com : Accent Opaque White 8.5"… |
This card is truly so easy to make and as I said, it would be utterly charming in any color combination. Using these pierced background dies to add lots of details with no distraction can take your cards up a notch with almost NO extra work!