Learn how to turn an easy to use premade center step card into a beach scene ready for a day of R&R!
Cards with fun folds and cool pop out elements are very fun to make but with the more complex ones, you can end up spending a lot of your crafting time painstakingly cutting and folding all the different elements. Not so fun. My solution for this card was to grab a premade Horizontal Center Step Card from one of the fabulous step kits by The Paper Cut and then I can get to the fun part SO much faster!   
And of course because summer is in full swing, I just had to fill my premade center step card with all things beach! Rubbernecker has so many summer and beach designs and I love that you can mix and match among them to come up with every detail you want to add. Let me show you how I combined lots of fun summer elements to put this card together.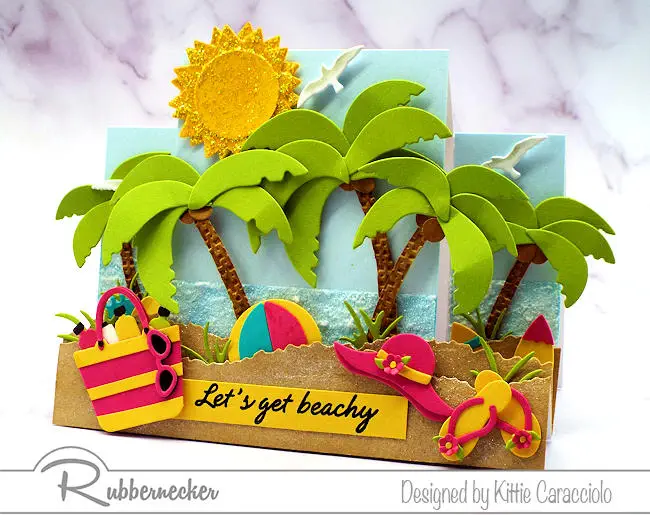 Prepare Your Horizontal Premade Center Step Card
Fold the sections of the Horizontal Premade Center Step card base at the score lines. 
Go over each fold line using your bone folder to sharpen the scored crease.
Use light blue cardstock to the layering sections for the card base.

Cut one 4.25″ x 3.00″ section for the center section.
Cut two 3.25″ x 1.25″ sections for the sides. 

Attach the blue layers to the card base using ATG adhesive.  Pro Tip:  I chose to cover the sections completely. because I wanted a seamless background for my scene.  You can also choose to make your cover sections .25″ smaller to leave a border around each section.
Add Embossing Paste and Glitter
Lay the card base flat on the work surface and place a long strip of masking tape straight across the middle to create a mask line for the water.
Use a small tipped pallet knife to apply white embossing paste all the way across the water line and down to just below the bottom folds.  Pro Tip:  Stop the embossing paste application just below the bottom fold lines to leave room for applying the sand layers.  Adhesives do not work well with the paste. Pro Tip:  You can also use your index finger to apply the embossing paste but I have found you can create a fluffier application with the pallet knife.
Sprinkle clear glitter over the embossing paste, shake off the excess glitter and set aside to dry.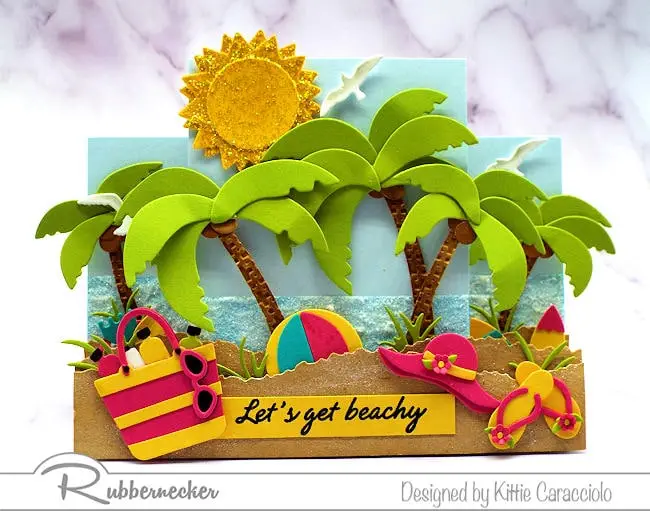 Sand Layers and Palm Trees
Use Kraft cardstock to cut two 5.50″ x 1.25″ and two 1.25″ x 1.25″ sand layers using the Deckle Hills die.
Add sparkle to the sand layers using an aqua shimmer pen and set aside to dry.
Use green and brown cardstock to cut a couple sections of the Palm Trees.
Apply Pecan ink to the tree trunks using a mini applicator.  
Use an embossing folder to add texture to the tree trunks.  Note:  The folder I used is retired.
Gently form the palm fronds with your fingers and then attach them to the trunks using glossy accents.
Attach one sand layer directly to the card base and the two smaller layers to the back card base sections using ATG adhesive.
Use a strip of mounting tape to attach the front sand layer.
Beach Elements and Sentiment
Use brightly colored cardstock to cut the Beach Bag, Sand Toys,  Lifeguard Tower ( surf boards) and Tiny Flowers.
Assemble the die cut pieces and attach them together using glossy accents.
Secure the Kittie Says Summer sentiment stamp and bright yellow cardstock strip in the Misti, apply black ink and stamp the sentiment.
Attach the sentiment strip to the sand layer using ATG adhesive.
Apply pieces of mounting tape to the individual beach elements and attach them to the sand layers. Note:  The surf board and  sand bucket images attached to the inner fold sand layers are a little hard to see in the photos.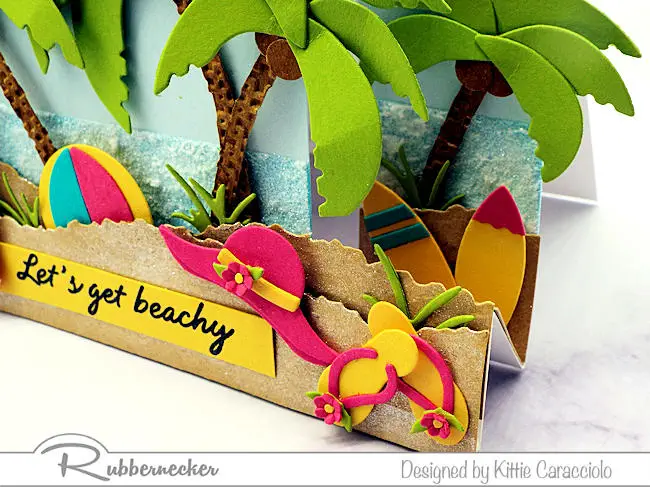 Sun, Grass and Gulls
Use bright yellow cardstock to cut the Sun Moon die cut sun.
Apply yellow stickles to the sun and set aside to dry.  Note:  The stickles looks really blobby in these photos but it looks perfect in person. 
Use white cardstock to cut the gulls and apply Chill ink to their wings using a mini applicator.
Attach the gulls to the card base using small pieces of mounting tape.
Use green cardstock to cut the Grass #2 sections.
Tuck the pieces of grass in behind the sand layers and attach in place using glossy accents.  
Finish the scene by attaching the sun to the card base using a piece of mounting tape.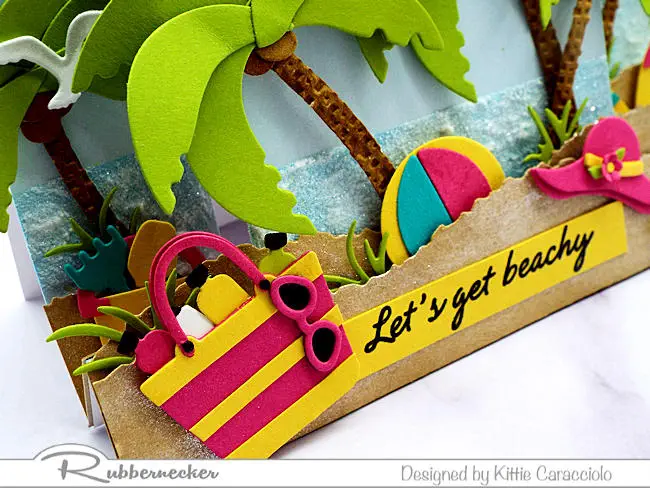 I love making all my cards but I had an especially great time making this bright and sunny center step card.  The different levels of the base provides more depth and dimension than a flat A2 sized card.  It was a perfect layout to create this beach scene with tons of interesting elements.  Do you like making beach themed cards?  If yes, then check out my Beach Category for lots more beach inspiration.  Check out this card to see another scene card made using the step card base.
Here's what I used today to add all the fun details to today's project:
5314-03D Beach Bag Die

5314-01D Sand Toys Die

5422-03D Tinny Flowers #2 Die

5212-06D Palm Trees Die Cut

5173-02D Deckle Hills Die Cut

5210-02D Grass #2 Die Cut

5410-03D Seagulls Die

Sun Moon Die 5147-07D

5212-05D Lifeguard Tower Die Cut

3498 Kittie Says Summer
| | | |
| --- | --- | --- |
| The Color Catalog by Sarah Renae Clark | The Paper Cut: A-2 Horizontal… | Studio 490 Embossing Paste by Wendy… |
| Dry Glitter – Clear Rock Candy,… | Creative Expressions – Cosmic Shimmer… | Tonic Nuvo Aqua Shimmer Pen 2 pk |
| VersaFine Clair Ink Pad, Nocturne | Mini MISTI – Most Incredible Stamp… | New MISTI Stamping Tool – The Most… |
| Susan's Garden Ultimate Tool Kit | Sizzix – Paper Sculpting Kit | Scrapbook.com – Magic Mat – Standard… |
| Scrapbook.com – Magic Mat – Standard… | Crossover II Fabric & Paper Cutting… | Amazon.com : Dahle 550 Professional… |
| Scotch Advanced Tape Glider & Tape | Mini Glossy Accents, Ranger Accents | Amazon.com: 1000 Pieces Foam Sticky… |
| Amazon.com: Mini Foam Dots… | Amazon.com: Scotch 1/2-Inch by… | Teflon Bone Folder, Essentials by Ellen |
| Scor-Pal Measuring & Scoring Board 12×12 | Glue Dots, Mini (3/16″) | Amazon.com : Accent Opaque White 8.5"… |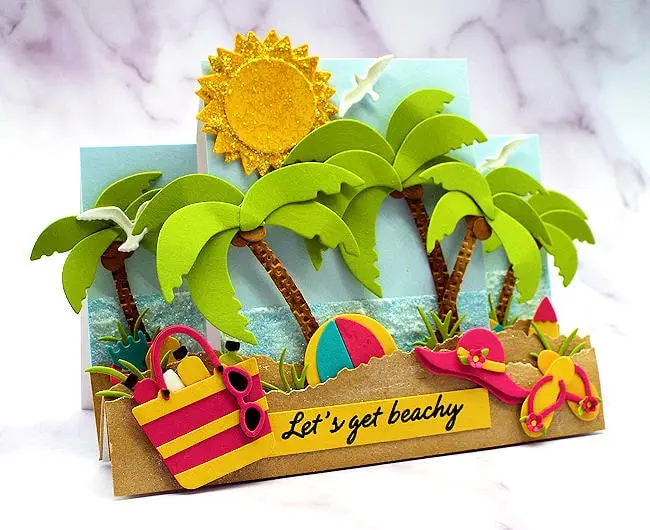 I can't say enough positive things about using a premade center step card base to create projects that have this fun, detailed 3-D feel. I am so glad that The Paper Cut does all the grunt work for us and lets us use all our crafting time to be creative!