This die cut slimline floral card idea is quick and pretty and easy!
I've said before that I really like this size card and this die cut slimline floral card idea, for me, is a keeper because it was SO easy to make and I can swap out those central die cut elements for just about anything and end up with a super cute card. I love it when I come up with an idea I can use over and over and now that I say this I am thinking I can even swap out any of the slimline insert dies from Rubbernecker and have even MORE designs.
Let me share my tips and tricks with you so you can see how easy this is to make and all the ways you can make it uniquely yours. To make this card I used the Rubbernecker  Slimline Inside Scallop with Teardrop, Slimline Solid Scallop with Holes, Branches and Leaves and Small Flowers #3.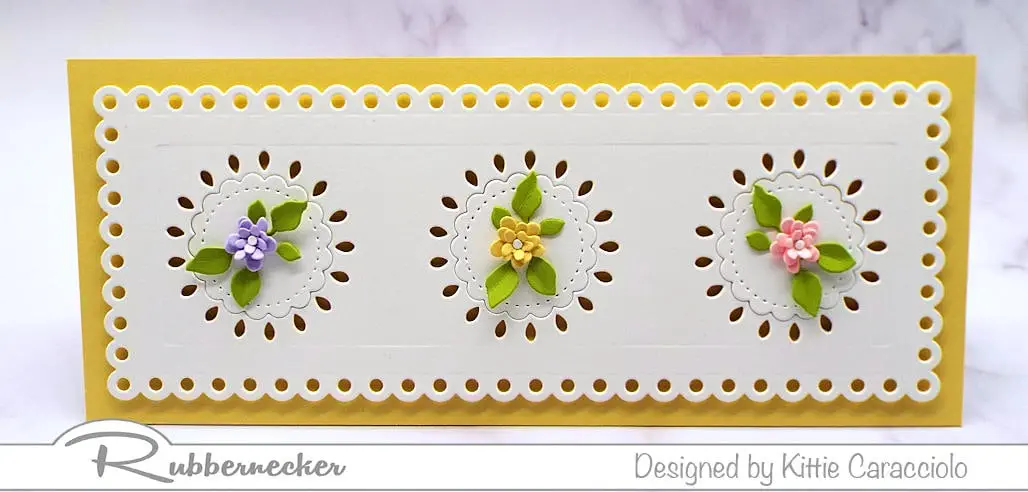 Card Base and Scallop Layers
Use yellow cardstock to cut a 8.50″ x 7.00″ card base and score it at 3.50″ with the 7.00″ side along the top of the Scor-Pal.
Cut the solid slimline using white cardstock.
Place the solid layer back on the cutting platform, line up the inside scallop die to center and cut.
Apply strips of mounting tape to the back of the scallop frame section and attach it to the card base.
Apply pieces of mounting tape to the small center negative sections and secure them back in the openings and attach to the card base.  Pro Tip:  I set the centers in place with mounting tape because the cut lines of the center sections are too close together to attach them back in place with double stick tape.  
Flowers and Leaves
Cut the tiny flowers using colorful cardstock, place them face up on the molding pad and push down in the centers using a small tipped stylus. 
Attach the smaller flowers to the larger flower centers using glossy accents. 
Adhere tiny white circles to the flower centers using glossy accents.  Pro Tip:  I save the little negative circles from my eyelet dies to use for flower centers, falling snow and anything else I may need them for. 
Cut the leaves using green cardstock.
Attach the leaves to the center of each circle using glossy accents.
Finish by attaching the flowers using glossy accents.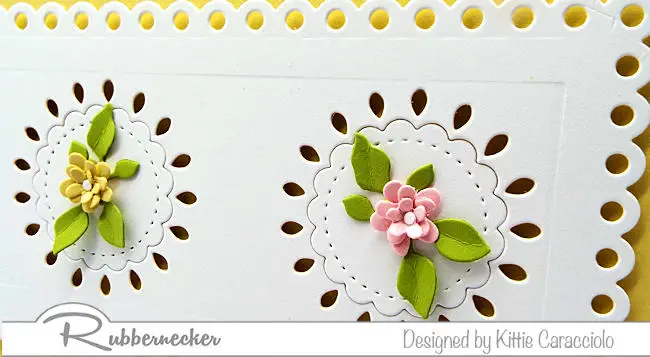 This was a really fast and easy card to make and yet I think it is so pretty and would definitely brighten someone's day to receive it for many different occasions.  
5322-03D Slimline Solid Scallop w/…

5327-01D Slimline Inside Circles dies

5404D Branches and Leaves Die

5309-09D Small Flowers #3
The Color Catalog by Sarah Renae Clark

Susan's Garden Ultimate Tool Kit

Sizzix – Paper Sculpting Kit

Scrapbook.com – Magic Mat – Standard…

Scrapbook.com – Magic Mat – Standard…

Crossover II Fabric & Paper Cutting…

Amazon.com : Dahle 550 Professional…

Scotch Advanced Tape Glider & Tape

Mini Glossy Accents, Ranger Accents

Amazon.com: 1000 Pieces Foam Sticky…

Amazon.com: Mini Foam Dots…

Amazon.com: Scotch 1/2-Inch by…

Teflon Bone Folder, Essentials by Ellen

Scor-Pal Measuring & Scoring Board 12×12

Glue Dots, Mini (3/16″)

Amazon.com : Accent Opaque White 8.5"…
I do hope you Pin or bookmark this die cut slimline floral card idea because you truly can swap out just about any one of the components and have card ideas forever!