Learn how to make this stunning winter center step card with an easy to use premade card base and some die cuts in crisp white!
I truly do love making cards that give you a real feel for the theme and this winter center step card serves up all the frosty wonder of a snowy night time scene. And as pretty as it is, this card is SUPER easy to make – so much so that it would make a stellar batch card. Imagine your friends and family receiving this stand up, 3D style card as your holiday greeting this year!
To make this card I used the Rubbernecker Deer Family, Horizontal Birch Trees, Evergreen Trees, Greenery #3, Deckle Hills and Splatter Background.  The Horizontal Center Step Card is from a premade card base kit made by The Paper Cut. I LOVE using these premade card bases because I do NOT love all the fussy measuring and partial cutting and folding back and forth when making one from scratch. These kits are all precut and prescored so you simply pull one out, fold as shown and start creating!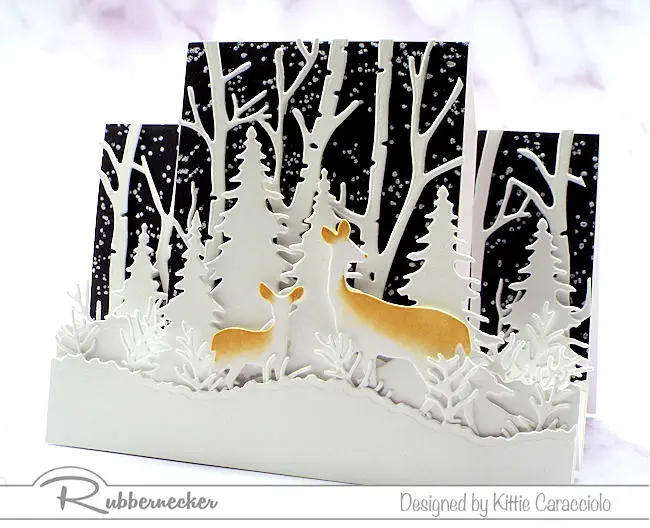 Prepare Your Horizontal Premade Center Step Card and Make Your Winter Background
Fold the sections of the Horizontal Premade Center Step card base at the score lines. 
Go over each fold line using your bone folder to sharpen the scored crease.
Use black cardstock to cut the layering sections for the card base.

Cut one 4.25″ x 3.00″ section for the center section.
Cut two 3.25″ x 1.25″ sections for the sides. 

Secure the black sections and the background stamp in the MISTI and stamp using white pigment ink.  Pro Tip:  Be sure to use your Embossing Magic bag on the black cardstock to remove static from your paper.
Apply white embossing powder to each section and heat with your heat gun.
Attach the layers to the card base using ATG adhesive.  Pro Tip:  I chose to cover the sections completely. because I wanted a seamless background for my scene.  You can also choose to make your cover sections .25″ smaller to leave a border around each section.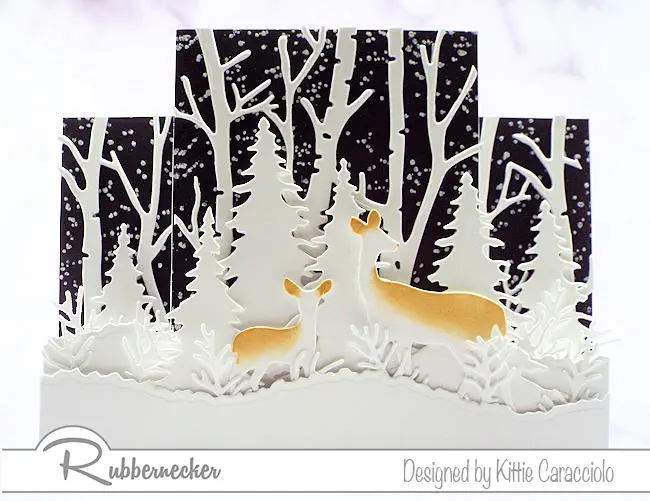 Make the Horizontal Birch Trees and Snow Layers
Cut the Horizontal Birch Trees cover using white cardstock.
Cut the top and side frame borders off.  Pro Tip:  I cut the frame borders off so they would allow the trees to appear free standing when applied to the background. 
Cut the birch tree section into three sections to fit across the three card base sections. 
Apply double stick tape to the back bottom of each section and rolled up double stick tape to the back of the trunks and attach them to the card base.
Use white cardstock to cut two 5.50″ snow layers and two 1.25″ snow layers.
Attach the two small snow layers to the back step on each side using double stick tape.
Adhere one large snow layer directly to the front of the card base using double stick tape.
Apply a strip of mounting tape to the back of the second snow layer and attach it to the card base.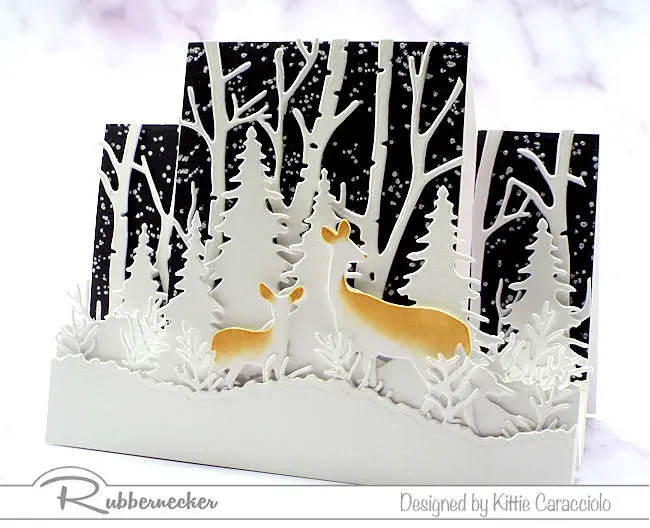 Add Your Evergreen Trees and Greenery
Use white cardstock to cut two sections of the evergreen trees and two or three greenery sections.
Tuck the trees in behind the snow layers and attach them to the card base.  Pro Tip: Dry fit the trees to see exactly where to place them for the scene and then attach them to the card base.
Set the greenery sections aside to attach after the deer are in place.
Color the Deer
Cut the deer using white cardstock.
Use a mini applicator to apply to apply a very light layer of Antique Linen ink to the ears and upper body of the deer.
Apply a slighter darker shade of brown to the ears and body using a mini applicator and Vintage Photo ink. Pro Tip:  I only wanted a light touch of color added to the deer so they would stand out against the trees but not overpower the scene.
Tuck the deer in behind the front snow layer and attach in place using pieces of mounting tape.
Finish the scene by tucking greenery sections in behind the snow layers and attach using glossy accent.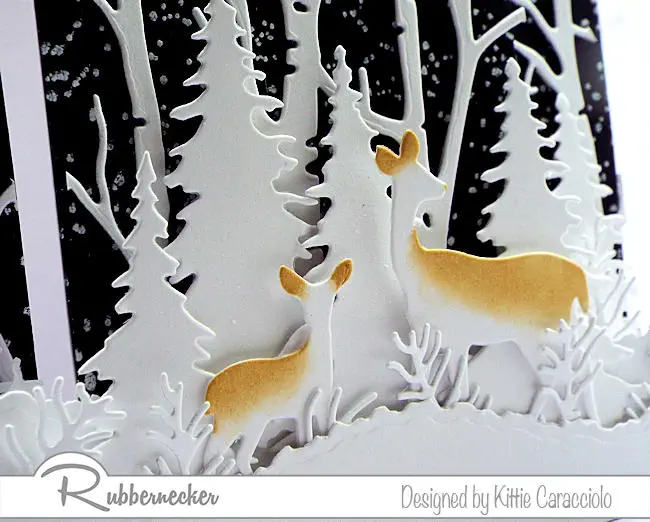 I love making intricate cards like this and especially the white on white with the black snowy background.  Check out my Snowy Z Fold Card post for more inspiration.  It's the same concept but on a larger scale. Here are all the items I used so you can easily add the things you don't yet have and make this beautiful winter center step card as your holiday or all-winter-long card:
| | | |
| --- | --- | --- |
| Deer Family Die Cut 5162-10D | 5514-03D Horizontal Brich Trees Die | 5217-01D Evergreen Tree Die |
| 5514-04D Greenery #3 Die | 5173-02D Deckle Hills Die Cut | 3461 Splatter Background |
The Color Catalog by Sarah Renae Clark

Unicorn White, Hero Arts Pigment Ink Pad

Ranger Super Fine Embossing Powder,…

We R Memory Keepers – Heat Gun – Lilac

Embossing Magic Bag, Inkadinkado

Liquitex Acrylic Gesso – White, 4 oz…

Ranger Ink – Tim Holtz – Distress Ink…

Vintage Photo, Ranger Distress Ink Pad

PanPastel Sofft Applicators 12/Pkg

Susan's Garden Ultimate Tool Kit

Sizzix – Paper Sculpting Kit

Scrapbook.com – Magic Mat – Standard…

Scrapbook.com – Magic Mat – Short -…

Scrapbook.com – Magic Mat – Standard…

Crossover II Fabric & Paper Cutting…

Amazon.com : Dahle 550 Professional…

Scotch Advanced Tape Glider & Tape

Connect Glue, Gina K Designs

Mini Glossy Accents, Ranger Accents

Amazon.com: 1000 Pieces Foam Sticky…

Amazon.com: Mini Foam Dots…

Scor-Tape 1/4′ (5mm), Scor-Pal Tape

Amazon.com: Scotch 1/2-Inch by…

Teflon Bone Folder, Essentials by Ellen

Scor-Pal Measuring & Scoring Board 12×12

Glue Dots, Mini (3/16″)

Amazon.com : Accent Opaque White 8.5"…

New & Improved MISTI Laser Etched…
I hope you give a version of this winter center step card a try. It's SO much easier when you use a premade card base and let all your creativity time get used doing the "fun part"!