Use just a few dies and make a whole stack of these quick and cute handmade cards for Thanksgiving!
I can't believe we are coming up on Turkey Day already! I like to reach out to family and friends who are far away so I am always pondering ideas for handmade cards for Thanksgiving that I can make one at a time or in a batch. This one, made with just a few dies and one of the new Paper Pads totally fits that bill. I can make each one just a little different with the different papers in the Autumn Leaves Paper Pad coordinate the colors of the feathers from scraps using the Turkey die, add some little details with the Pumpkins and Ivy and Branches and Leaves die sets, setting everything in a frame made by the Nested Scallops with Holes die or any other of the Rubbernecker frame dies I have. So I can create a whole variety of cute handmade Thanksgiving cards using a basic design – this is super handy when you are sending cards to people you know might be sharing your lovely messages with each other!
Scroll down and get all me inside scoop so you can be a pro in no time!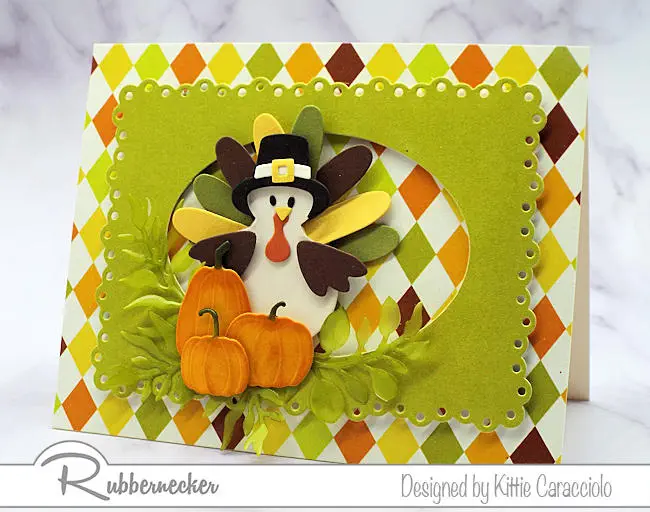 Card Base and Frame
Cut an A2 sized card base using cream cardstock and a 5.50″ x 4.25″ piece of designer paper.
Attach the designer paper to the card base using ATG adhesive.
Use green cardstock from the paper pad to cut the frame.  Pro Tip:  I love that the new Rubbernecker paper pads are made using #80 cardstock heavy enough to use for die cutting and that they has several solid color papers that match perfectly with the designs. Most companies use #65 pound paper which too light to use for a frame like on this project without attaching it to a separate piece of cardstock.   I used the solid green, yellow and brown to cut the turkey parts and the frame.  
Attach the frame to the card base using pieces of mounting tape.
The Turkey
Cut the turkey parts using the matching paper pad green, yellow, orange and brown cardstock along with black and cream cardstock. If you are making multiples of this card with all the pretty designs in the Paper Pad, pull out scraps that coordinate with each sheet and make little piles so you can just put a good program on the TV and crank away. Better yet, enlist a helper!
Use glossy accents to attach to eyes, beak and wattle to the turkey base using glossy accents. 
Assemble the hat pieces and attach them together using glossy accents and attach to the turkey base using a small piece of mounting tape.
Attach the turkey feathers to the back of the turkey  and the wings to the front of the turkey base using pieces of mounting tape.
Turk the turkey in behind the frame and attach to the card base using mounting tape.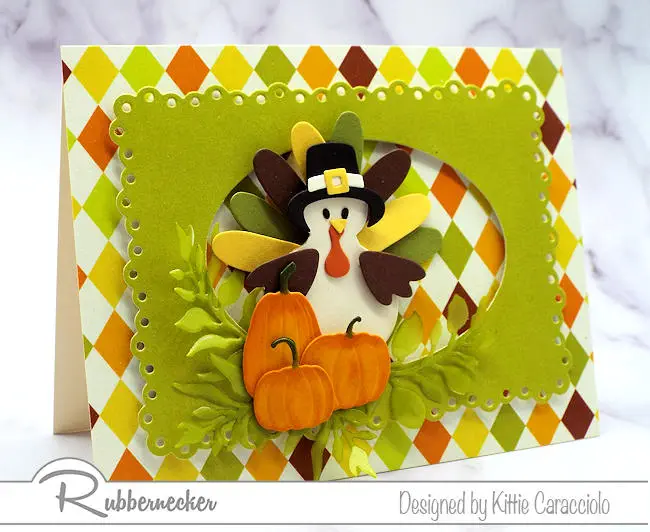 Foliage and Pumpkins
Cut the pumpkins using yellow cardstock and cut them using Citrus, Pumpkin and Grass ink and mini applicators.
Apply Fern ink to a piece of vellum cardstock using a wet baby wipe, dry with the heat gun and cut the branches.
Attach the branches to the corner off the frame using glossy accents.
Use mounting tape to attach the pumpkins to the frame and branches.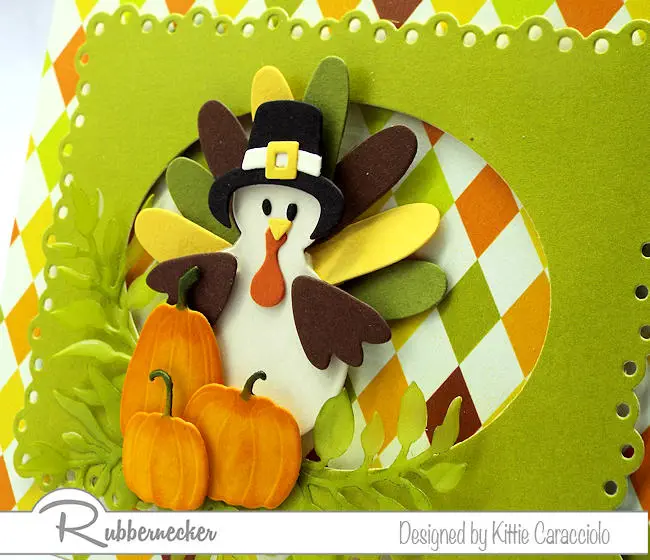 5334-01D Turkey Die

5300D Nested Scallop with Holes

5215-05D Pumpkins and Ivy Die

5404D Branches and Leaves Die

2001 Autumn Leaves 6×6 Paperpack

Color Fuse Set #11

Color Fuse Set #2
| | | |
| --- | --- | --- |
| The Color Catalog by Sarah Renae Clark | Scrapbook.com – Smooth Vellum Sheets… | PanPastel Sofft Tools – Mini… |
| Scrapbook.com – Magic Mat – Standard… | Scrapbook.com – Magic Mat – Standard… | Crossover II Fabric & Paper Cutting… |
| Amazon.com : Dahle 550 Professional… | Susan's Garden Ultimate Tool Kit | Sizzix – Paper Sculpting Kit |
| Scotch Advanced Tape Glider & Tape | Mini Glossy Accents, Ranger Accents | Amazon.com: 1000 Pieces Foam Sticky… |
| Amazon.com: Mini Foam Dots… | Amazon.com: Scotch 1/2-Inch by… | Teflon Bone Folder, Essentials by Ellen |
| Scor-Pal Measuring & Scoring Board 12×12 | Glue Dots, Mini (3/16″) | Amazon.com : Accent Opaque White 8.5"… |
The great thing about this design for handmade cards for Thanksgiving is that to make a stack of them doesn't take a proportional extra amount of time than making one. For instance, you can make ten of these cards in far less than twice as long to make one. Just do all your die cutting, then all your turkey building (that sounds funny, doesn't it?), then your pumpkin shading and then put them together assembly line style. This is also a PERFECT activity for a card ministry or even just to have a group of friends come be crafty. It's fun, you have a bunch of lovely cards to send to people you miss and you can use up a lot of scraps! Win-win-win!