Check out all the new goodies available in the Rubbernecker Black Friday New Die Release!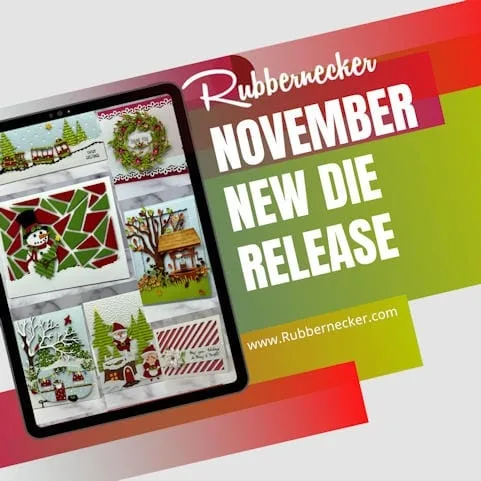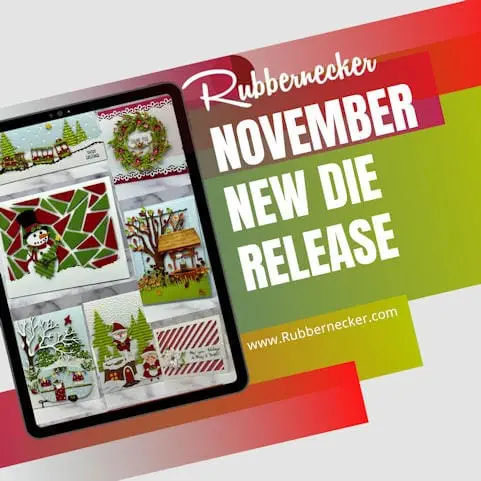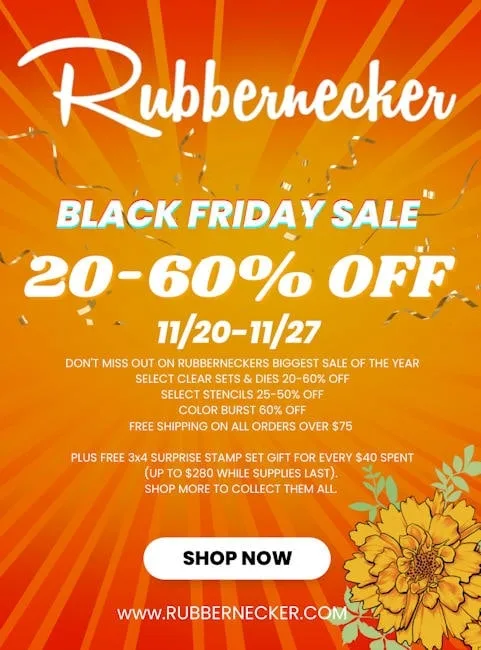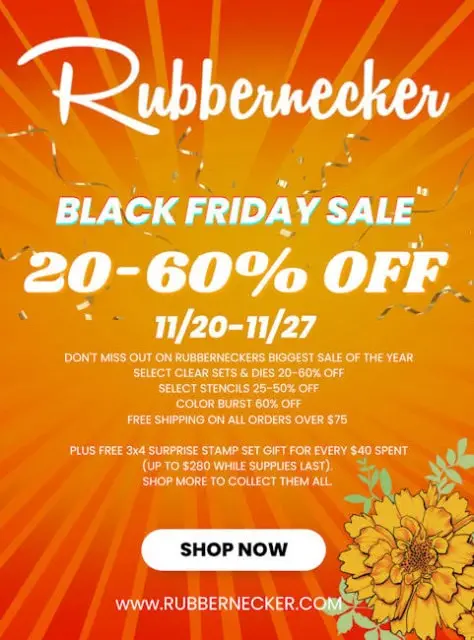 Not only are they having an incredible sale, there's a fabulous Rubbernecker Black Friday New Die Release today and all the new dies are 20% off. I am so excited to show you some of the projects I made using these fabulous new "toys"! I have linked all the items I used in each project at the top of each photo. If you sign in to your Rubbernecker.com account, you can add these items to your wish list or shopping cart.  I'll be creating individual posts for each project and sharing step by step instructions and tips.
Retro everything and anything is all the rage right now and Rubbernecker has jumped right on this fun trend by creating this amazingly authentic Retro Camper die set. With it being so close to the holidays, you know I had to make a little Christmas camper! And how many of us visiting relatives would LOVE to have this to tow along to get some alone time? Know what I mean?
Retro Camper, Half Tree, Evergreen Trees, Deckle Hills, Greenery #1, Tiny Ornaments, Small Birds, Splatter Background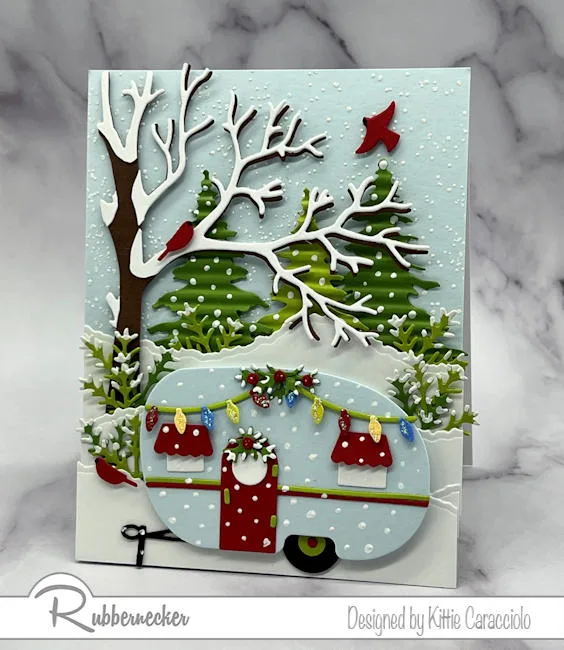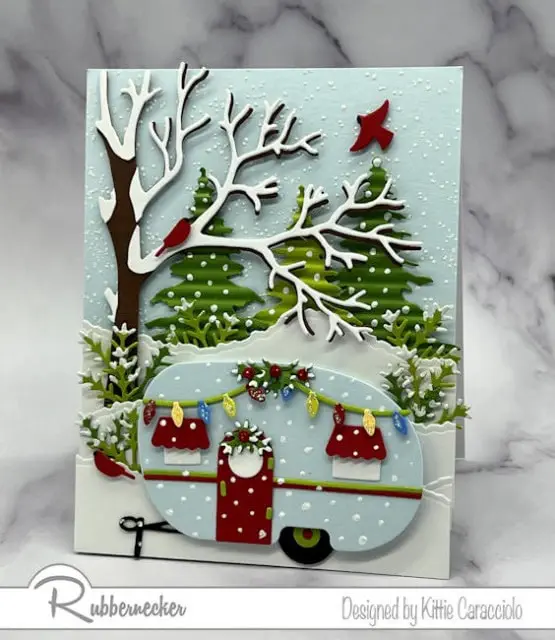 Another beloved holiday them is the classic Toy Train and once again, the attention to detail that Rubbernecker puts into these designs is just breathtaking. This so reminds me of those little train sets that run around the foot of the Christmas tree!
Toy Train, Evergreen Trees, Owl Christmas Add On (star), Slimline Quilted Cover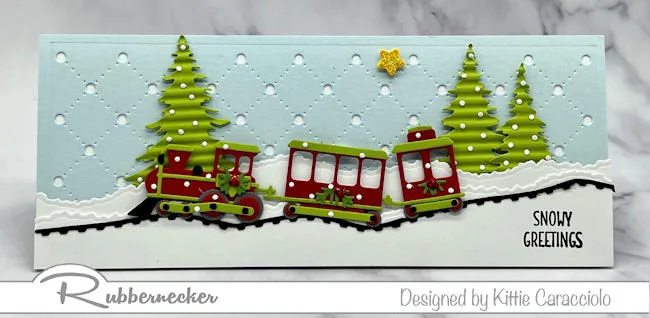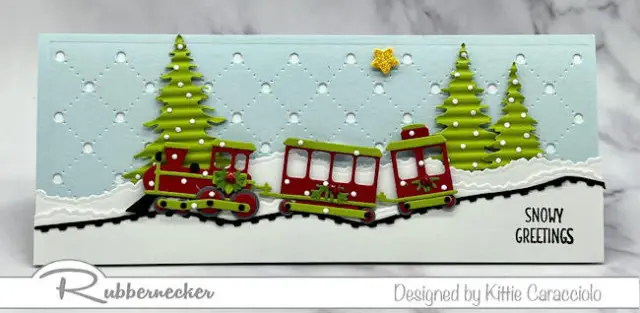 This card is similar to others I have done but you all can't seem to get enough of white on white with pops of red and I LOVE making these cards! This is the new Full Tree which is an adaptation of the incredibly popular Half Tree die. I insisted I needed a tree I could center on a project and God bless Rubbernecker, they delivered!
Full Tree, Deer Family #2, Deckle Hills, Greenery #1, Small Birds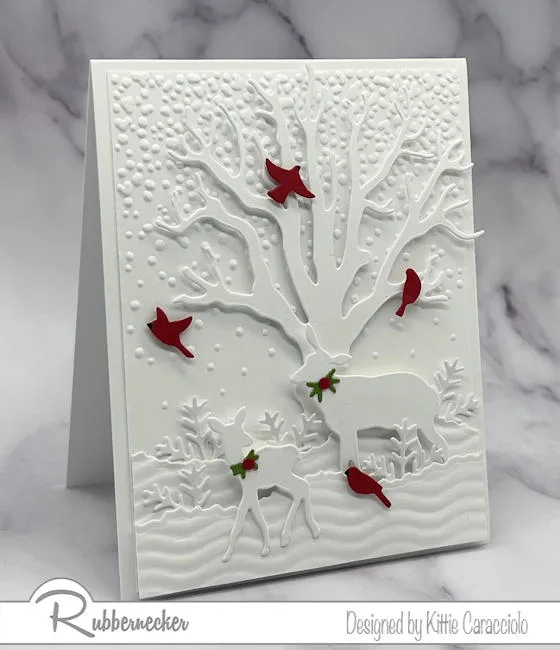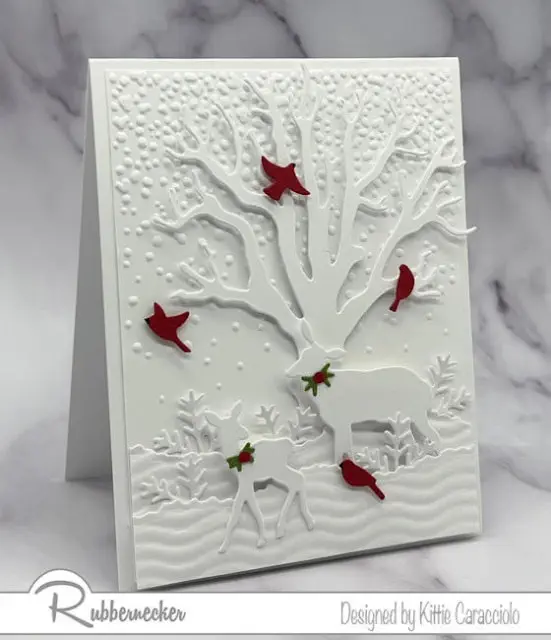 I have really loved using all of Rubbernecker's cover dies and this new Mosaic Cover adds such interesting angles and the perfect scale of design for all kinds of cards. Whether you see stained glass or tiles or even ice on a window, I am predicting this die is going to be every bit as popular as the others!
Mosaic Cover, Snowman, Deckle Hills, Evergreen Trees, Christmas Mini (star), Tiny Leaves #1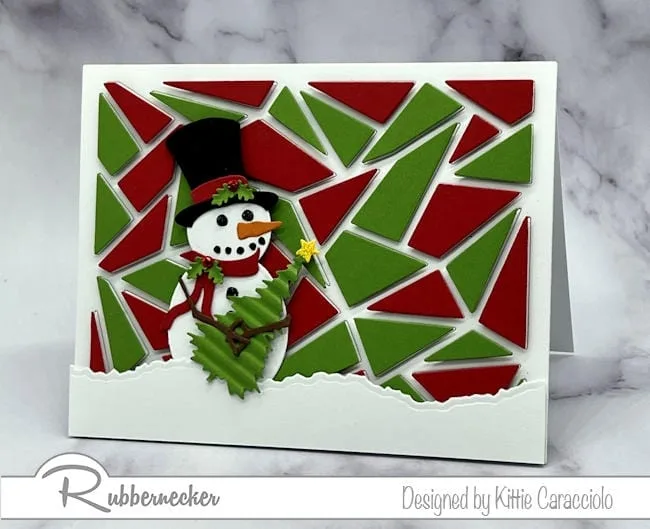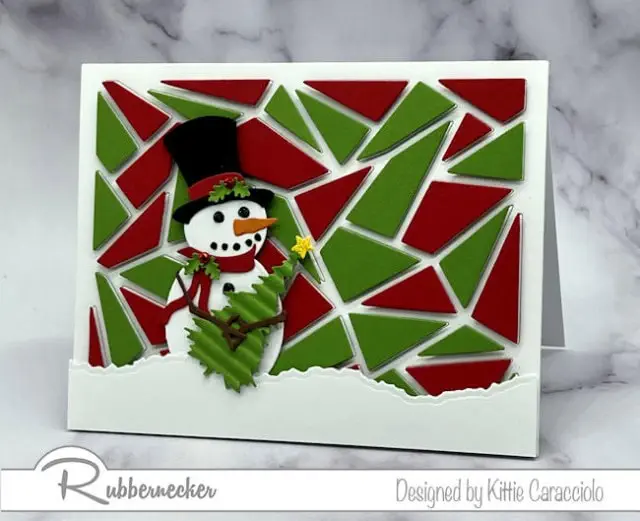 As someone who adores making little garden scenes on my cards, I was just delighted when I saw this new Wishing Well set. Again, the details Rubbernecker bakes into their die sets is astonishing and makes all of who use them look like artistic geniuses. (Not that we aren't, right?)
Wishing Well, Deckle Frame, Grass, Old Wooden Cart (foliage), Leaves and Greenery, Tiny Flowers #2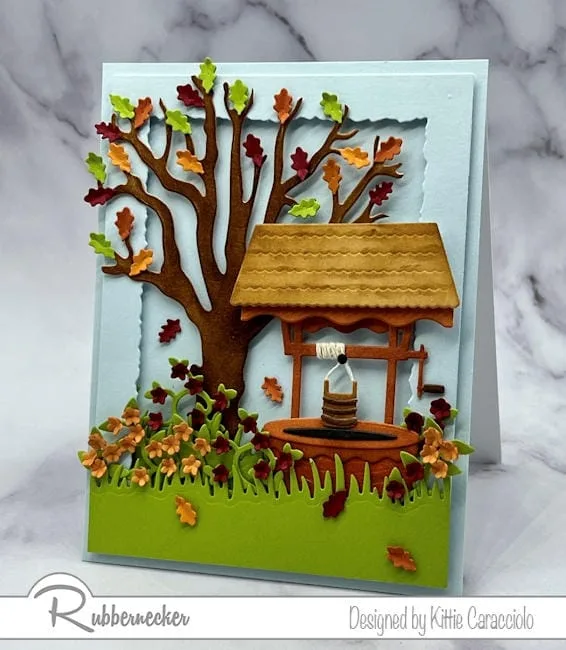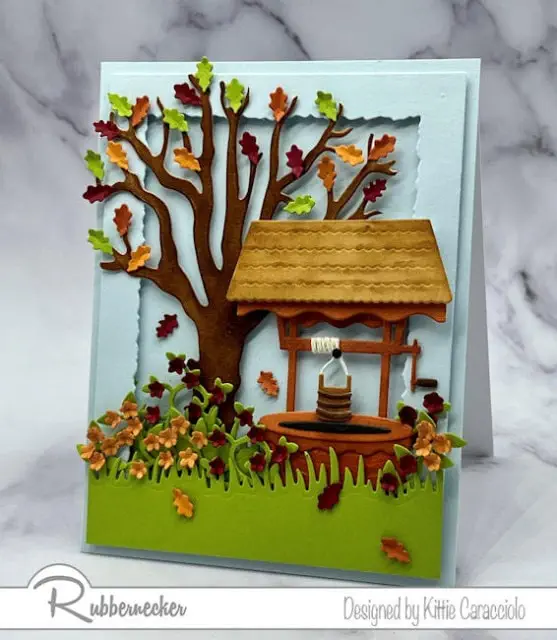 Here's another die set I just about fell off my chair when I saw for the first time. This Spring Wreath is so absolutely gorgeous and the more layers you add – made just with a spin through your machine – the more luxurious it becomes. Then all you have to do is add a few die cut details and you've created something jaw-droppingly gorgeous.
Spring Wreath, Fancy Decorative Nested, Small Tags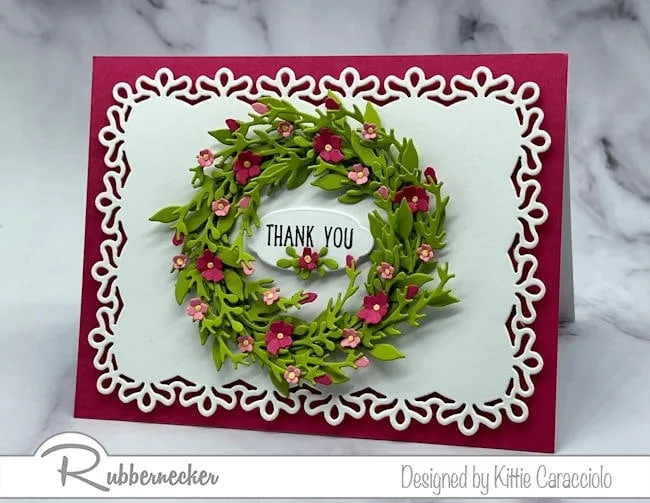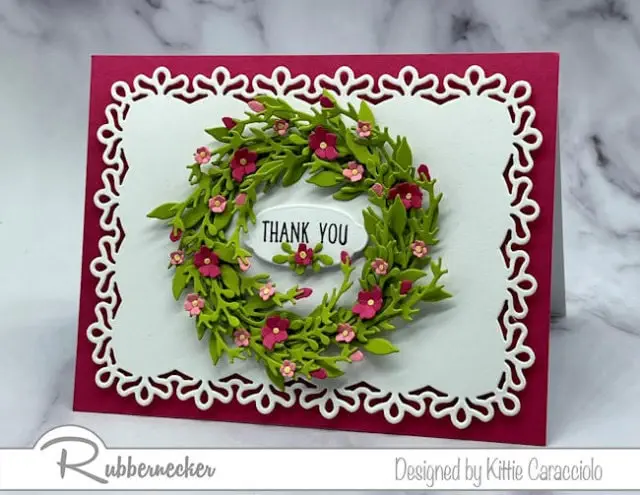 Ok – how many times have you wished you could make a die cut motorcycle as detailed as this one? Whether they have one or wish they had one, a motorcycle is an item of interest for most guys.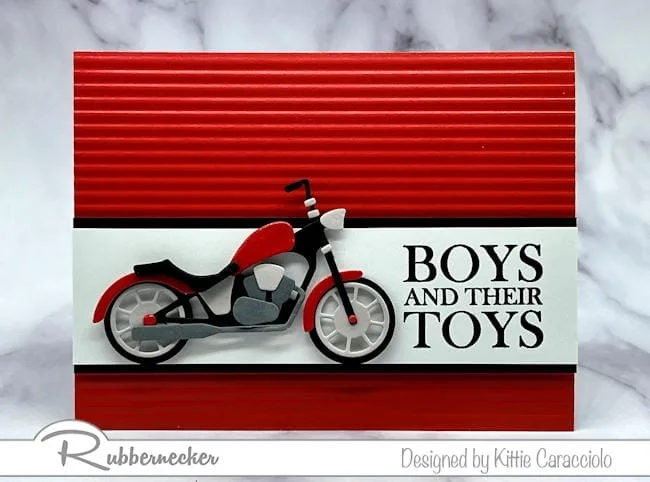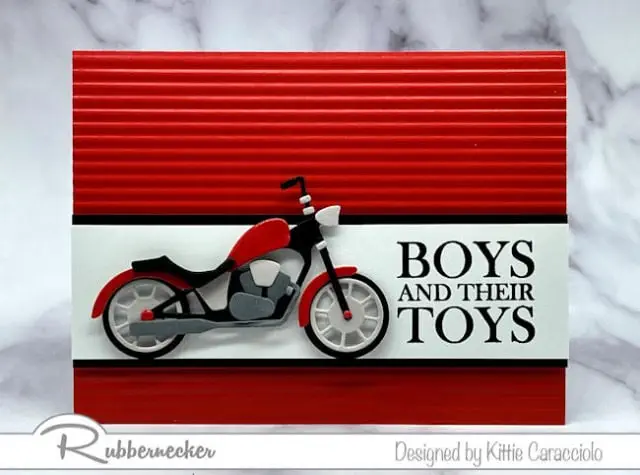 Here's another card using that beautiful Full Tree die, this time set for spring. Isn't it just so perfect?
Full Tree, Tiny Leaves #1, Tiny Flower Buds, Old Wooden Cart, Grass, Small Butterflies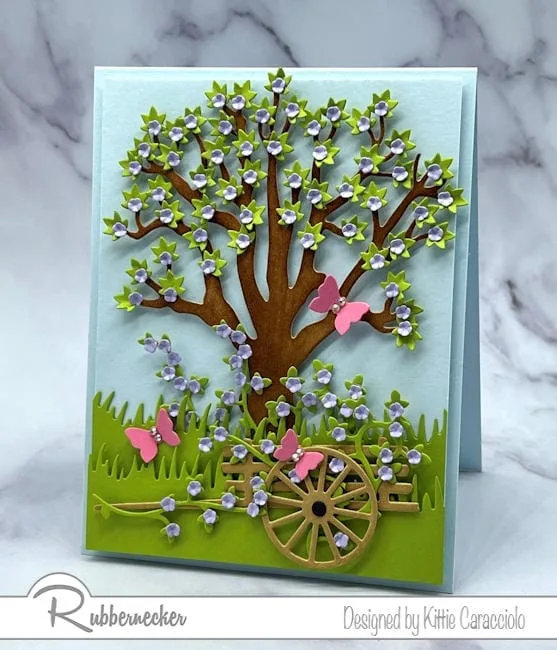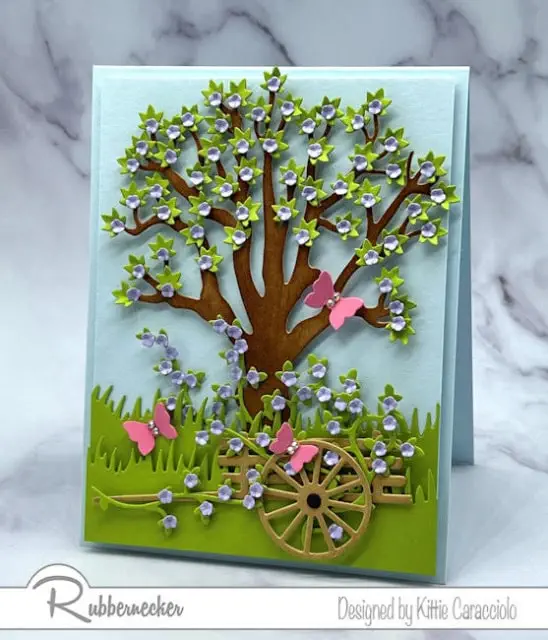 So maybe your guy isn't a motorcycle man but still loves all things two wheeled. Look at this – a Mountain Bike die set with every bit as much detail as all the other vehicles Rubbernecker has created. Just look at those tires! And do you spy that patterned paper? That's another new item – the Off The Grid Paper Pad!
Mountain Bike, Off The Grid 6×6 Paper Pad, Deckle Frame, Deckle Hills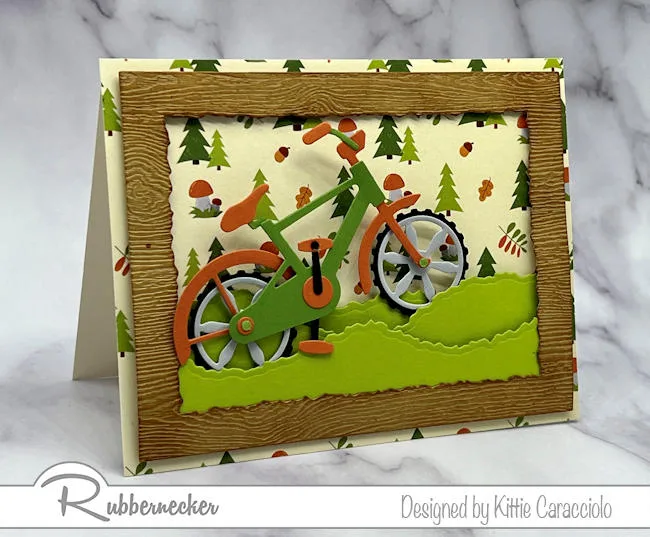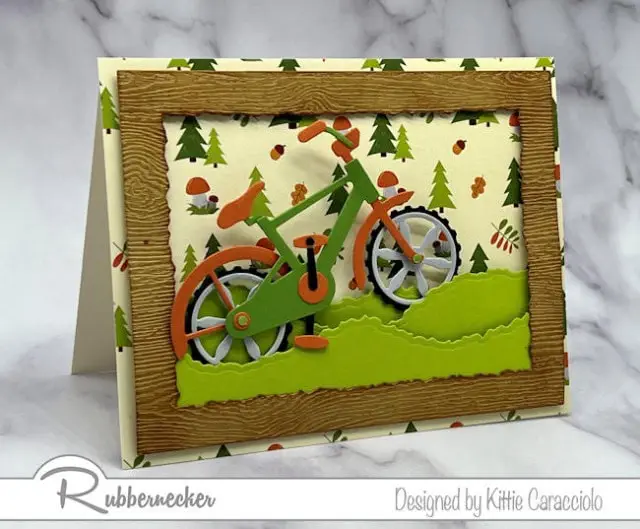 Remember I mentioned that retro is back? I just love this little Retro Camera! I probably even still HAVE a camera like this somewhere around here and I am getting such a kick out of combining this fun element with these also-retro Polaroid style frames!
Retro Camera, Snowmen With Presents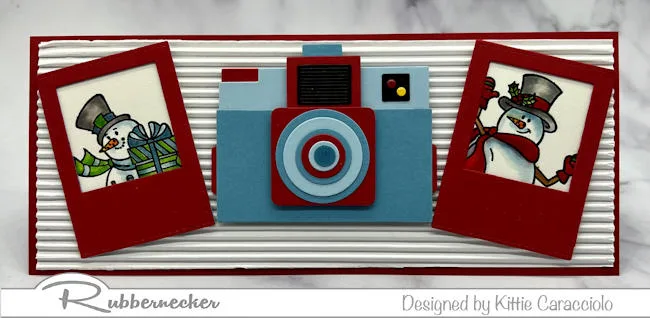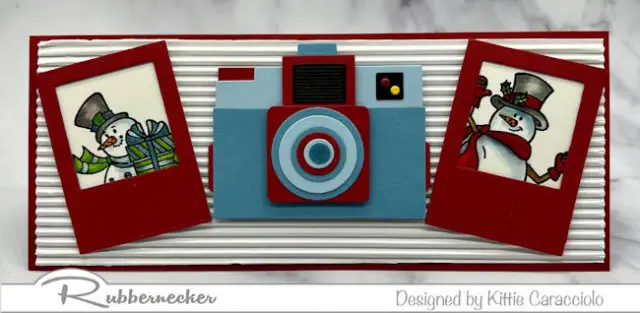 Here's another great cover die, the Striped Cover. Isn't it incredible how a simple design like slanted stripes can add so much interest to a card? I am for sure going to be reaching for this LBD – little black dress – die over and over.
Striped Cover, Buildable Poinsettia, Random Dots, Christmas Smiles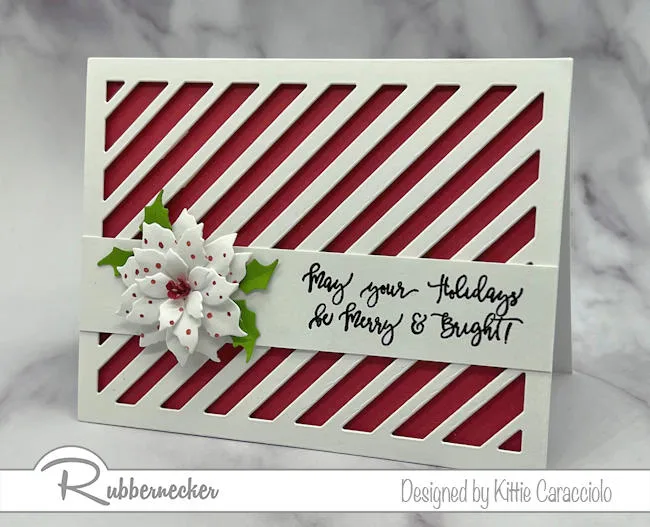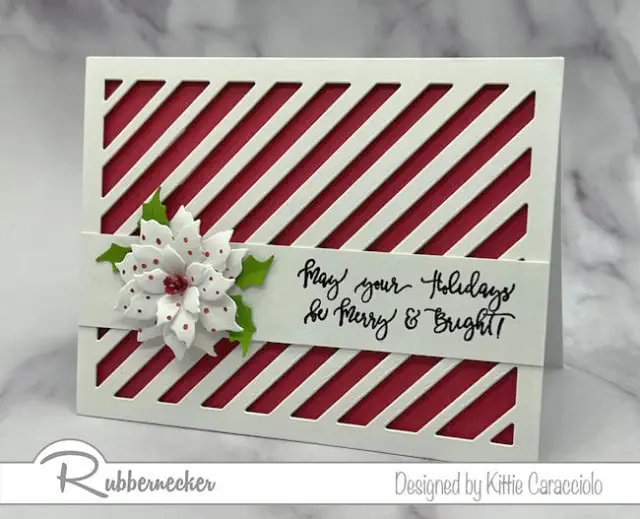 You know if anyone ever tells you there is such a thing as too many gnomes, just show them these little friends! I had to put a Mr. & Mrs. Santa spin on them and included that adorable Garden Gnome House just because it too cute not to! Watch for these new additions to the incredible Rubbernecker gnome collection to make future appearances on my cards!
Garden Gnomes, Garden Gnome House, Deckle Hills, Evergreen Trees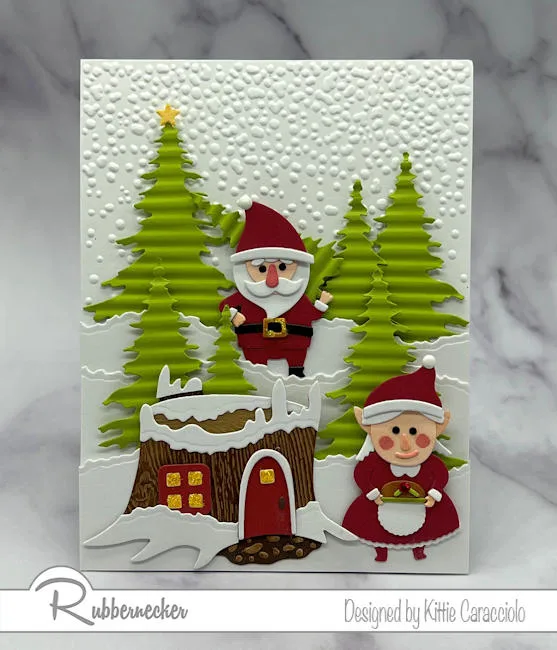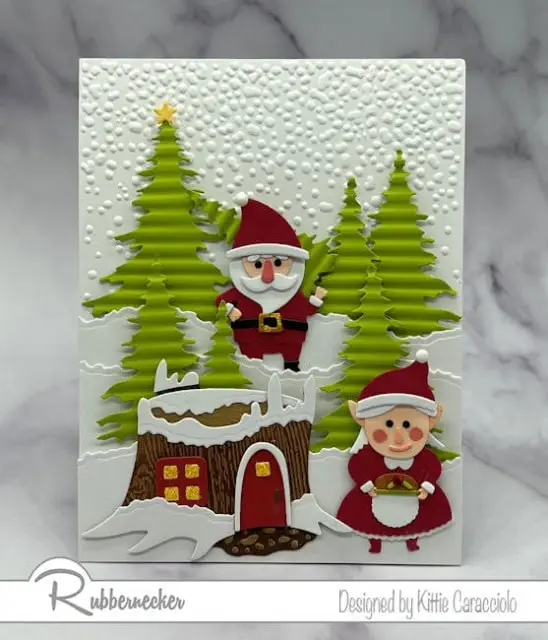 I am so excited to share the goodies from the Rubbernecker Black Friday New Die Release with you today and encourage you to check out these new goodies plus all the amazing deals they have going on. I can't believe all the deals and might just have to get on over there myself!
5522-01D Full Tree Die

5522-02D Spring Wreath Die

5520-03D Wishing Well Die

5520-02D Garden Gnomes Die

5520-01D Garden Gnome House Die

5519-06D Retro Camera Die

5519-05D Toy Train Die

5519-04D Mountain Bike Die

5519-03D Motorcycle Die

5519-02D Retro Camper Die

5519-01D Metal Toolbox Die

5521-02D A2 Striped Cover Die

5521-01D Mosaic Cover Die

2009 Wintery Woodlands Paper Pad

2008 Off the Grid Paper Pad

2007 Modern Floral Paper Pad