See how using layered frames on a handmade card can add instant dimension and the perfect setting for any element.
I love using layered frames on a handmade card, especially ones made using the Rectangle Combo OPC #3.  I looked back for some of my favorite projects using this set and was especially inspired by the the How To Shape Paper Flowers post.  I recreated the layered frame card base but changed it up with a pretty spring bouquet and birthday sentiment. 
Rubbernecker has three of these Combo OPC dies and any of them will give you endless, fabulous combinations to layer frames on your cards. They are called OPC because with one piece cut you get all the frames you see. Because Rubbernecker deliberately created a beautiful mix of edges and shapes in each set, they work beautifully alone or you can mix pieces from different sets together for practically endless variations of layered frames to create the effect I've done here.
To make this card I used the Gentian and Stems, Branches and Leaves, Rectangle Combo OPC #3 dies and the Birthday Celebration stamp set and now I'd like to share the making with you so you can try this technique out at home.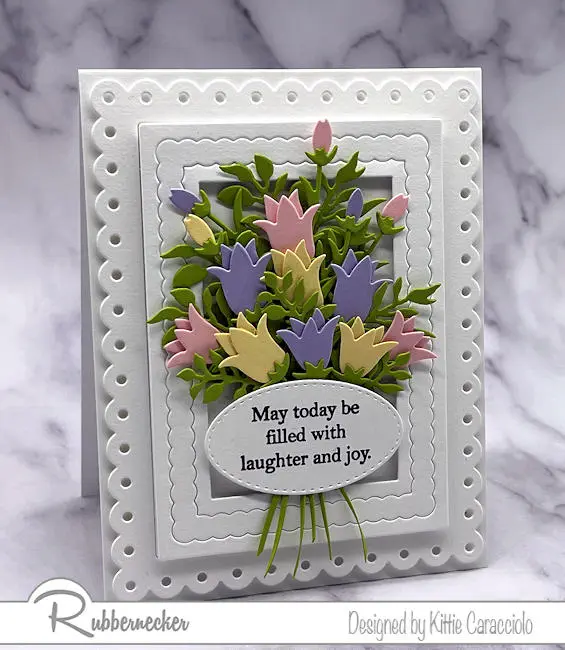 Card Base and Layered Frames
Cut an A2 card base using white cardstock.
Use white cardstock to cut two sets of the Rectangle Combo frames.
Turn each of the two sets of the frame sections face down and attach them together using double stick tape.
Apply mounting tape to the back of one frame section and attach it to the card base.
Apply strips of mounting tape to the second set of three inner frames and attach it over the first frame set.  Note:  Layering the frames with mounting tape adds dimension and interest to the this card. Pro Tip: Experiment with this technique. Keep some layers together, remove some, add extra height to others, etc. Because there's no one "right" way to do this, there's no wrong way ever!
Stamp the sentiment on the small oval from the die set using Nocturne ink and set aside.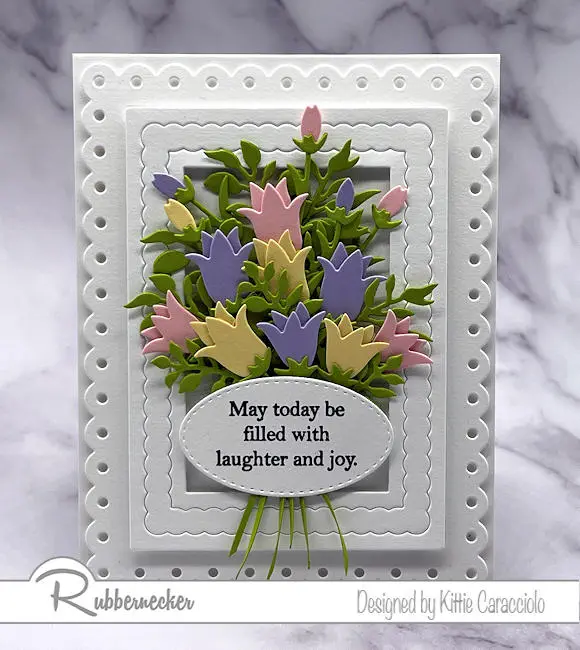 The Bouquet
The video below shows all the steps for creating a paper flower bouquet.  In this case a picture (video) is worth a thousand words.  The main difference for today's bouquet is that I used only one kind of flower but the design concept is exactly the same. 
Cut the Gentian and Stems using pink, purple, yellow and green cardstock.
Attach the two part flower sections together using a dot of glossy and a rolled up glue dot.  Pro Tip:  The tiny dot of glossy accents on the lower back section of the front flower section will secure it to the back flower section.  Inserting a rolled up glue dot between the upper back section the front flower allows it to stand away from the back layer to create a more natural looking flower. 
Attach the flowers to the stems using glossy accents.
Watch the video to see the steps to create the bouquet.
Apply a generous amount of glossy accents to the back of the finished bouquet and attach it to the card base. 
Cut a few very thin strips of cardstock using green cardstock.  
Attach a few of the strips to the bottom of the arrangement using glossy accents and then trim them to stick out a little below the sentiment layer.
Apply two pieces of mounting tape to the back side borders of the oval, leaving space between to fit over the bouquet and attach it to the card base.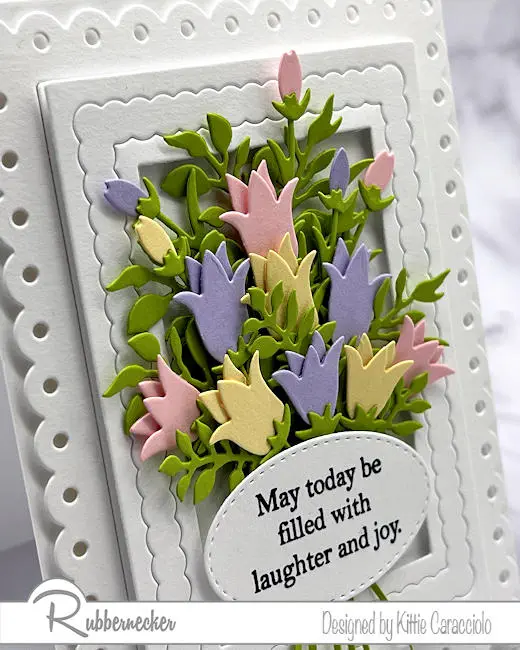 You can see how using layered frames on a card does add that instant dimension AND creates a smaller, more concentrated spot to highlight your focal element. This is very handy when you want to create something using smaller dies and don't want to let it get lost on a card. Here's what I used today – add these to your cart or shop your stash for similar elements. I do recommend at least one of these incredibly versatile Combo OPC sets be in your arsenal!
5218D Rectangle Combo OPC #3 Die Cut

5402-02D Gentian and Stems Die

5404D Branches and Leaves Die

35015 Birthday Celebration
Tsukineko – VersaFine Clair – Ink Pad…

Amazon.com : Dahle 550 Professional…

Crossover II Fabric & Paper Cutting…

Scrapbook.com – Magic Mat – Standard…

Scrapbook.com – Magic Mat – Standard…

Susan's Garden Ultimate Tool Kit

Sizzix – Paper Sculpting Kit

Scotch Advanced Tape Glider & Tape

Mini Glossy Accents, Ranger Accents

Connect Glue, Gina K Designs

Amazon.com: 1000 Pieces Foam Sticky…

Amazon.com: Mini Foam Dots…

Amazon.com: Scotch 1/2-Inch by…

Teflon Bone Folder, Bonefolder

Scor-Pal Measuring & Scoring Board 12×12

Glue Dots, Mini (3/16″)

Amazon.com : Accent Opaque White 8.5"…

Brutus Monroe – Stick and Stamp – Mat…

New & Improved MISTI Laser Etched…

My Sweet Petunia – MISTI – Sticky Mats

Scor-Tape 1/8′ (3mm), Scor-Pal Tape

Scor-Tape 1/4″ (5mm), Scor-Pal Tape
Using layered frames on a handmade card to create that little sweet spot for your focal element saves time, work and creates a card that has a hugely dimensional look with not a lot of extra work!