Check out my die cutting hack for custom frames that you can make with all kinds of designs!
I was playing with some of the fabulous new goodies from the Rubbernecker April 2023 release and just absolutely LOVE the new ornate dies! When I saw this one from the Elegant Scroll Rectangle set, I pictured it as a frame. So today, in addition to showing you how to make this beautiful card, I am sharing my die cutting hack for custom frames so you can use the super simple idea and create virtually endless custom designs using what you have and what you add to your stash.
Today's card features that beautiful new Bird Cage die set along with the Flower Stems, Small Flowers #4, and Nested Marquee dies. I love using this die cutting hack with things I already have in my stash, making each item I use go the extra mile in value.  I love how Rubbernecker has added the details on their decorative dies in a way that give these designs their own unique look.
 Take a look:
When you combine any of these gorgeous designs with your own dies INSIDE to make custom frames, you can create the most perfect shapes and sizes to show off your focal elements.
Just like I did with this bird cage. Let me take you through the steps so you can see how easy this is and how fun it is to create your own custom die cut frames.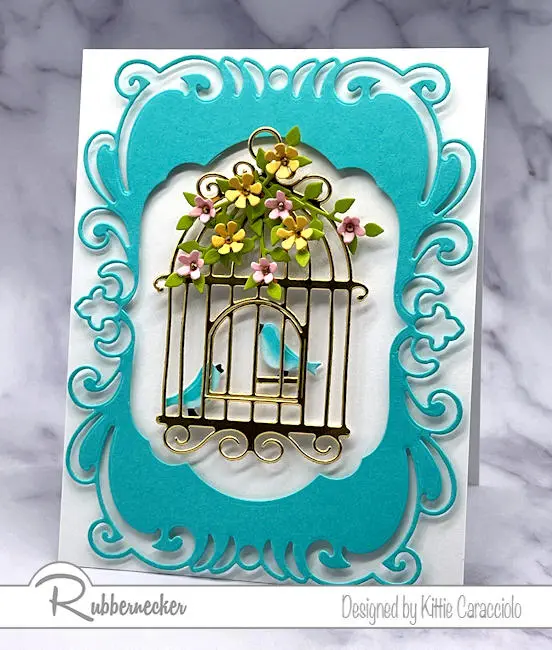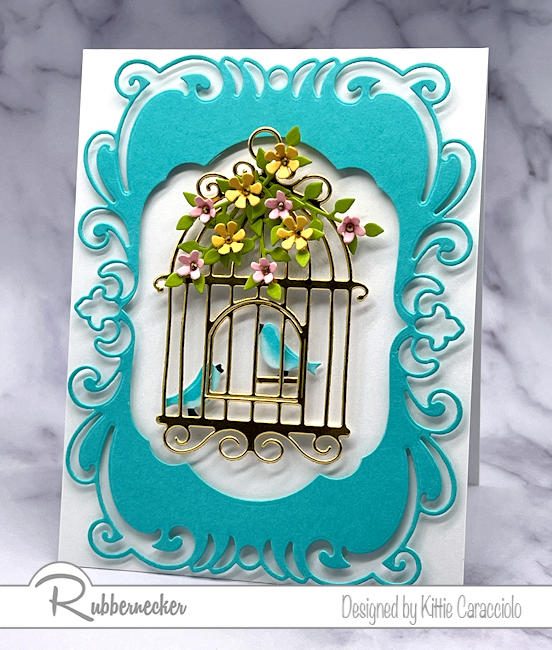 Card Base and Custom Die Cut Frame
Use white cardstock to cut an A2 (5.50″ x 4.25″) card base.
Cut the Elegant Scroll Rectangle using teal cardstock.
Secure the Nested Marquee die on the elegant scroll layer using mounting tape.
Run though the machine to cut the frame opening.
Apply pieces of mounting tape to the back of the frame and attach it to the card base.

Pro Tip: When using this die cutting hack for custom frames, I suggest you try out all your combinations and note down on your storage method which combos you love the most so you don't forget (ask my how I know!). Also, when you have combinations that come close to each other in the cutting, make sure they won't actually cut each other apart! You can take a marker and run it over the cutting edge of the die and then press it over the outside die cut to see where you might accidentally cut the outside die apart.

You can see that the points on the side of the Nested Marquee Die I chose comes VERY close to the fleur-de-lis style elements on the sides of the Elegant Scroll Rectangle. This coming close but not cutting through look can add GORGEOUS detail so you may want to test things out a few times to get the positioning perfect and know which of your dies combine best to make your custom die cut frames.
Bird Cage and Birds
Cut the Bird Cage using gold metallic cardstock.
Use white cardstock to cut the birds.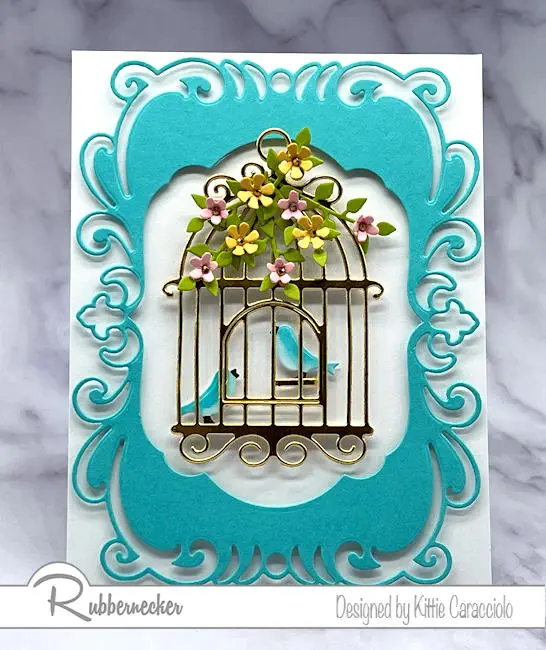 Apply a light shade of Beachside Color Fuse Ink to the bird bodies using a mini applicator.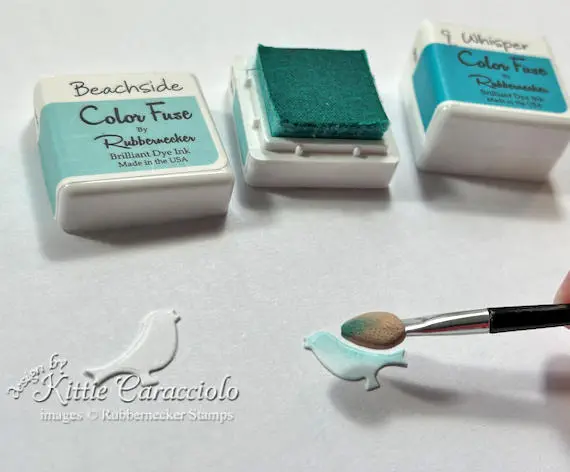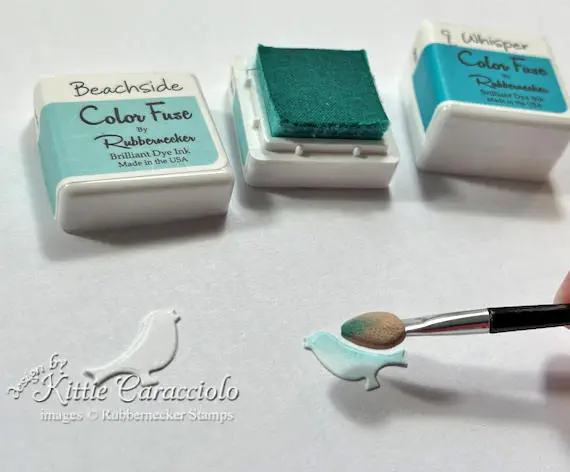 Use Whisper Color Fuse Ink to apply a darker shad of blue to the upper body and head of the birds.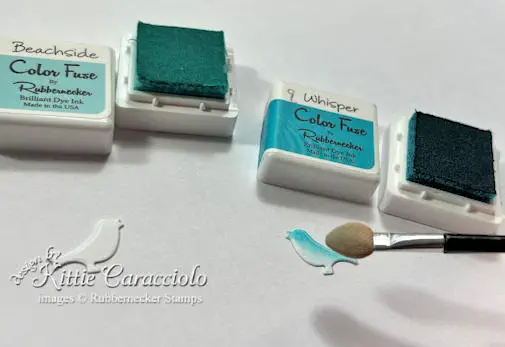 Color the beaks and legs using a black marker.
Apply a double layer of thin mounting tape to the back of the bird cage and attach it to the card base.  Pro Tip:  I used a double layer of 1/8″  mounting tape to hold the bird cage far enough away from the base so the birds could appear inside the cage without being flat to the base or the cage.  I used my small snips to cut the 1/8″ section of mounting tape in half so it would fit behind the frame.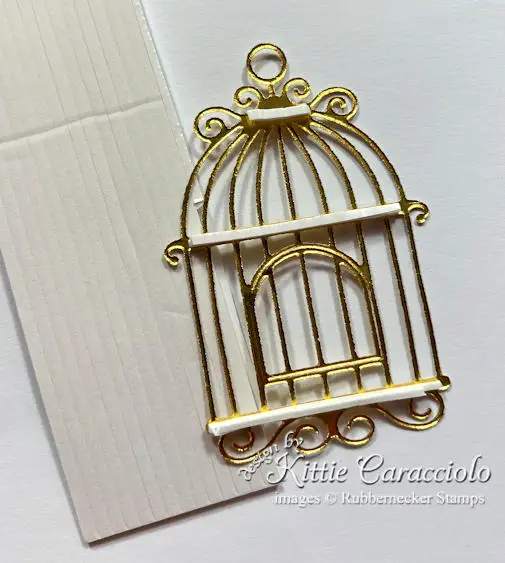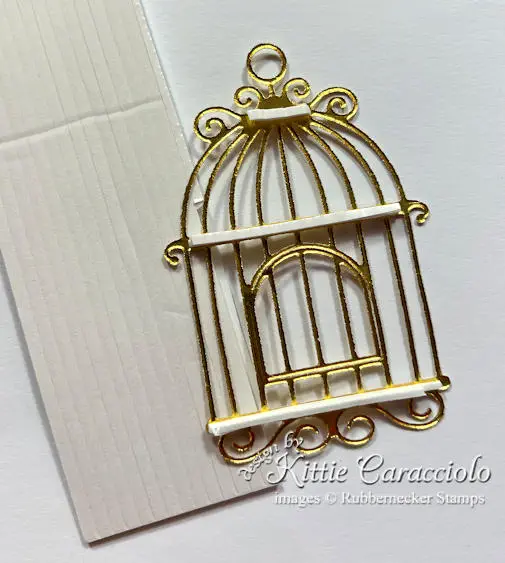 Apply a small piece of single layer mounting tape to the back of the birds.
Hold the birds with your tweezers and tuck them in behind the cage and attach them to the card base.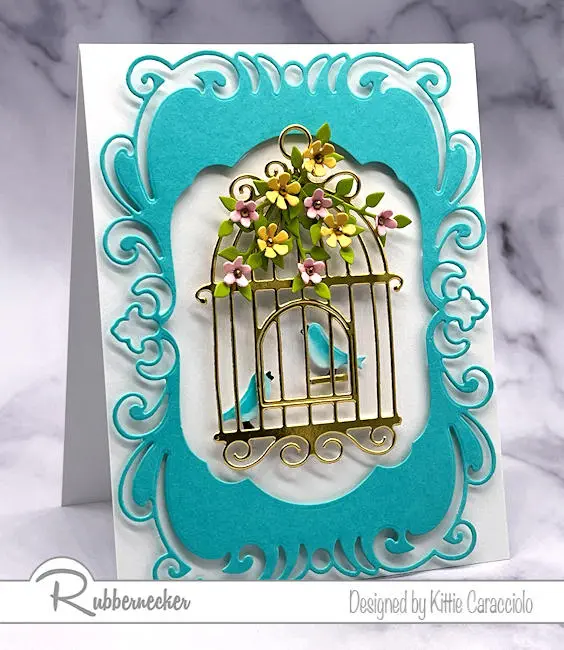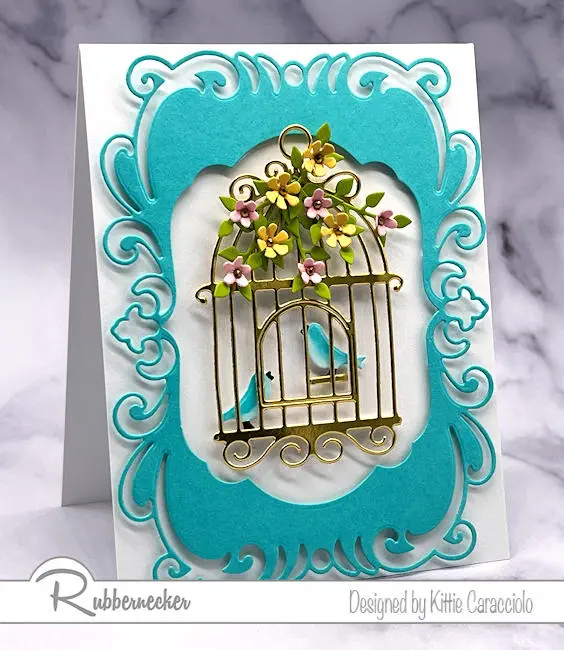 The Flower Stems
Use green cardstock to cut several flowers stems.
Attach the stems to the top of the bird cage using glossy accents.
Cut the small flowers using pink and yellow cardstock.
Place the flowers face up on the molding pad and form them using a small tipped stylus.  
Attach the flowers to the stems using glossy accents.
Finish by attaching tiny gold gems to the flower centers.  Note:  The gold gems don't show well in the photos but they are a perfect match of sparkle to go along with the gold cage.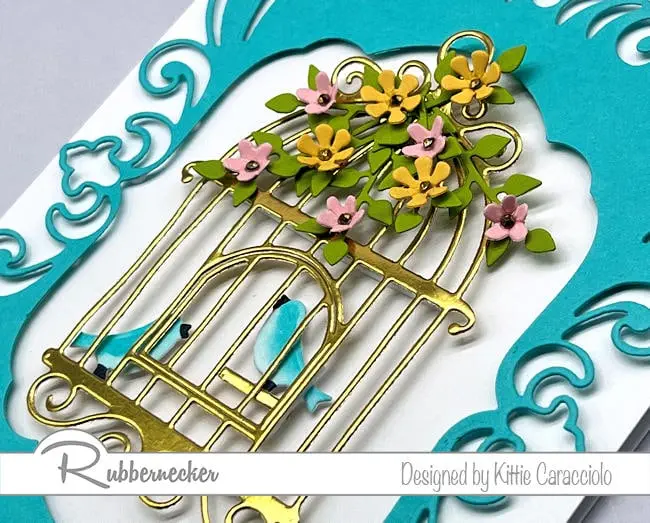 Here are the Rubbernecker items I used today:
| | | |
| --- | --- | --- |
| 5607-03D Bird Cage Die | 5601-01D Elegant Scroll Rectangle Die | Nested Marquee Die Cut 5101D |
| 5422-04D Small Flowers #4 | Flower Stems Die 5147-05D | Color Fuse Set #9 |
Metallic Gold Foil – 5pk, Bazzill…

Spellbinders – Self Adhesive Gems -…

PanPastel Sofft Tools – Mini…

Ranger Ink – Wendy Vecchi – Make Art…

Amazon.com : Dahle 550 Professional…

Crossover II Fabric & Paper Cutting…

Scrapbook.com – Magic Mat – Standard…

Scrapbook.com – Magic Mat – Standard…

Susan's Garden Ultimate Tool Kit

Sizzix – Paper Sculpting Kit

Scotch Advanced Tape Glider & Tape

Mini Glossy Accents, Ranger Accents

Connect Glue, Gina K Designs

Amazon.com: 1000 Pieces Foam Sticky…

Amazon.com: Mini Foam Dots…

Amazon.com: Scotch 1/2-Inch by…

Teflon Bone Folder, Bonefolder

Scor-Pal Measuring & Scoring Board 12×12

Glue Dots, Mini (3/16″)

Amazon.com : Accent Opaque White 8.5"…

Brutus Monroe – Stick and Stamp – Mat…

New & Improved MISTI Laser Etched…

My Sweet Petunia – MISTI – Sticky Mats

Scor-Tape 1/8′ (3mm), Scor-Pal Tape

Scor-Tape 1/4″ (5mm), Scor-Pal Tape
I hope you give this simple and fun die cutting hack for custom frames a try! Just be sure to test things out – I do love that marker method – and note those combinations that take your breath away. And then when you make your cards you will know that your designs will truly be one of a kind!