See my free video tutorial on how to color die cut flower pots for a realistic look!
I love to share my PRO TIPS for how to add color, dimension and shading to die cut elements. Today I am going to share how to color die cut flower pots so you can get the same look I have on this sweet slimline card. I used Rubbernecker's Slimline Filmstrip die to create a whimsical frame for four pots cut with their Wide Terracotta Pots  and filled them up with different blossoms made with their Tiny Flowers #2, Small Flowers #5, Small Flowers #4, and Branches and Leaves dies. Let me show you all the details!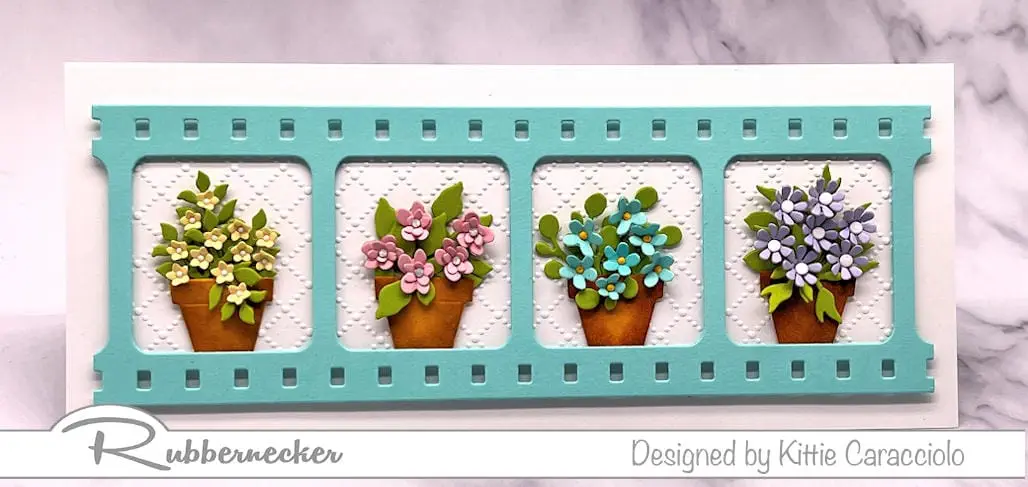 Slimline Card Base and Filmstrip Frame
Use white cardstock to cut an 8.50 x 7.00 card base, secure the 7.00″ side along the top of the Scor-Pal and score at the 3.50″ mark.
Use aqua cardstock to cut the Slimline Filmstrip.
Cut a 5.50″ x 4.25″ white layer and emboss with a textured embossing folder.  Note:  I don't know the name of the folder but you can use any one of yours that adds a touch of texture – any design will look great.
Cut the embossed layer in half longwise and trim the sections to fit behind the filmstrip layer.  
Apply thin strips of mounting tape to the back of the filmstrip borders and center strips and attach the embossed layers.  Pro Tip:  I cut 1/8″ strips of mounting tape in half to be thin enough to use on the back of the filmstrip.  
Apply strips of mounting tape to the back of the filmstrip and attach it to the card base.
Color the Die Cut Pots To Look Just Like Terracotta
This free video tutorial will show the steps used to color the flower pots.  My secret for applying ink with the mini applicators is using a very soft touch.  You can always add more ink but you can never take it away.  Plus when you build up color using many light layers, you get that illusion of depth and shading.
Here are my tips:
Use bright yellow cardstock to cut the Wide Terracotta pots.
 Apply a light shade of Autumn ink around the borders of the pots using a mini applicator.
Continue by applying light touches of Pumpkin ink around outer borders of the pots but leaving some light-yellow space in the pot centers.
Continue by adding very light touches of Pecan ink to the outer edges to reinforce the terracotta color.
Finish by gently applying a light shade of Autumn ink over the whole pot to smooth the color lines
Now see it all in action!
Here's a closeup so you can see how all those light layers add that beautiful dimension and shaping to these flat die cuts.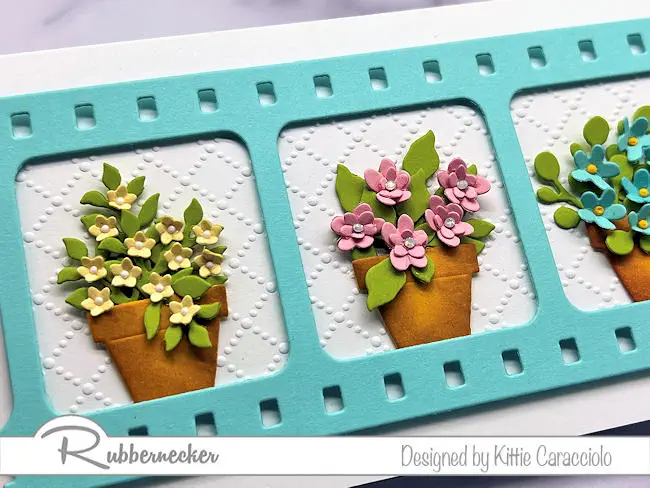 The Flower Arrangements
Cut the Tiny Flowers #2, Small Flowers #5, Small Flowers #4 using yellow, pink, aqua and purple cardstock.
Place the flowers face up on the molding pad and form them by pushing down in the center with a small tipped stylus.
Use green cardstock to cut a couple sections of the Branches and Leaves.
Trim the branches as necessary and attach them to the back of the pots using glossy accents. Note:  I used different sections of the foliage for each arrangement.  
Attach the tiny flowers to the foliage using glossy accents.
Finish by adding tiny circles to the flower centers using glossy accents.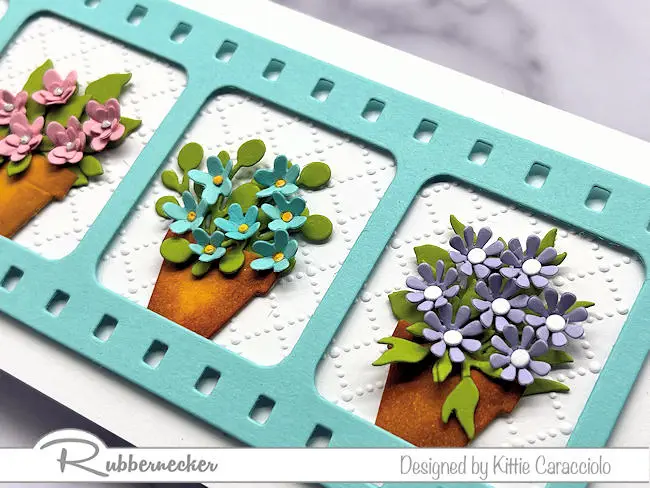 All the dies and ink that I used to make this card are discounted for the Rubbernecker Memorial Weekend Sale.  Everything in the store is marked down so you should pull out your wish list and go shopping before the sale ends. 
5513-06D Slimline Filmstrip Die

Wide Terracotta Pot Die Cut 5147-17D

5422-03D Tiny Flowers #2 Die

5605-01D Small Flowers #5 Die

5422-04D Small Flowers #4

5404D Branches and Leaves Die

Color Fuse Set #2

Color Fuse Set #3
For all the other stuff that I use on a regular basis, go here and see My Favorite Crafting Tools.
You can use this information on how to color die cut flower pots to add color, dimension, depth and shading to any cylindrical element. Think watering cans, vases, tree trunks, coffee pots, teapots…….. There are so many ways you can use these tips!
You can see all of m