This inset die cutting technique is so easy to do and looks amazing!
I almost feel funny calling this an "inset die cutting technique" because it truly IS so easy! Using a detailed single piece die cut inside a die cut frame adds tons of visual interest, texture and dimension with just one extra spin through your die cutting machine! I used Rubbernecker's new Love with Flowers die inside their Elegant Scroll Rectangle and then just added a teeny pop of detail with their Open Greenery #1 and Small Flowers #5 dies. So easy and this is such a pretty card! Let me share the details.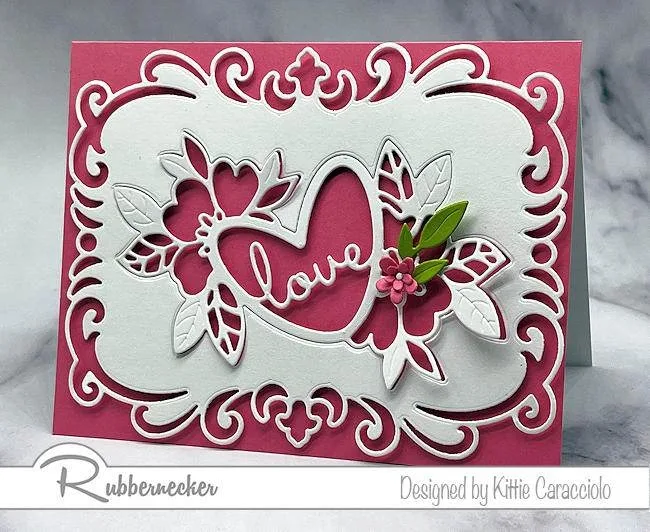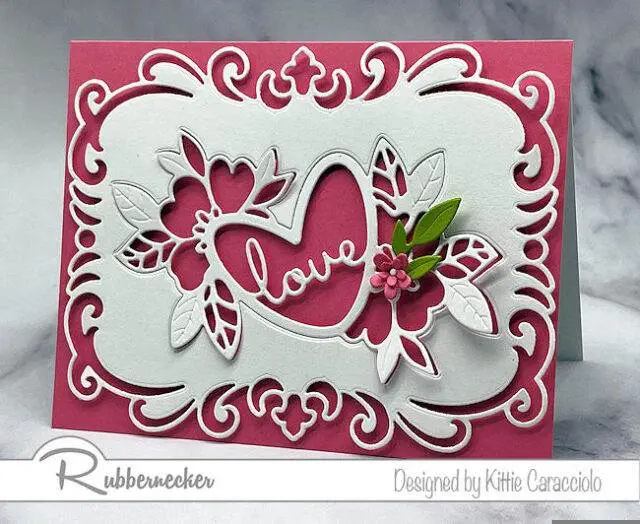 Card Base 
Use white cardstock to cut an A2 sized card base and bright pink cardstock to cut a 5.50″ x 4.25″ layer.
Place the 11.00″ side of the card base along the top of the Scor-Pal and score at 4.25″ mark.
Attach the pink layer to the card base using ATG adhesive.
The Die Cut Decorative Layers
Use white cardstock to cut the Elegant Scroll Rectangle.
Line up the Love with Flowers die on the white layer and secure in place using masking tape.
Place on the cutting platform and run the through the machine. You've just used today's inset die cutting technique! Wasn't that so easy?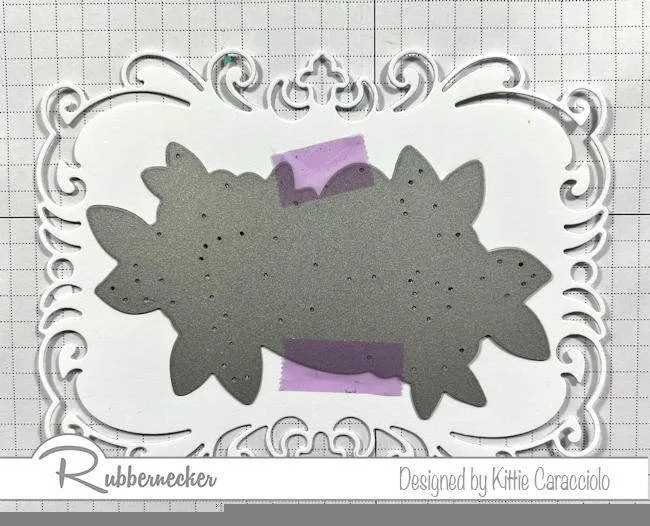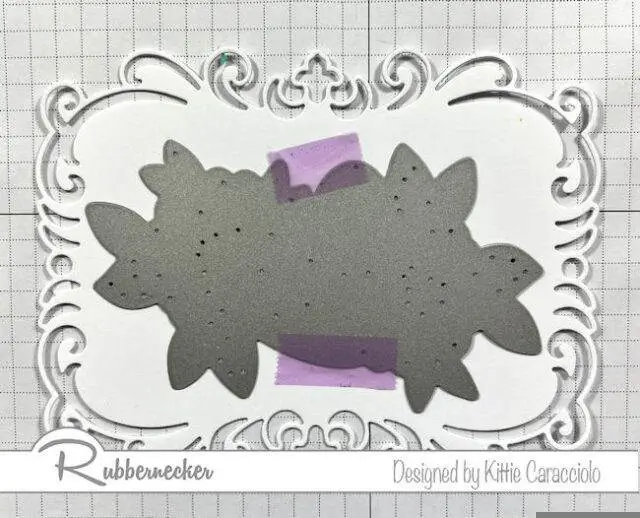 Turn the die cuts face down on your work table and secure the Love with Flowers in place in just a few key spots with some adhesive tape.
Turn the layers face up and push out on the unattached leaf sections to add some dimension.
Apply pieces of mounting tape to the back of the  rectangle layer and attach it to the card base.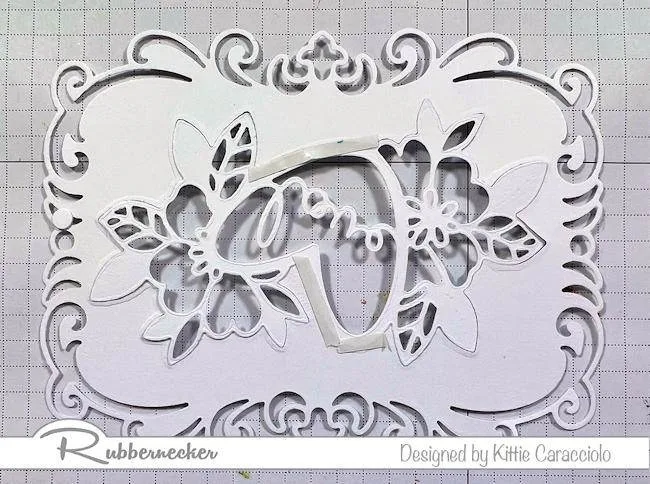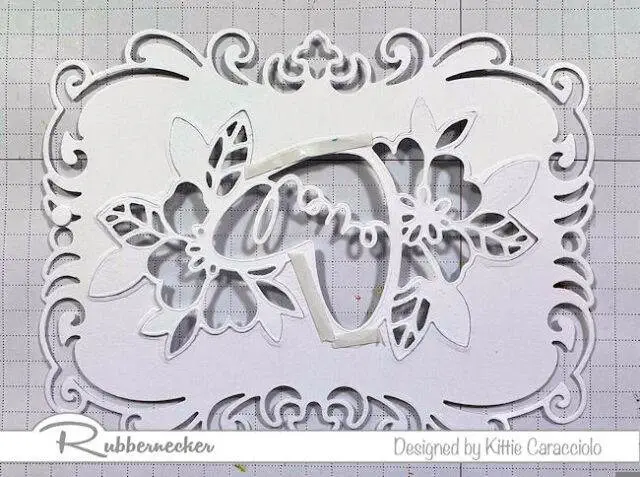 Flower and Leaves Detail
Use bright pink cardstock to cut the Small Flowers #5 and green cardstock to cut the Open Greenery #1 leaf section.
Place the tiny flowers face up on the molding pad, form them using a small tipped stylus and attach them together using glossy accents
Attach the flower and leaves to the card front using glossy accents.
Finish by attaching a tiny white round circle to the flower center using glossy accents.  Pro Tip:  When I cut eyelet style dies I save all the negative circles in a jar to use for flower centers.  It's lots cheaper than using store bought pearls or gems.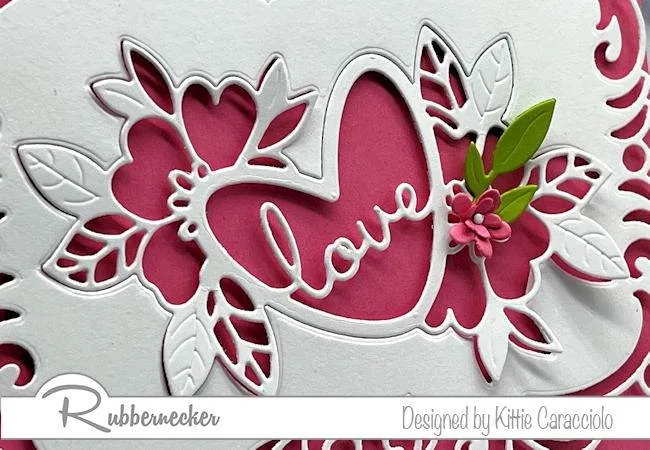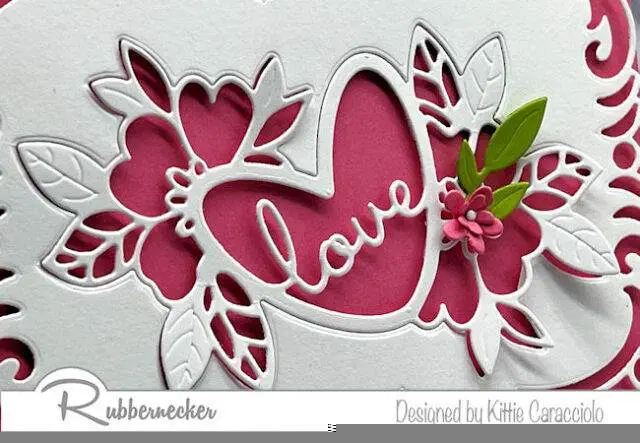 Here's what I used today from Rubbernecker:
5601-01D Elegant Scroll Rectangle Die

5611-02D Love with Flowers Die

5605-01D Small Flowers #5 Die

5611-04D Open Greenery #1 Die
And here is a link to all my My Favorite Crafting Tools – pop on over and see all the basic things I have in my stash that I use over and over.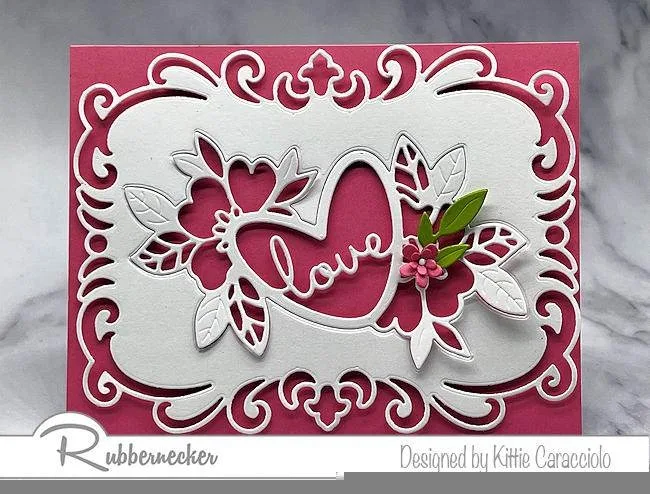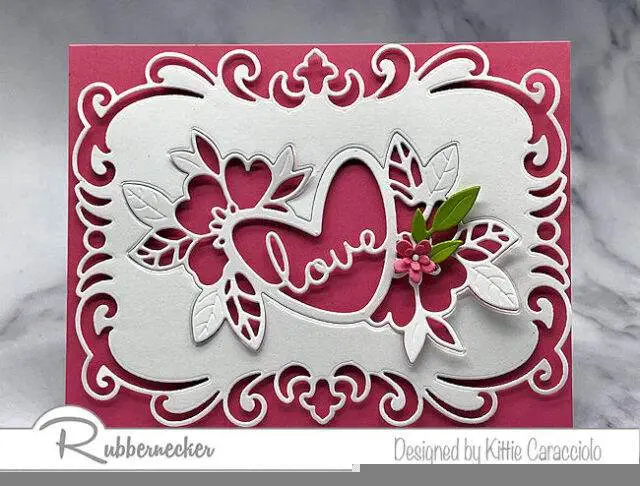 Now, let me ask you. Now that you've see this inset die cutting technique are you picturing all the dies you have in your stash that you can use this way? Are you seeing some possibilities you didn't before? I just love having these quick and easy card making techniques tucked away for when I want to make a fast card that still has detail and will just delight the pants of the person who gets it!
<!–