When you see how easy it is to make this pretty white on white die cut lattice card, you will want to make a stack of them!
As much as I love making cards with entire bouquets on them, like this one and this one and this one, this simple white on white die cut lattice card with just a few pretty blossoms makes me every bit as happy! I used Rubbernecker's Lattice with Scallop Cover to make that pretty, textural background and then added just a few flowers made using their Stackable Flower and Leaves and Branch Set and finished it off with a phrase from my own Kittie Says Friends stamp set.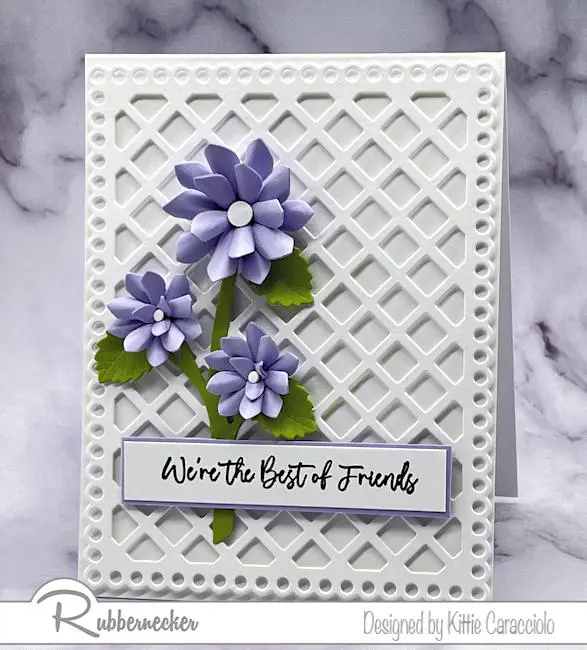 There's something so peaceful and sweet about this design and I like this so much I am definitely keeping it handy as one of my faster go-to cards. Let me share with you all the steps for the making.
Card Base and Lattice Cover
Use white cardstock to cut an A2 sized card base and the Lattice with Scallop Cover.
Using double stick tape, apply some lengths of adhesive tape to a craft sheet or non-stick work surface.
Using your finger tip, roll the adhesive tape over itself on the long sides, moving your finger down the length to create little "ropes" of tape.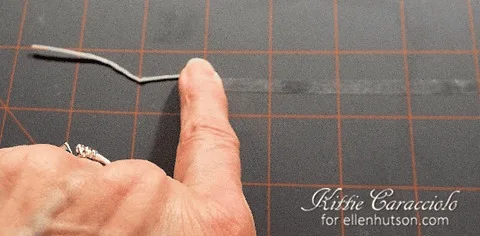 Apply strips around the outside edge of this over die cut as well as on some of the strips in the center. 
Pro Tip:  Applying the rolled up tape to the center sections will keep the cover from collapsing in on the card base. 
Pro Tip:  This tip is also fabulous when you want to add branches, trim pieces or borders when you want that lift that dimensional adhesive gives you and you don't want to spend all that time cutting tiny strips.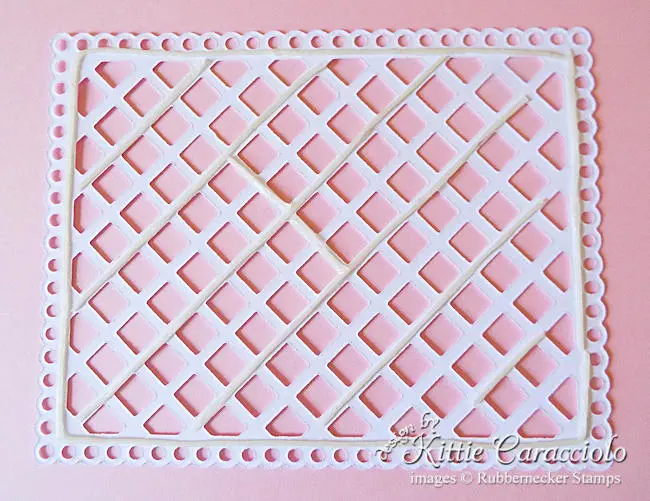 The Flowers and Stems
Use purple and green cardstock to cut the Stackable Flowers and Leaves.
Use green cardstock to cut the Branch.
Form the purple flowers petals using needle nose pliers and bending the petals around the tip of the pliers. 
Place the flowers face up on the molding pad and push down in the center with a small tipped stylus.
Attach the flower layers together using glossy accents and make sure to offset each layer for a natural looking flower.
Attach the branch to the lattice layer using rolled up double stick tape.
Attach the flowers to the branches and lattice using glossy accents.
Tuck the leaves under the flowers and attach using glossy accents.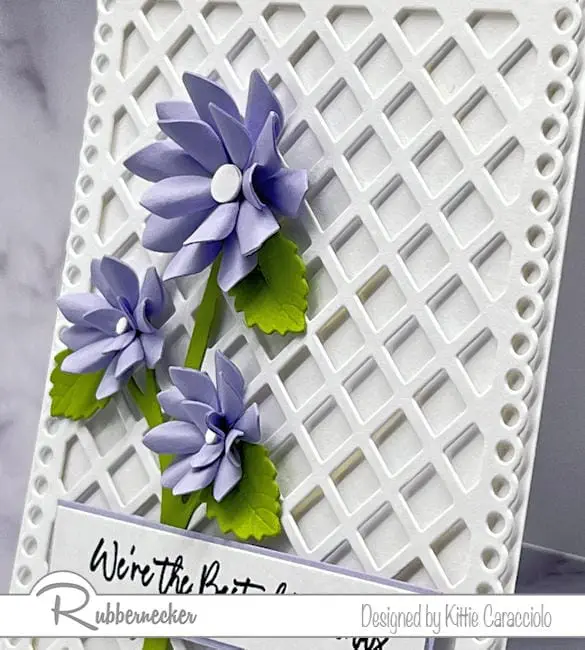 Finish by stamping the sentiment on a white strip of cardstock using Nocturne ink.
Attach a purple layer to the sentiment layer using double stick tape.
Apply a strip of mounting tape to the back of the sentiment layer and attach to the card base.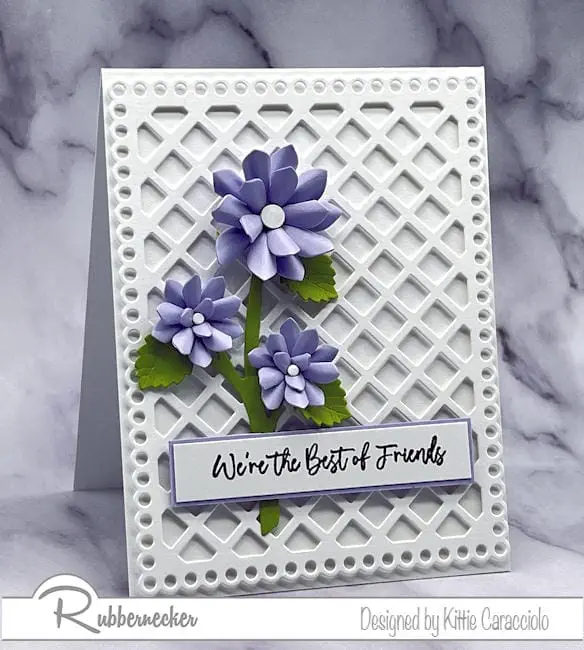 Easy, right? Just a little shaping is all you need to do to bring the flowers to life and the precise design of these dies means each layer of petals looks just so perfect with the next. Here's what I used from Rubbernecker on this card:
| | | |
| --- | --- | --- |
| 5508-01D stackable flowers/leaves die | 5512-03D Lattice with Scallop Cover | 3327 Kittie Says Friends |
And if you want to know what other tools I used from my stash, here's a comprehensive list of my faves:
What do you think – is this white on white die cut lattice card now on your to-make list? I love using that white on white trick to add lots of dimension and then pretty much any pretty die cut flower will look just amazing over it. Try it out and let me know what you think!