Get these amazing dies – they are part of the Rubbernecker Christmas in July sale!
Did you know that there is an amazing Rubbernecker Christmas in July sale going on right now? And you will not believe how many items they have at terrific 15% to 50% off discounts! Including the absolutely gorgeous and richly detailed Tabbed House die and the spectacular Snow Accessories for House die set. If you love(d) paper dolls, you will ADORE making these exquisite houses for holiday cards and cards all throughout the year.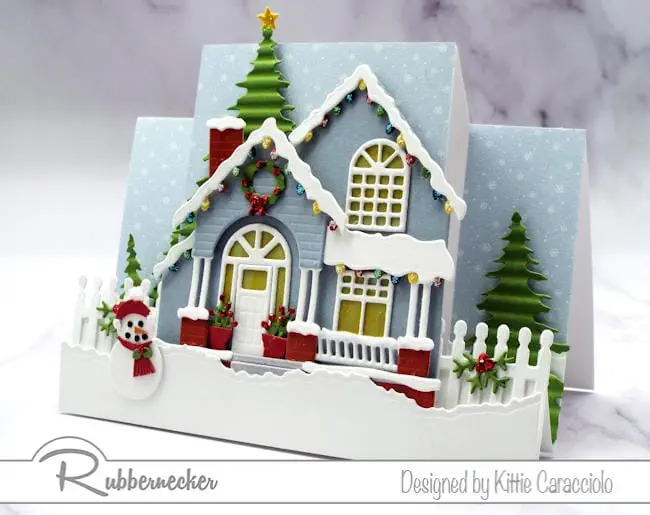 The only things on this handmade Christmas house card that is not on sale are the deckle hills, fence and cart accessories (that I used to make the flower pots) so you can grab everything else at a deal and make cards that will truly wow the fuzzy socks off the people you send them to! Click here to pop over to the original post for this card to see all the details add a step by step tutorial.
5516-01D Tabbed House Die

5516-02D Snow Accs for House Die

5217-01D Evergreen Tree Die

5173-02D Deckle Hills Die Cut

Knob Top Fence Die Cut 5152-02D

5214-02D Cart Accessories #1 Die Cut

Greenery #1 Die Cut 5162-09D

5338-02D Christmas Mini Die
The Rubbernecker Christmas in July sale ends at midnight July 17th so be sure you check out all the incredibly delicious deals before the sale pricing disappears. There is something for everyone in this collection so check it all out and get a head start on your holiday card making this year!