Make the most amazing die cut creations with the new Rubbernecker detailed bicycle die set – no element was missed and the results are gorgeous!
I don't know what it is about Rubbernecker's new detailed bicycle die set but when I saw it, I was instantly transported back to the days when I felt like riding my bike around was easy, breezy and fun. (These days……well, let's just say I would be a LOT more careful!) Rubbernecker spared no detail at all when designing this set and being able to create all the parts and pieces in different colors to add to the texture, dimension and overall impact of this classic element makes me so happy!
For this card I used their new Classic Bicycle and Classic Tabbed Grass, and built up the scene with their Half Tree, Leaves and Greenery, Tiny Flowers #2, Tiny Leaves #2, and Small Birds dies. Now you may notice that on this card, the background is undecorated. Typically, I set these scene cards on a background that offers some context, say, a light blue for sky. Because I made the die cut bicycle out of shades of blue, it sort of got lost. When I set it down on a piece of white to look for a different color background, everything just popped so beautifully, I had to leave it. So note to yourself – sometimes NOTHING is more!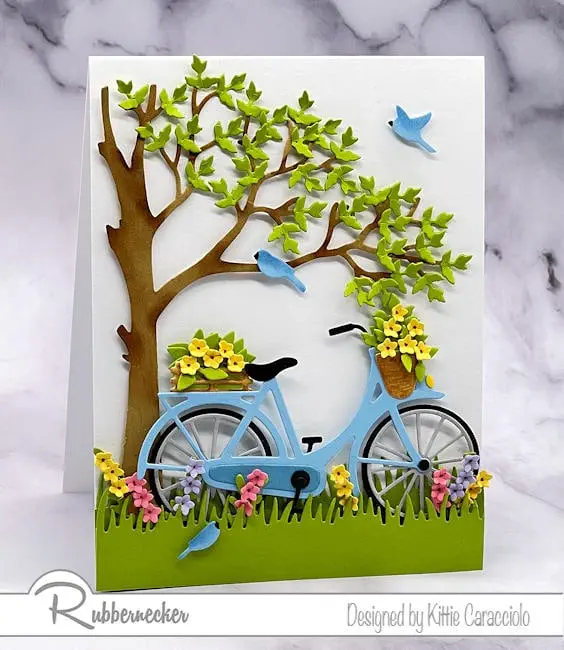 Let me share the making with you so if you want to make one of these, too, you will have a head start with my tips and tricks.
Bicycle Card Base and Grass
Use white cardstock to cut an A2 sized card base.  
Use green cardstock to cut two Classic Tabbed Grass sections of grass.
Apply ATG adhesive along the back of one grass  section and attach it to the card base.
Apply a strip of mounting tape to the back of the second grass section and attach it to the front of the first grass section.  
Tree and Leaves
Use Kraft cardstock to cut the Half Tree and color it with a wet baby wipe and Pecan Color Fuse Ink from Set #3.  
Dry the ink on the tree with your heat gun.  Pro Tip:  Adhesives don't stick well to the cardstock when the ink is wet.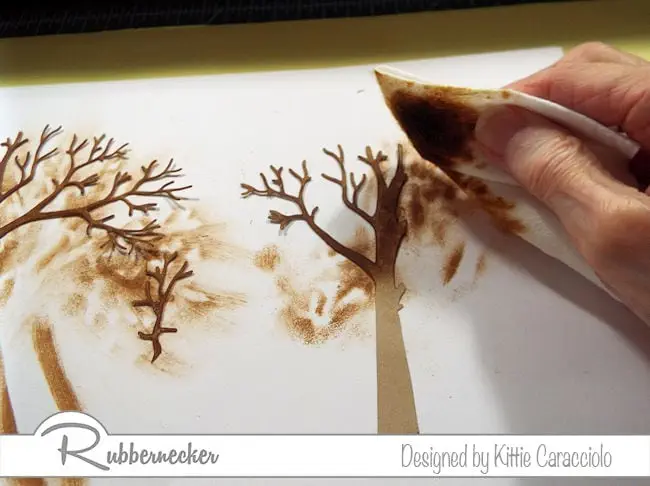 Use green cardstock to cut two sections of the Tiny Leaves #2 and place them face up on the molding pad.
Form the leaves using a leaf tool or with your fingers.
Attach the leaves to the branches using touches of glossy accents.  Pro Tip:  Using reverse tweezers makes easy work out of picking up and attaching small pieces.   
Apply a thin strip of mounting tape to the back of the tree trunk and a few tiny pop dots to the back of a leaves in a few key spots.
Tuck the tree in behind the grass and attach to the card base.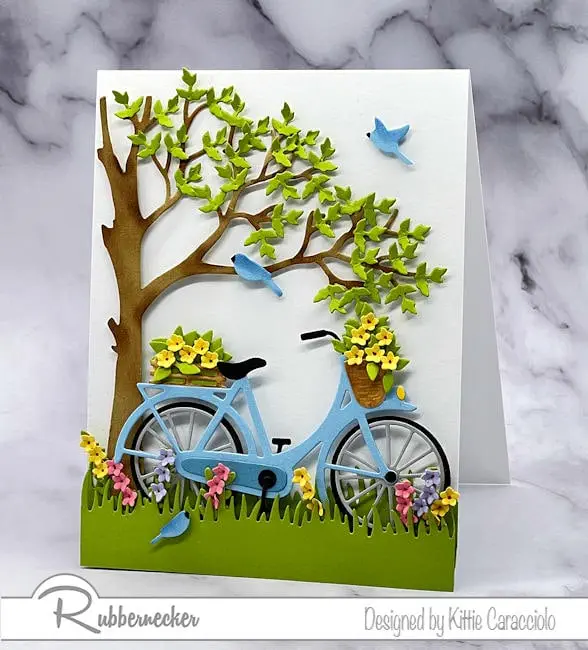 Die Cut Bicycle, Baskets and Flowers
Cut the Classic Bicycle sections using blue, black and gray cardstock.
Use connect glue to attach the tire to the wheel and spokes section. 
Color the handlebar , petals and seat part using a black marker.
Attach the bicycle to the wheel center sections using small strips of rolled up double stick tape. Pro Tip: Using dimensional adhesive like thinner foam tape or rolled adhesive adds that realistic dimension to a multi-part die cut without adding so much thickness that all the elements have the same layer depth. This is why I like to have different thicknesses of dimensional adhesive in my stash.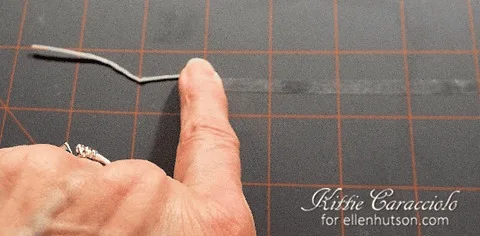 Cut the bicycle baskets using brown cardstock.
Cut the Tiny Flowers #2 using pink, yellow and purple cardstock and Leaves and Greenery sections using green cardstock.
Place the tiny flowers face up on the molding pad and form them by pushing down in the centers with a small tipped stylus.
Attach the flowers to the foliage sections using glossy accents.
Use glossy accents to attach the flowers  and foliage sections to the back of the baskets using glossy accents.
Apply glossy accents to the back of the basket sand attach them to the bicycle frame.  
Apply pieces of mounting tape to the back of the bicycle, tuck it in behind the grass and attach it to the card base.
Finish the Scene
Attach the tiny flowers to taller sections of the greenery using glossy accents.
Tuck the flower and foliage sections in behind the grass and around the bicycle tires and attach usi9ng glossy accents.
Use blue cardstock to cut the Small Birds.
Apply touches of Sonata Color Fuse Ink from Set #8 to the bird bodies using a mini applicator.
Color the beaks using a black marker.
Apply small pieces of mounting tape to the back of the birds and attach them to the card base, tree branch and grass.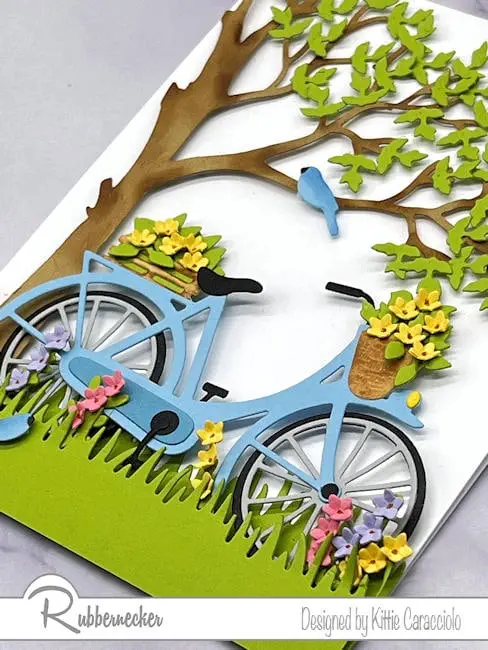 There you have it! All the glorious details made with just dies and touches of ink. You can see that while this card IS very detailed, once you assemble the classic bicycle, the rest of the impact comes from tiny elements en masse, which is an easy way to add tons of impact with not a ton of work. Here's what you will need from Rubbernecker if you want to make this or your own fabulous version of this card:
| | | |
| --- | --- | --- |
| 5616D Classic Bicycle Die | 5615-06D Classic Tabbed Grass Die | 5403D Half Tree Die |
| 5309-04D Leaves and Greenery Die | 5422-03D Tiny Flowers #2 Die | 5334-02D Tiny Leaves #2 Die |
| Small Birds Die 5147-06D | Color Fuse Set #3 | Color Fuse Set #8 |
For all the everyday items I use you can see all my other favorite crafting tools here.
Because of the precise engineering of the design of this detailed bicycle die set, I know I will be using it over and over. Being able to create something so spectacular and realistic but not having to tie myself in knots to do so makes me look like a card making rock star and if you too want to get some oohs and aahs, try this out!