Come see what's new from Rubbernecker August 2023!
Today I am sharing what's new from Rubbernecker August 2023  –  the goodies this month are almost all dies! That means I got to play with all of them and I am SO excited to show you what I've made. 
The dies this month are the perfect combination of outdoor elements that will be the most charming and necessary additions to your scenes. And then there is a collection of fabulous new winter and holiday designs that are perfectly timed for holiday card planning. With the three new holiday greeting stamp sets and a brand new winter themed 6 X 6 Paper Pad, there are so many fun and exciting new design ideas. Of course I will be sharing each of these projects in their own posts so you can get more details for the making, but I couldn't wait to share what I have been up to with what's new from Rubbernecker today.
First is this sweet little scene using the brand new Patio Chairs, Patio Table, Classic Tabbed Grass dies and their Lattice with Scallop Cover, Beach Umbrella,  and Grass #2 dies already in the store. I just love those pops of bright against the white on white background and did you notice that adorable little pillow on the chair? I just love the details Rubbernecker designs into their die sets!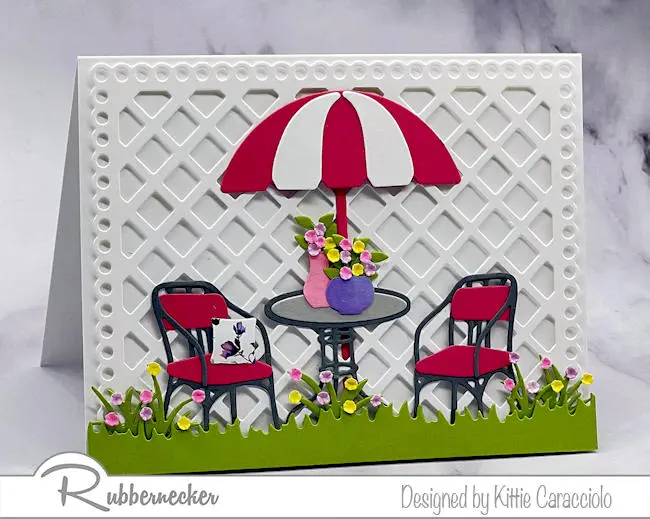 Continuing with the patio theme, I created this card using the new Patio Bench with Pillows and Classic Tabbed Grass, used the Three Trees die set from the last release, and then added some extra details with their Grass #2, Tiny Flowers #2 and Small Birds dies. Don't you just want to stretch out on that comfy cushion and listen to the birds chatter away?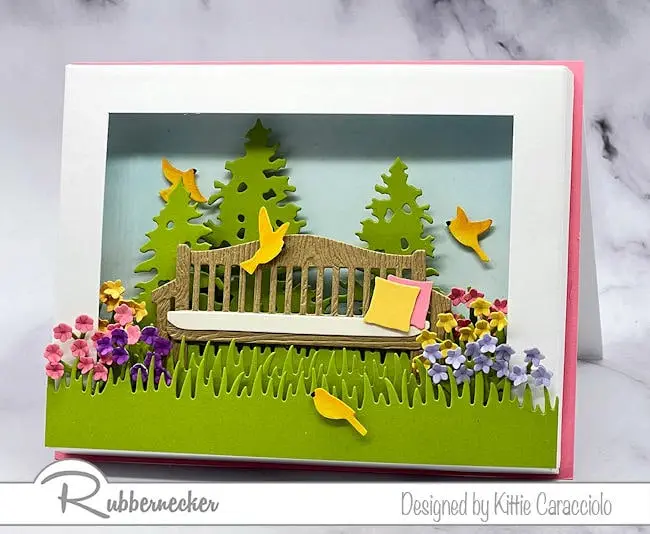 And then there's this card that is so summery and sweet and detailed to the max. The brand new Classic Bicycle die set is another example of how beautifully detailed Rubbernecker makes their dies – all the little parts and pieces come together to make every element perfectly designed to work together. I set this in a scene using their Classic Tabbed Grass, Half Tree, Leaves and Greenery, Tiny Flowers #2 and Small Birds.
Of note, usually I add something in the backgrounds of my cards but when I set this against plain white, the blues just leapt off the card. Sometimes less is more and when you have all the stunning details created with these dies, you can leave some things undecorated and actually amp up the impact.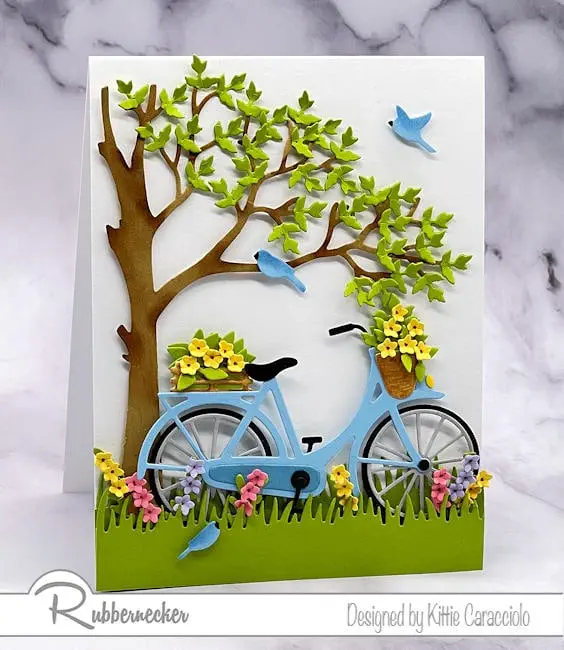 Next, I used the new Door with Stone Facade to make this old style impressive entryway. I will be sharing my techniques for creating that realistic stone look in the post so watch for that to go live soon. I added in a lawn with the new Classic Tabbed Grass and more details with the Gate and Arbor, Tiny Flowers #2 and some sprigs with the Grass #2 dies. Pop any sentiment in the space above the door and you've got a fabulous all occasion card.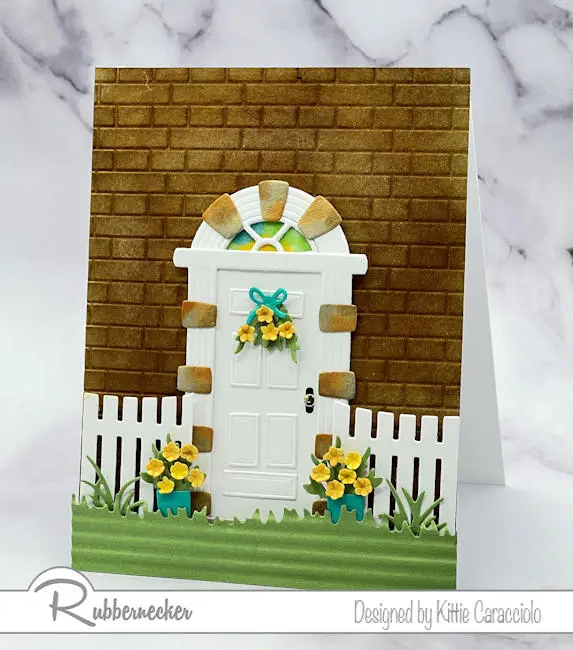 Then, to show off how flexible this new Door with Stone Facade die is, I made this card without the stone details. I decorated this door with the elements from the brand new  Winter Door Parts  and a Wrought Iron Fence  to hold back the snow made with Rubbernecker's Deckle Hills die set. I encourage you to take a good look at that Winter Door Parts die set – there are things in there that you will want to use on all kinds of cards and NOT just in the winter!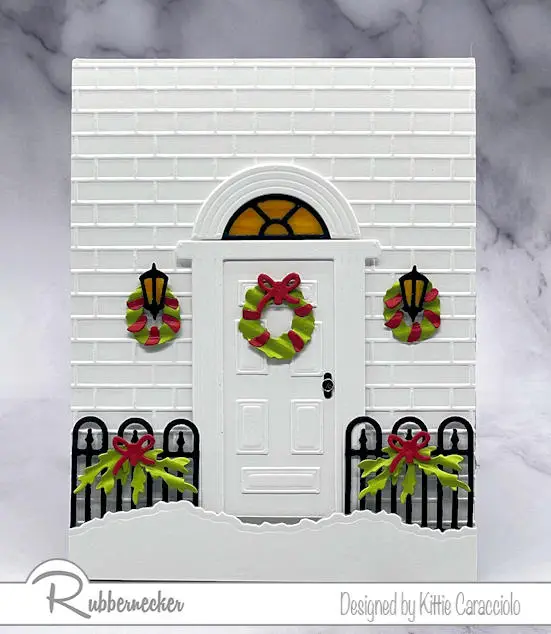 Using Rubbernecker's new Window with Reverse Scallop frame die, I added frosty little friends using Rubbernecker's Winter Snowmen, gussied them up with some Tiny Leaves #1 (you know I can't resist more details!) and a sentiment from my new Kittie Says Christmas stamp set. This set is loaded with things I think are great sentiments to use on holiday cards for all the people you might sent them to. I love having all-purpose themed greetings so I put this together for you to have, too!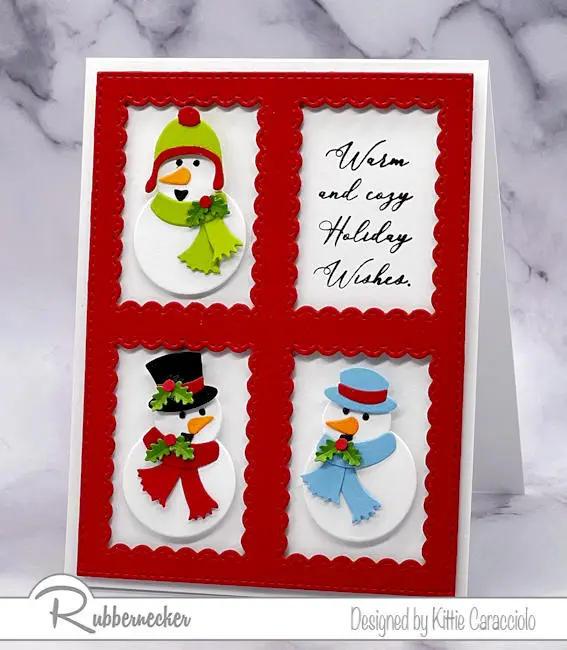 This classic red and green card also features some classic elements – a snowman, an evergreen and do you spy that adorable striped sign post? This was made using their new Winter Sign which I can see used for lots of other purposes with just a color change. I also used Rubbernecker's new Background Cover #1 which I think is also a genius design in that it can be used so so many different ways. As I said, I love flexible designs! I popped my character made with the Winter Snowmen set, added a wintry tree using the Three Trees dies with its snowy effect made with the Splatter Background stamp, set everything on a snowbank made with the Deckle Hills dies, added some details using that fabulous Winter Door Parts and then set everything in a frame made using the Outside Scallop Frame and Inside Scallop Frame. I popped a sentiment onto the Winter Sign with one of the sayings from my Kittie Says Christmas and I just LOVE it!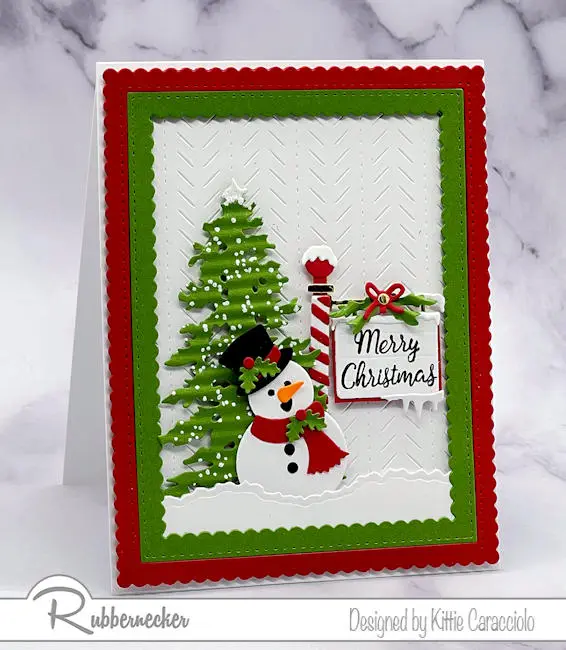 Speaking of classic, are these new bells not SO glorious? I used the brand new Bells and Bows die set and cut them from high gloss gold card stock. I swear you can almost hear them! And that beautiful background was made with the new Paver Cover, die which I am predicting is going to be a fan favorite. Imagine all the ways you will be able to use that die! I decorated my bells with some foliage made with Rubbernecker's  Holly #2, and Greenery #1, colored with inks from Color Fuse Set 11 and then popped on a sentiment from my new Kittie Says Christmas that was stamped onto one of the Small Tags.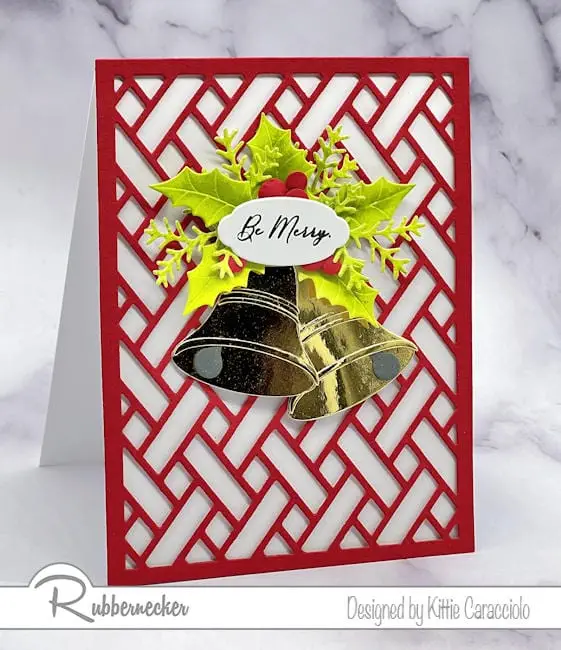 I love using window dies because they help you lay out a design so easily. This new Window with Circles Stitch, is also going to be a much used die since the design is a little retro-fresh and gives you so many options to use those openings in whatever way you envision. I created a little vignette using the Santa with Presents, Santa's Sleigh, Three Pine Tree Forest, Deckle Hills, and Greenery #1 dies. And then I used the new and SO perfectly sized and scaled Small Classic Alphabet die to spell out my greeting. This alphabet set is an answer to many a crafter's prayers and mixes beautifully with almost every font, making it the perfect go-to for when you want to emphasize a word.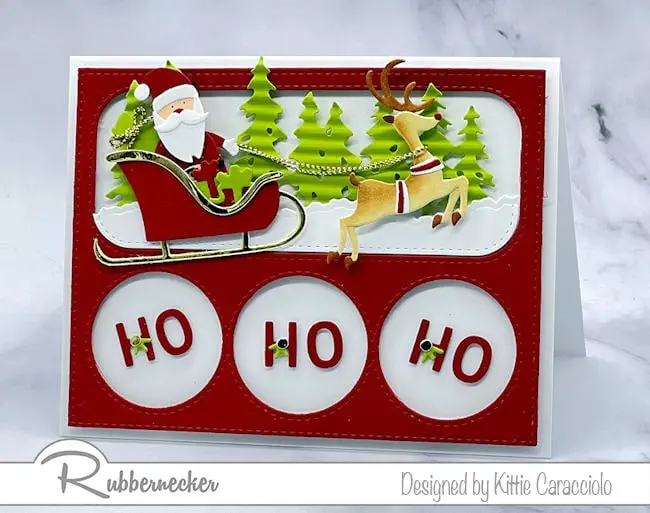 I am in LOVE with the color stories in the new Snowy Wonder 6×6 Paper Pad and when I saw this pattern, I instantly saw this card in my mind. A sweet little creature made with Rubbernecker's Deer Family #2, tucked into the trees made with their Three Pine Tree Forest and snowy Deckle Hills, all contained in a frame made with the Rectangle Combo OPC #3 all comes together so beautifully. I will share in an upcoming post all the delicious details for this delicate delight.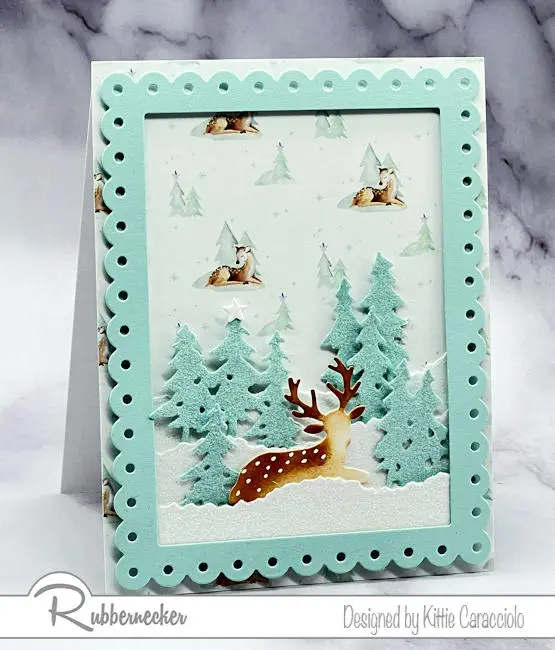 And here's another card made with that new Snowy Wonder 6×6 Paper Pad where one of the Rubbernecker dies coordinates so perfectly! Pop on any sentiment and you've got a card for any occasion. I added a the cozy little getaway with their Cabin #1, made more trees and snow with the Three Pine Tree Forest and Deckle Hills dies and contained everything in a single Outside Scallop Frame.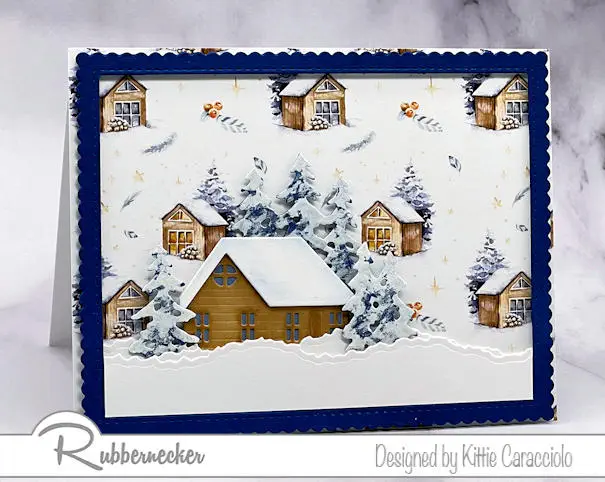 If you haven't been able to tell, I really am super excited about all these things new from Rubbernecker and it's not just because my name is on one of them – lol. Here they all are – sign in to the Rubbernecker store, click on whichever of these new items you know you absolutely MUST have and get those things in your cart and to your house before someone else does!
| | | |
| --- | --- | --- |
| 5622D Window w/ Circles Stitch Die | 5621D Window w/ Reverse Scallop Die | 5620D Background Cover #1 Die |
| 5619D Paver Cover Die | 5618D Small Classic Alphabet Die | 5617-02D Bells and Bow Die |
| 5617-01D Winter Sign Die | 5616D Classic Bicycle Die | 5615-06D Classic Tabbed Grass Die |
| 5615-05D Patio Bench with Pillows Die | 5615-04D Patio Table Die | 5615-03D Patio Chairs Die |
| 5615-02D Winter Door Parts Die | 5615-01D Door with Stone Facade Die | 36005 Kittie Says Christmas |
| 36004 May The Season | 36003 Magic of Christmas | 2101 Snowy Wonder Paper Pad |
All these new from Rubbernecker goodies are available today so make sure you add what you want now before it sells out – which things DO – and start planning which of these fun new things you are going to use on your holiday cards this year.