Save this idea for beautiful monochromatic cards to make in any color you like – they will always be spectacular!
I didn't set out to create an example of beautiful monochromatic cards to make for any occasion, in any color, using any floral die set – not intentionally. But when I finished this card and did the "stamper's reach"*, I realized this is a practically perfect go-to card when you want something that is extra special but also relatively easy to make. 
*Stamper's Reach – when you hold a card out at arm's length as far as you can to admire its beauty and perhaps maybe accidentally show it off to anyone who might see it.
To make this card I used Rubbernecker's Stackable Flowers and Leaves #1, Large Ivy, Nested Scallop with Half Holes dies and a sentiment from their It's Spring Time set. I also used one of the colors of their excellently blendable Color Fuse Ink for the background. Making all the foliage and layers in pure white and using color only for the field for the die cut arrangement adds a richness of depth and luxury that is so easy to achieve.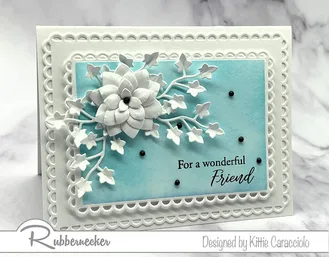 Let me share the steps so you can see how easy this card is to make. Then you can shop your stash or add these items to your wish list for your own gorgeous versions.
The Card Base and Scalloped Layers
Use white cardstock to cut an A2 sized card base and two different sized layers of the Nested Scallop with Half Holes.
Attach the largest layer to the card base using ATG adhesive.
Secure the second layer with low tack tape to your work surface leaving a very small border around the rectangular section and the scalloped detail.  Use a large blender brush to apply Whisper Color Fuse Ink from Set #9 over the die cut panel. Pro Tip: Do NOT worry about applying the ink in a perfectly even layer; the ethereal nature of the shadows and slightly irregular inking adds a lot of depth and drama to this project.
Any shade of ink will be just stunning with this style of white on white decoration – use your imagination and watch all the variations come to life!
Remove masking tape and heat set the ink to ensure that the edges stay crisp.
Secure the layer in the MISTI and stamp the It's Spring Time sentiment using Nocturne ink.
Apply strips of mounting tape to the back of the layer and attach it to the card base.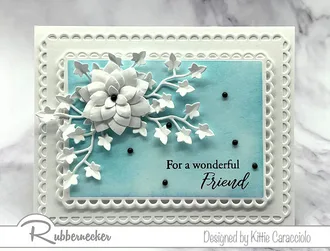 The White On White Die Cut Flower and Ivy
Use white cardstock to cut two sets of the Stackable Flowers and Leaves #1 and two sets of the Large Ivy.  
Place the flowers face down on the molding pad and form them using a large round stylus.
Assemble and attach the flower layers together- two each of the largest flowers and one each of the two smallest flowers using glossy accents.  Make sure to offset each flower layer for a natural looking flower.
Apply a generous amount of glossy accents to the back of the flower and attach it to the inked layer.
Place the ivy sections face up on the molding pad and gently form the leaves by pressing the middle of each using a leaf tool or small stylus.
Tuck the ivy stems under the flower, trim as necessary and attach using glossy accents.
Finish with black embellishments for a pop of contrast.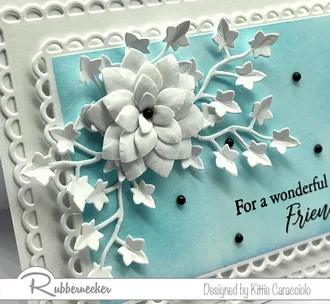 Here are the items from Rubbernecker that I used today:
5320D Nested Scallop w/ Half Holes

5508-01D stackable flowers/leaves die

5162-02D Large Ivy

3309 It's Spring time
And then for all the items I use everyday you can see all my other favorite crafting tools here.
I'd recommend saving this idea beautiful monochromatic cards to make either as you need them or to build up a little stash. You can leave off the sentiment and carefully stamp one later or just add it with a die cut and foam tape adhered shape. There are a zillion variations you can use and I hope you try it out!