This idea for handmade cards for gardeners could be used for any season as is!
I like creating handmade cards for gardeners – they put so much work and love into their little plots of heaven and I like to recognize that with some beauty and effort of my own. And with all the different elements that Rubbernecker offers, I can often make a card that resembles my friends' gardens and they just LOVE that! To make this card I used the Rubbernecker Arched Trellis, Small Wheelbarrow, Classic Tabbed Grass, Flower Stems, Tiny Flowers #2, Cart Accessories #1 and Small Birds.  The embossing folder I am not sure about but any overall design will look just as spectacular.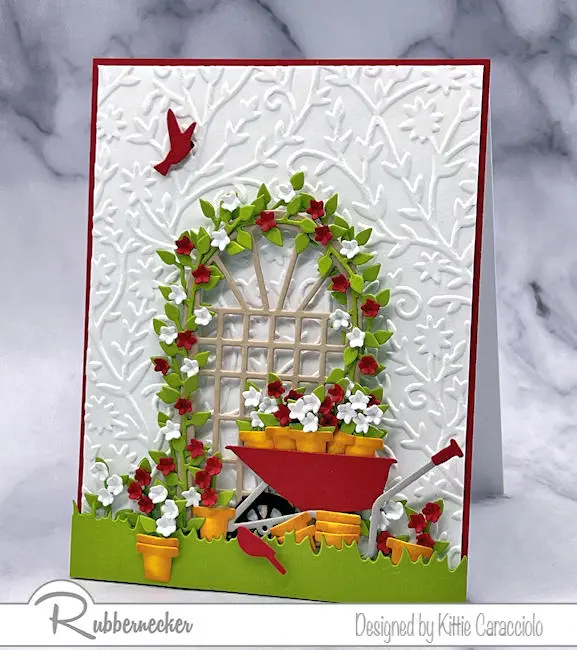 Let me take you through the steps so you can use any or all of these elements in your own designs.
The Garden Card Base and Grass
Use white cardstock to cut an A2 sized and a 5.25″ x 4.00″ layer.
Cut a red 5.50″ x 4.25″ layer and attach it to the card base using ATG adhesive.
Emboss the white layer and attach it to the red card base.
Cut a single Classic Tabbed Grass section and attach it to the card base using a strip of mounting tape.
Arched Garden Trellis 
Cut the Arched Trellis using tan cardstock.
Use green cardstock to cut the Flower Stems and red and white cardstock to cut the Tiny Flowers #2.  Pro Tip:  You will need to cut several sections of the stems and flowers for the trellis and flower pots.
Trim the stems to remove the bottom portion.
Attach the stems around the trellis using glossy accents.  Tuck the end of each stem under the previously attached stem.
Place the flowers face up on the molding pad and push down in the centers with a small tipped stylus.
Attach the flowers around the trellis foliage using glossy accents.
Tuck the trellis in behind the grass section and attach using small pieces of mounting tape.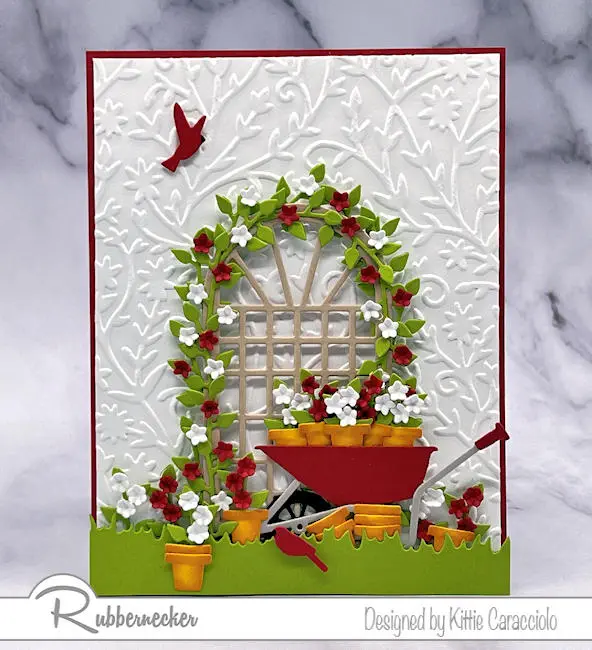 Wheelbarrow and Flower Pots
Use red, gray and black cardstock to cut the Small Wheelbarrow parts and attach them together using glossy accents.
Use bright yellow cardstock to cut the Cart Accessories #1 terracotta pots.
Color the pots using mini applicators and Color Fuse Set #1- Autumn ink and Color Fuse Set #2 Pumpkin ink.  Take a quick look at my How to Color Terracotta Pots video to see how easy it is to color the pots.
Attach flowers to the single stems using glossy accents and attach them to the individual flower pots using glossy accents.
Attach the pots to the back of the wheelbarrow using glossy accents.
Tuck the wheelbarrow in behind the grass layer and attach using pieces of mounting tape.
Stack several pots together, tuck them in behind the grass layer and arrange them around the wheelbarrow and attach using mounting tape.
Use red cardstock to cut a couple Small Birds and attach them to the scene using small pieces of mounting tape.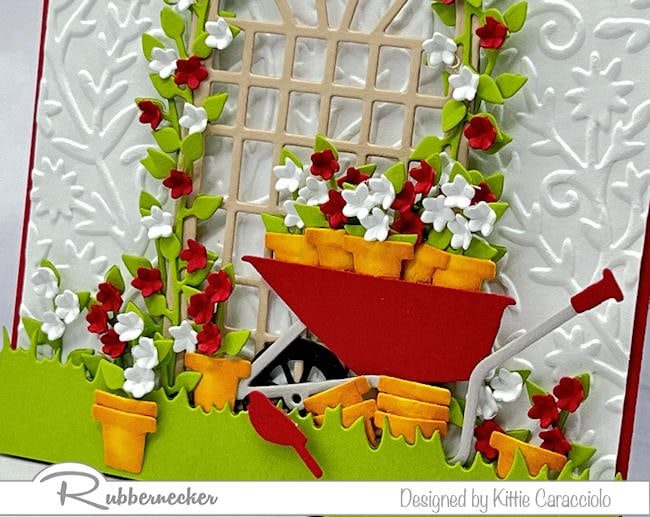 I love that Arched Trellis die – it can be used so many different ways and it really adds so much to a card.  You can see more inspirational projects here.  
Here are all the things from Rubbernecker that I used on this project:
| | | |
| --- | --- | --- |
| 5307-01D Arch Trellis Die | 5506-03D Small Wheelbarrow Die | 5615-06D Classic Tabbed Grass Die |
| Flower Stems Die 5147-05D | 5422-03D Tiny Flowers #2 Die | 5214-02D Cart Accessories #1 Die Cut |
| Small Birds Die 5147-06D | Color Fuse Set #1 | Color Fuse Set #2 |
And then for all the everyday items that I use over and over you can check out all my other favorite crafting tools here.
Handmade cards for gardeners can be of lots of different designs but there's something both simple and detailed about this one that makes it one of my favorites. I hope you play around with it a little and find a way to customize it to the vision you have!