What's cuter than a snowman card? How about a handmade card with mini snowmen all made with easy die cuts!
I have made a LOT of snowman cards! Not only are they cute and a perfect winter motif for just about any occasion, they are so adaptable. You can see many of the ways I have used this classic element on a huge variety of snowman cards I've made over the years.  Today I decided to shake that up a little and created this idea for a handmade card with mini snowmen to give these frosty fellows even more of a chance to star.
I set the little guys I made with Rubbernecker's Winter Snowmen die set into a four window frame I made with their Window with Reverse Scallop die, used a few adornments made with their Tiny Leaves #1 die set and added a sentiment from my own Kittie Says Christmas set. This is such an easy card to make! I sit and cut a stack of scraps with the different accessories for the snowmen from the die set and then plop down in front a of a good flick and mix and match everything to make a whole squad of snowy subjects. Popping one into each window takes seconds and each card ends up with its own unique look.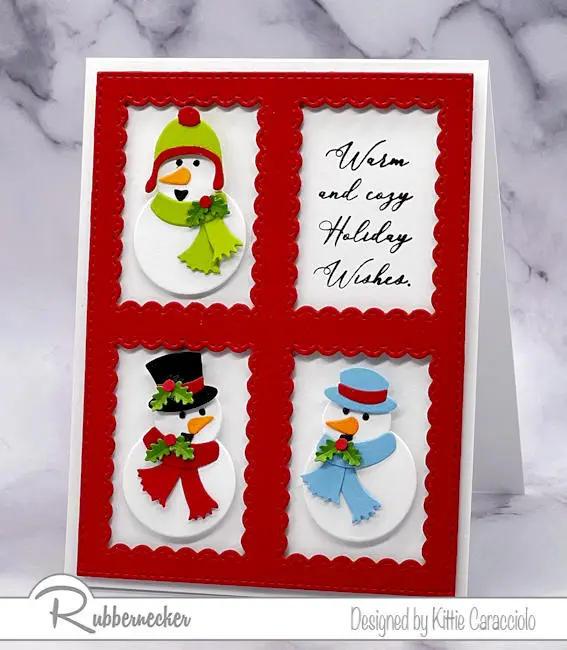 Card Base and the Die Cut Four Part Window Frame
Use white cardstock to cut an A2 sized card base.
Cut the Window with Reverse Scallop using red cardstock.
Place the white card base in the MISTI, line up the red window frame on the base for where to stamp the sentiment and place the stamp.
Remove the frame and shut the MISTI lid to grab the sentiment.
Open the lid, apply Nocturne ink to the sentiment die and stamp.
Apply strips of mounting tape to the back of the window frame borders and attach it to the card base.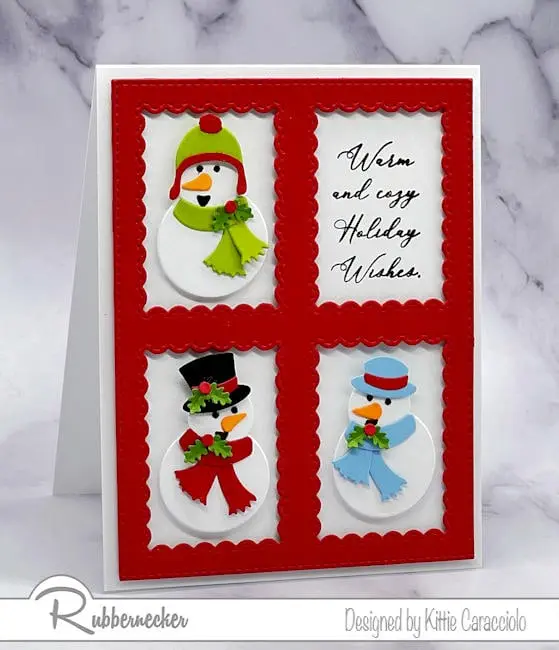 The Adorable Die Cut Snowmen
Cut three snowmen bodies using white cardstock.
Use multiple cardstock colors to cut the accessories pieces for the snowmen.
Attach the accessories to the bodies of the snowmen using glossy accents.

Pro Tip:  I modified two of the hats to create three different looks.  
For the top snowman's hat I cut a border off of a red hat and attached it using connect glue.
For the bottom right snowman's hat I cut a small section off the top hat.

Embellish the snowmen scarves and hat with the Tiny Leaves #1 to look like holly and add red circle berries.
Apply large pieces of mounting tape to the back of each snowman and attach them to the card base.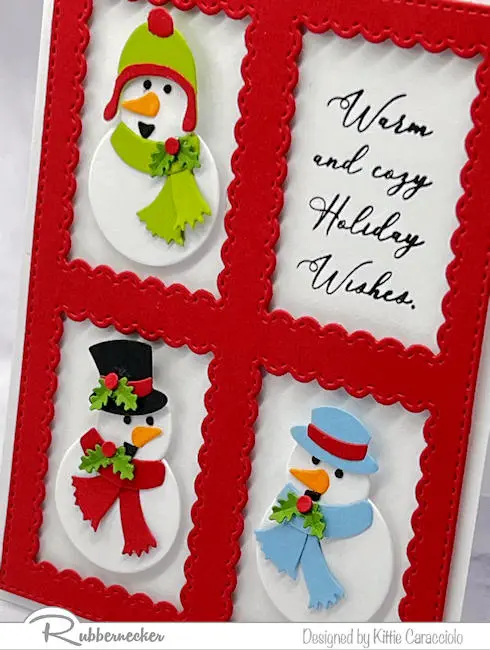 Have you checked out the Rubbernecker Black Friday Sale?  Click on the sale banner below to be taken to all the sale categories.  You don't want to miss out!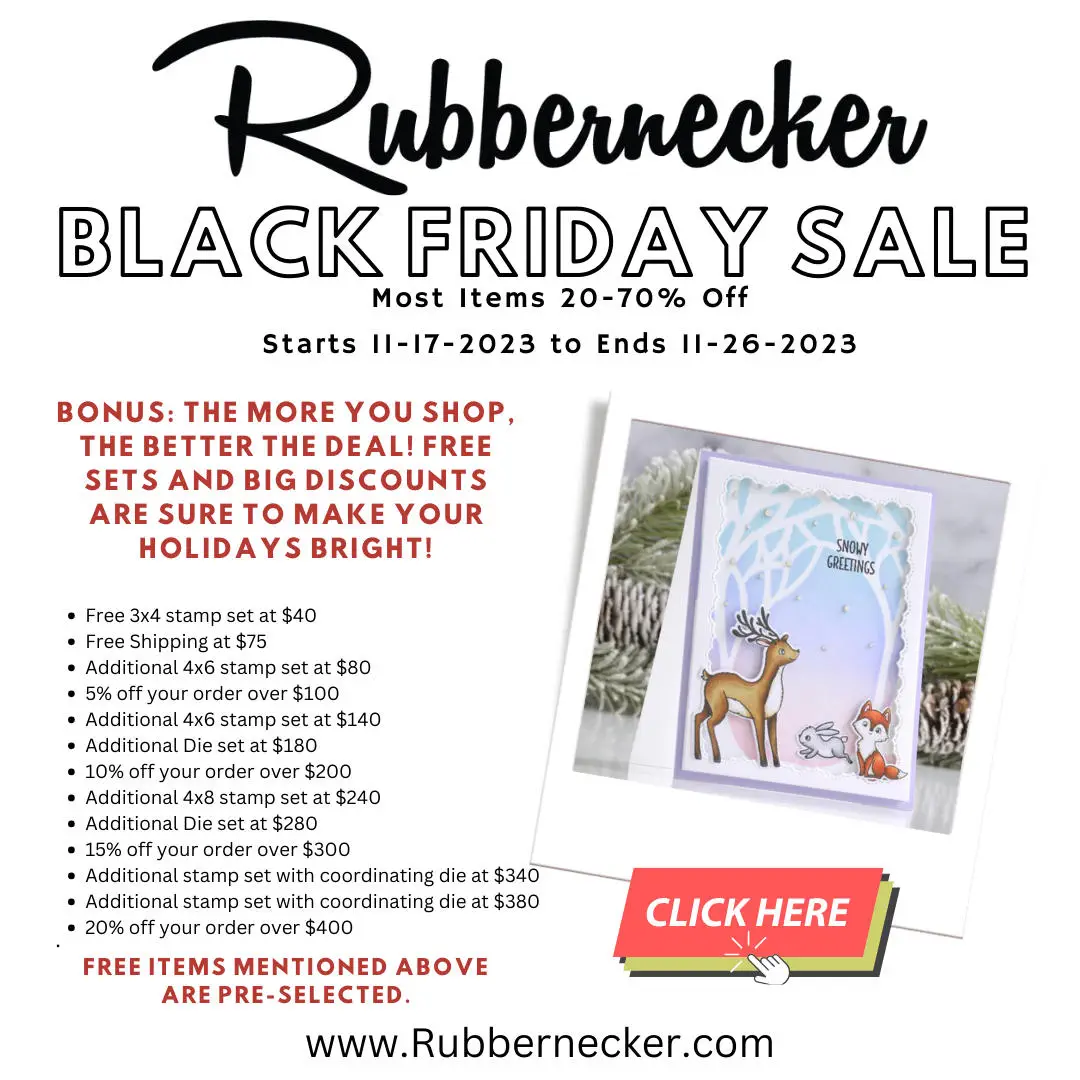 Here's what I used from Rubbernecker today:
5621D Window w/ Reverse Scallop Die

5337-03D Winter Snowmen Die

5162-04D Tiny Leaves

36005 Kittie Says Christmas
And for all the everyday items I used today, here's a collection of my favorite crafting items.
This handmade card with mini snowmen is also absolutely perfect to do with the kids or grandkids. Let them assemble the snowmen and pop them into the frames and you've got cards that have a whole lotta smallie-love baked into them! They are perfect for batch making, can cheerfully coordinate with just about any greeting and can be assembled last minute. Tuck this idea away – it's a winner!