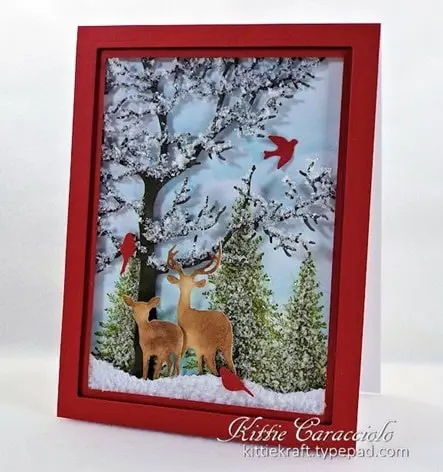 I decided to create a snowy scene with my new Impression Obsession Tree Frame.   I love to search on Google for inspiration pictures.  For this project I searched for Snowy Tree Pictures and you can see all the gorgeous scenes that pulled up here. 
I thought I would take a few step by step pictures as I created this project today.  I wanted to experiment with applying Crafter's Pick Ultimate Glue on the branches of the tree and the evergreen trees with a paint brush and then sprinkling on Flower Soft to create snow. I chose to use Crafter's Pick because it is thick and easy to dab on but thick enough not to dry too fast.  It also dries completely clear.  I thought I may as well take you along for the experiment. 
Lightly dip an old paint brush into the glue and gather a small amount. You can see that I don't have much glue on my brush tip.  I don't want to create blobs of glue…just a thin application.  Hint:  the glue washes out of your brush very easily.  I would still use an old one though.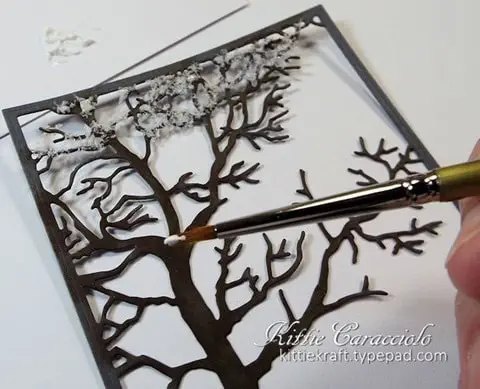 Starting at the top of the tree and lightly apply the glue to the tips and tops of the branches. You will want to do small sections at a time so your glue won't dry out.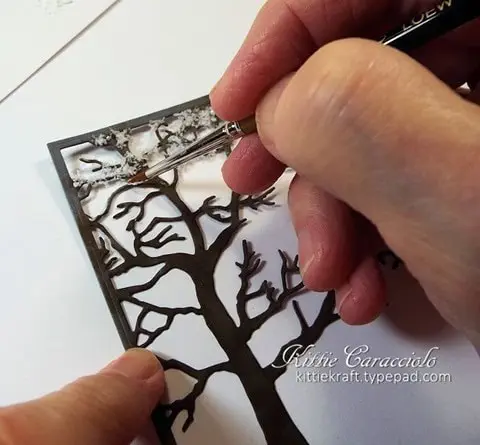 Sprinkle on the Flower Soft.  Repeat these steps until you are finished. Make sure you leave plenty of branches showing through the snow so they will have a natural appearance.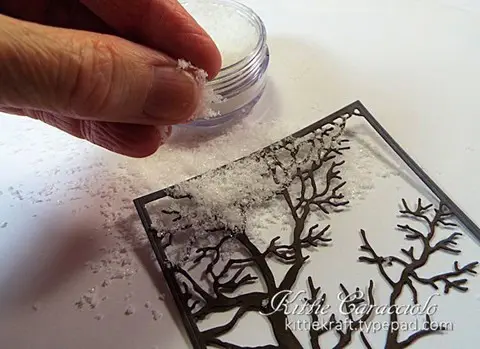 Stamp evergreen trees for the background.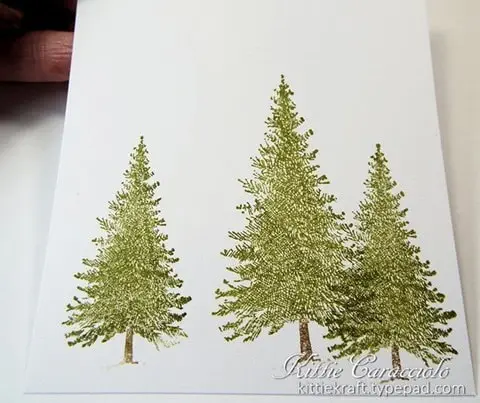 Sponge additional ink on the trees to create a dark enough background to show well through the Flower Soft.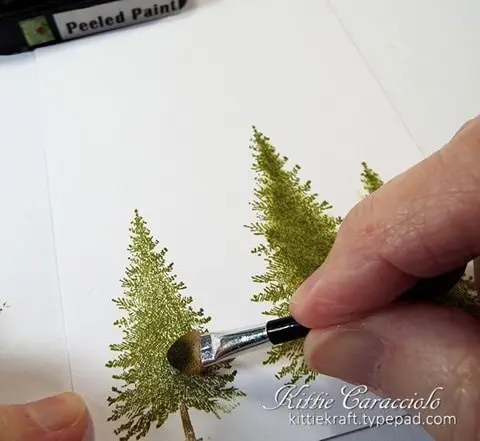 Heat dry the green ink well before applying the sky so you don't smear the ink.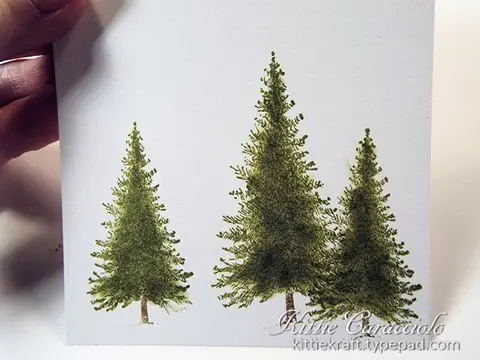 Apply the cloudy sky with a cloud template and ink blending tool.  I hand cut this template.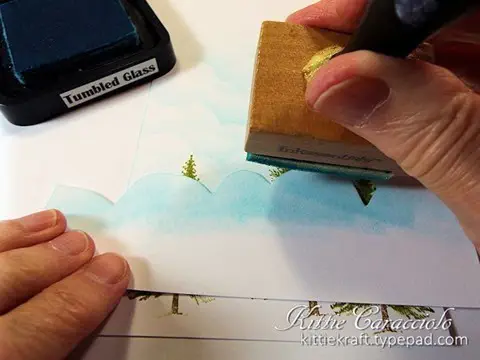 Lightly dab (not brush) the glue randomly on the tree fronts.  You don't want to brush and completely cover the tree. Sprinkle with Flower Soft.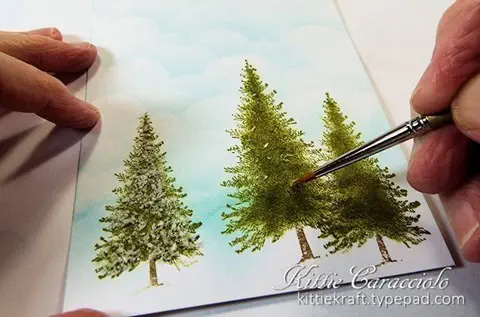 Create a double mounted frame separated with strips of mounting tape to create additional dimension.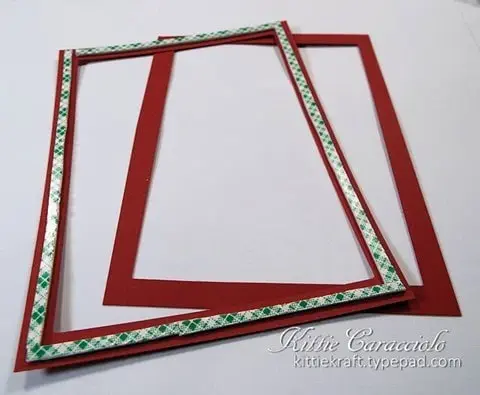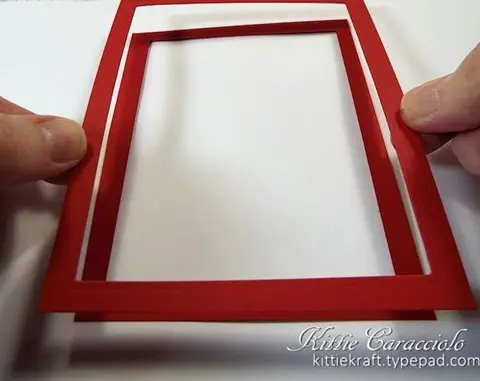 Apply adhesive on the back of the frames and attach the tree frame.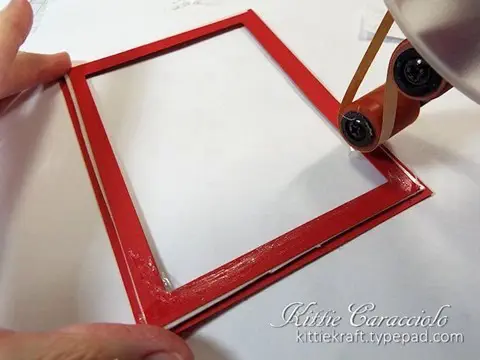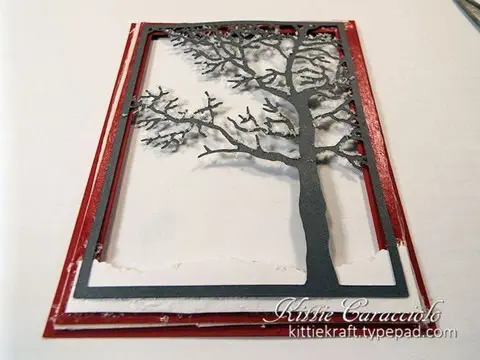 Apply an additional layer of mounting tape and attach to the scene base.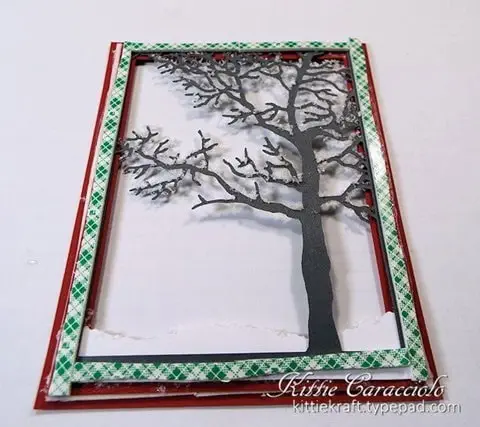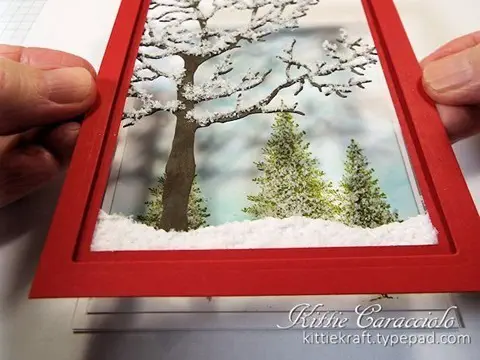 Lightly apply ink to the deer.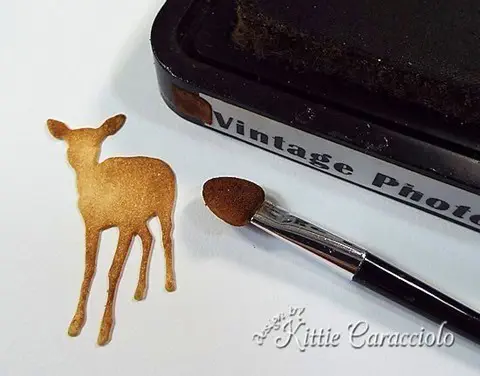 Attach the deer into the scene with mounting tape.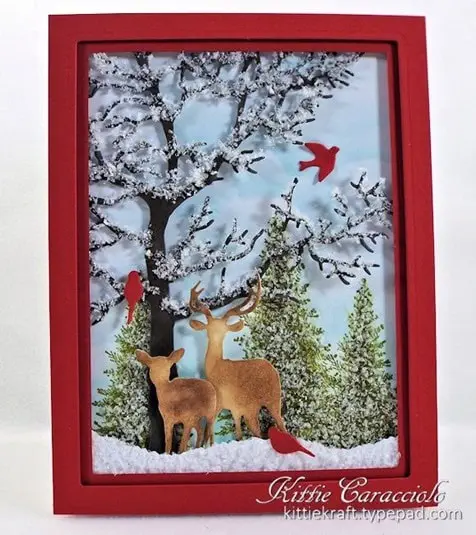 Tuck a few red birds into the scene for an additional touch of color.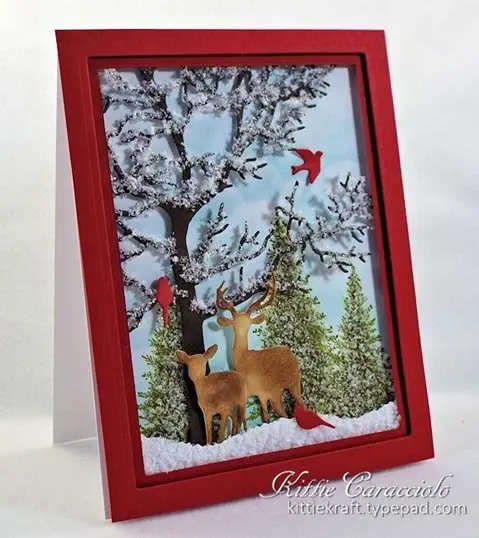 Card size:  5.50" x 4.25"