Good Sunday morning.  I hope you are enjoying your weekend.  My husband worked yesterday so I had lots of time to be at my craft desk.  As you know well by now I love making window cards.  I received the new Poppystamps Small Madison Window Set in the mail on Friday.  I couldn't wait to take it out for a spin.  It is the perfect little set for someone who hasn't taken the leap into buying window dies yet.  You get the window, shutters, flower/window box, a tiny die full of precious flowers and stems all in the same set.  Poppystamps also created a Large Madison Window Set but it is still on my wish list.  I know, I know!  I have lots of window dies but can a girl ever have too many?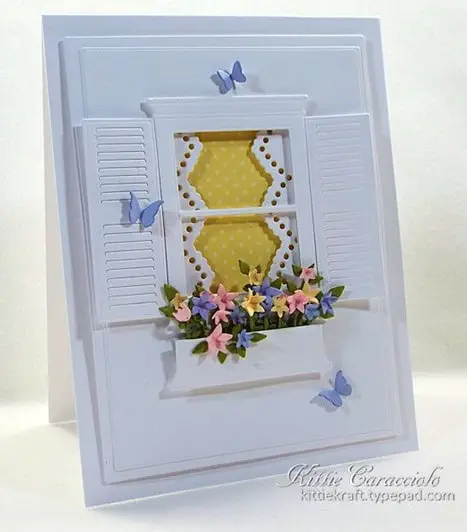 I cut the window, shutters and window box in all white as I wanted to have a completely white palette to allow the flowers, the yellow inside the window and the butterflies to be the main focus. I used the window die as a template to draw lines to cut the opening for the window.  I cut the Impression Obsession Border Duo 1 decorative border and attached them to the back of the window with double stick tape.  I applied thin strips of mounting tape to the window and attached over top of the window opening.  The shutters were attached with thin strips of mounting tape as well.  I attached the yellow designer paper to the card base with ATG and then attached the whole window base over top of it with mounting tape.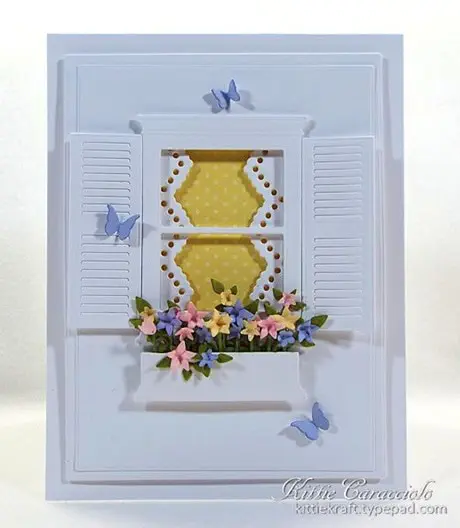 I cut the flowers in pink, yellow and lavender so I could have a springy window box. I formed all the flowers with my tiny tipped stylus and molding pad. I cut the stem section three times and attached the tiny flowers with glossy accents. I applied a 1/4" piece of double stick tape to the back of the window box and attached the stems of flowers.  I cut one Impression Obsession Leafy Branch and attached in behind the flowers to add some height and depth and then attached a few flowers to them as well. I applied a double layer of mounting tape to the back of the window box and attached it to the card base.  I attached three tiny butterflies for the finishing touch.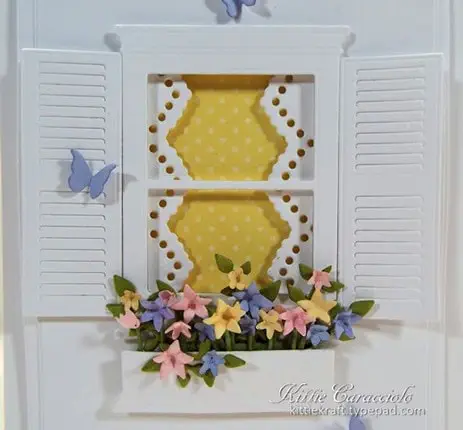 Here's a closer view of the window box and flowers.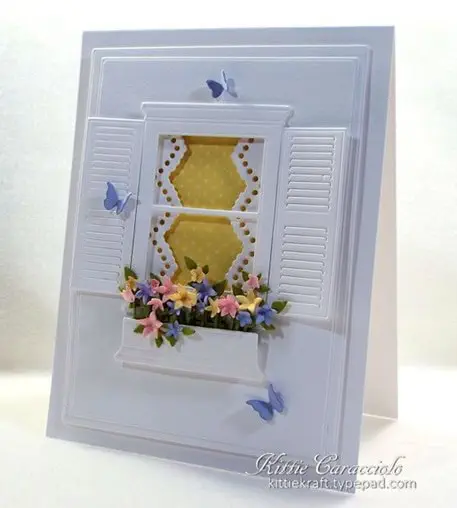 Check out my See Thru Window tutorial if you would like to see step by step photos of how I make my open window cards.  Thanks for stopping by and I hope you are enjoying your day.
Card size"  5.50" x 4.25"