Good Monday morning.  Today I'm sharing two die cut train scene cards made using the Rubbernecker Stamps Train set paired with the Cloud Tree,  Deckle Hills, Grass #2, Tiny Flower Buds, Flower Stems and Small Birds.  This new train set is so cute and fun to play with.  The set has lots of parts that makes it easy to create train cars with multiple colors.  My first card uses the same basic color combination for all the cars.  My second card was made with bright primary colors and reminds me of a fun circus train. The only thing missing is a couple animals sticking their heads out the windows.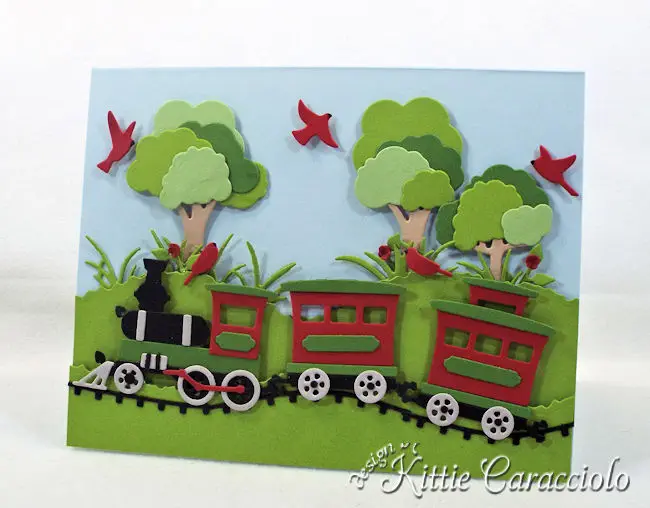 Assemble The Train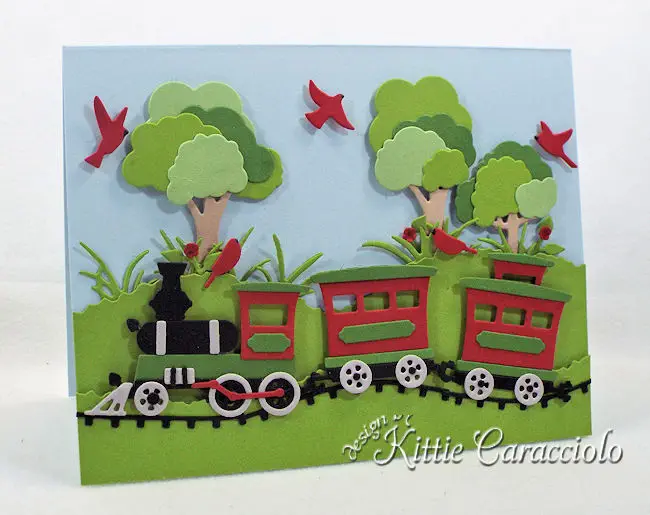 The Scene Base
Cut two layers of deckle hills using green cardstock.
Apply double stick tape to the bottom and side portions of each section and attach to the card base.
Tuck a couple small pieces of mounting tape in behind the top of each hill section so they are not flat against the card base.
Cut three sections of train track and attach them together with glossy accents.
Gently bend the tracks, apply glossy accents and attach them to the card base.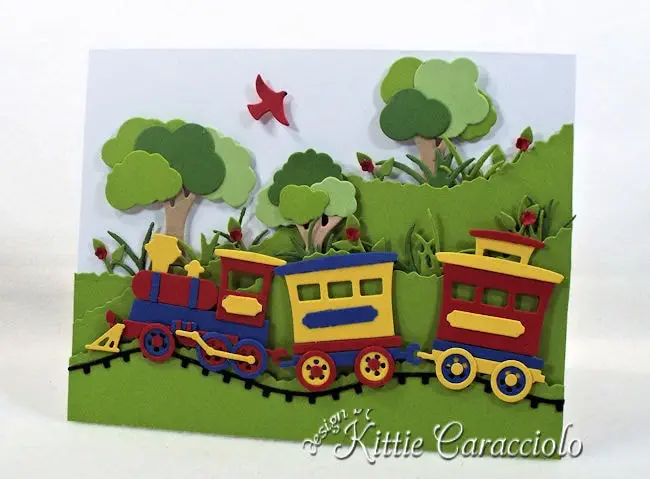 Complete the Die Cut Train Scene
Cut a few sections of the grass sprigs using green cardstock.
Cut the cloud tree trunk using Kraft cardstock and the tree tops using three colors of green cardstock.
Tuck the tree trunks in behind the grassy hill sections and attach with strips of mounting tape.
Apply pieces of mounting tape to the back of the tree top sections and attach them to the trunk and card base.
Tuck the grass sprigs in around the tree trunks and grass sections and attach with glossy accents.
Cut a few flower stems using green cardstock.
Cut a few tiny flower buds using red cardstock, form them with a tiny tipped stylus and molding pad and attach them to the flower stems.
Tuck the flower stems in behind the grass sections and attach with glossy accents.
Finish the card by attaching flying red birds to the sky area.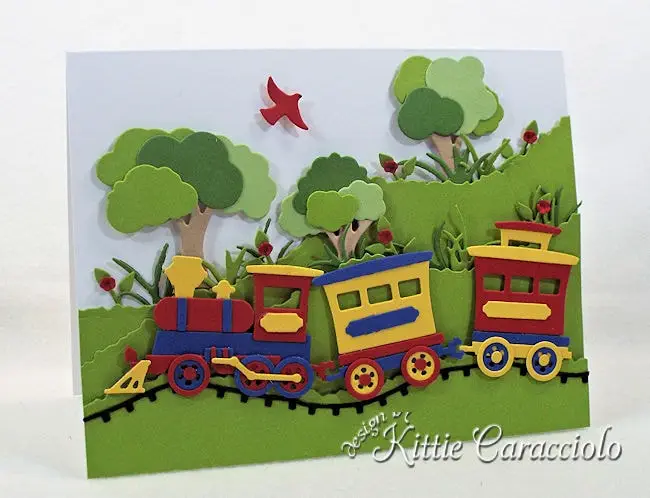 I hope you have enjoyed seeing my die cut train scene cards.  Don't be put off by all the parts and pieces of this set.  They all go together easily and form this precious little choo choo train. Thanks for coming by today and I hope you have a great start to your week.
5202-07D Train Die Cut

5210-01D Cloud Trees Die Cut

5173-02D Deckle Hills Die Cut

5210-02D Grass #2 Die Cut

Tiny Flower Buds Die Cut 5147-10D

Flower Stems Die 5147-05D

Small Birds Die 5147-06D

Bazzill Card Shoppe Cardstock, Easter…

Bazzill Card Shoppe Cardstock,…

Bazzill Card Shoppe Cardstock, French…

Bazzill Card Shoppe Cardstock,…

Bazzill Card Shoppe Cardstock,…

Bazzill Card Shoppe Cardstock,…

Bazzill Card Shoppe Cardstock,…

Bazzill Card Shoppe Cardstock,…

My Colors Cardstock – My Minds Eye -…

Bazzill Card Shoppe Cardstock, Icy…

Neenah Cardstock, Neenah Heavyweight,…

Ranger Distress Ink Pad, Vintage Photo

Ranger Distress Ink Pad, Antique Linen

Ranger Distress Ink Pad, Wild Honey

Ranger Distress Ink Pad, Shaded Lilac

Ranger Distress Ink Pad, Worn Lipstick

PanPastel Sofft Mini Applicators, 12 pk

Elizabeth Craft Designs Susan's…

Molding Pad

Scotch Foam Mounting Tape

Ranger Accents, Mini Glossy Accents

Be Creative Tape, 3mm (1/8″)

My Sweet Petunia MISTI Laser Etched…

My Sweet Petunia Mini MISTI Laser…

Be Creative Tape, 7mm (3/10″)

Be Creative Tape, 15mm (3/5″)

Be Creative Tape, 25mm (1″)

Be Creative Tape, 5mm (1/4″)

EK Tools, Precision 5 Inch Scissors…

Ranger Non-Stick Craft Sheet

Glue Dots, 3/8″ (4029)

Glue Dots, Mini (3/16″)

Glue Dots, Micro (1/8″)

ATG Double-Sided Refill Tape, 2 pk, 1/4″

ATG Kit, Advanced Tape Glider

Ranger Accents, Glossy Accents

Creative Expressions Cosmic Shimmer…

Crafter's Pick The Ultimate Glue, 4 oz.

Hero Arts Embossing Gun (Wagner)

Teflon Bone Folder

Scor-Pal Measuring & Scoring Board 12×12

Scor-Pal Glitter Clean-Up Cloth

Memory Box Dies, Metal Adaptor Plate…

Sizzix Accessory – Standard Magnetic…

Sizzix Accessory – Precision Base…

Sizzix – Big Shot Express Machine…

Sizzix Big Shot White & Gray

Dremel 7700-1/15 MultiPro 7.2-Volt…