You might have seen this card and I got so many nice comments about it, I decided to make a SLIMLINE camping card. As I have said, I wasn't 100% sure how I felt about these slimline dies but when I started using them I realized how FUN they are! They give you so much more space to add extra details and this slimline camping card shows that off so well. And I got to use even more of those fabulous new cardmaking dies from Rubbernecker!
For this camping card I used the Slimline Solid Deckle, Deckle Hills, Camping Tent, Picnic Table, Camp Fire, Camping Items, Cooler, Leaf Group and Tiny flower Buds.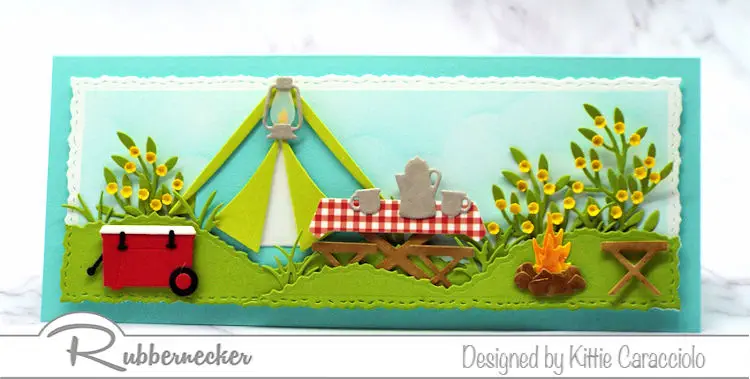 Slimline Scene Base and Grass Layer
Cut a 3.50″ x 8.50″ card base using aqua cardstock and a slimline deckle layer using white card stock.
Cut two deckle hills section using green cardstock.
Use the slimline deckle frame to cut the edges and bottom of both deckle hill sections.
Mask off the edges of the deckle layer using masking tape. 
Apply the blue sky background using a large blender brush and blue ink and then remove tape.
Apply strips of mounting tape to the back of the deckle scene layer and attach it to the card base.
Attach strips of mounting tape to the back of the deckle hills layers and attach them to the scene layer.
The Camping Tent and Picnic Table
Cut the fence sections out using green, aqua and white cardstock.
Assemble the pieces and attach them together using rolled up strips of double stick tape.
Cut the picnic table and benches using Kraft cardstock and color them using a mini applicator and brown ink.
Use gingham designer paper to cut the tablecloth section.
Attach the table cloth to the picnic table using rolled up strips of double stick tape.
Tuck the tent, table and benches in behind the grass sections and attach them using pieces of mounting tape.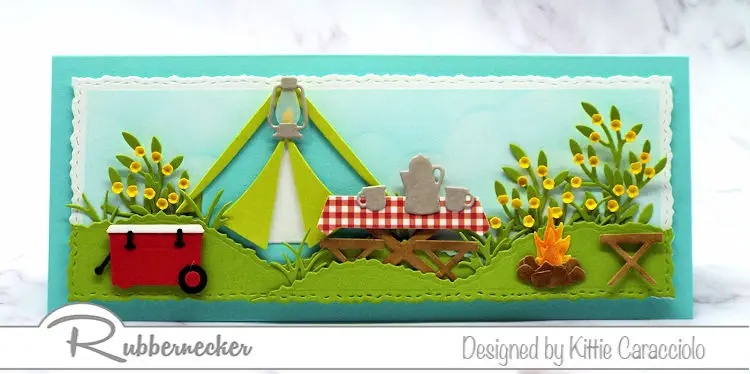 The Camping Accessories
Cut the cooler using red, white and black cardstock. and assemble the pieces using glossy accents.
Use gray cardstock to cut the lantern, cups and coffee pot.
Cut the campfire sections using bright yellow cardstock and Kraft cardstock.
Color the camp fire rocks using a mini applicator and brown ink and attach the pieces together using glossy accents.
Attach the flame sections to the rocks using glossy accents. 
Apply touches of yellow and red stickles to the flame to create the sparkle of fire.
Attach the lantern, coffee pot and cups and camp fire to the scene using rolled up glue dots and mounting tape.
Finish the Scene
Use green cardstock to cut the branches and grass sprigs and yellow cardstock to cut the tiny flowers.
Form the tiny flowers using a small tipped stylus and molding pad.
Attach the tiny flowers to the green branches using glossy accents.
Tuck the grass sprigs and flower branches in behind the grass layers and attach using glossy accents.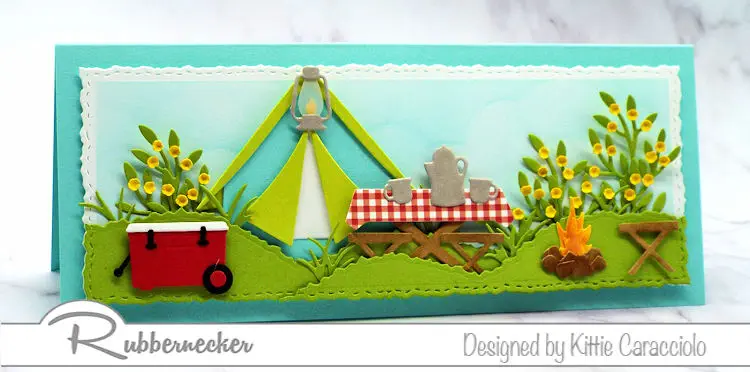 Here is the list of items I used to make this cute card:

5322-05D Slimline Solid Deckle Die

5173-02D Deckle Hills Die Cut

5323-03D Camping Tent Die

5202-08D Picnic Tables Die Cut

5323-01D Camp Fire Die

5323-02D Camping Items Die

5313-03D Cooler Die

Leaf Group die 5118D

Tiny Flower Buds Die Cut 5147-10D

Color Fuse Set #9

Color Fuse Set #3
| | | |
| --- | --- | --- |
| Sizzix – Paper Sculpting Kit | Life Changing Blender Brush Set,… | Mini Applicators, 12 pk, PanPastel Sofft |
| Scotch Foam Mounting Tape | 5mm (1/4″), Be Creative Tape | ATG Kit, Advanced Tape Glider |
| Mini Glossy Accents, Ranger Accents | Teflon Bone Folder, Essentials by Ellen | Scor-Pal Measuring & Scoring Board 12×12 |
| Crossover II Fabric & Paper Cutting… | Ranger Stickles, Yellow | Ranger Stickles, Christmas Red |
If you love camping OR know people who do ('cause, truly, not everyone loves camping!), you might want to make a camping card like this to bring or send to show off your love of the pursuit AND your skills!