We all have those holiday or seasonal dies that we only get to use at certain times of the year but today I am going to show you how to use your poinsettia die cuts all year round to make summery flowers like this stunner. I know, right? It looks a little like one of those roses that opens with triangular shaped petals and it's such a blockbuster on its own that it's all this card needs – you can pop on any greeting and you've got something truly special to share!  For this card I used Rubbernecker's Poinsettia #2, Large Ivy and Diamonds Tattered.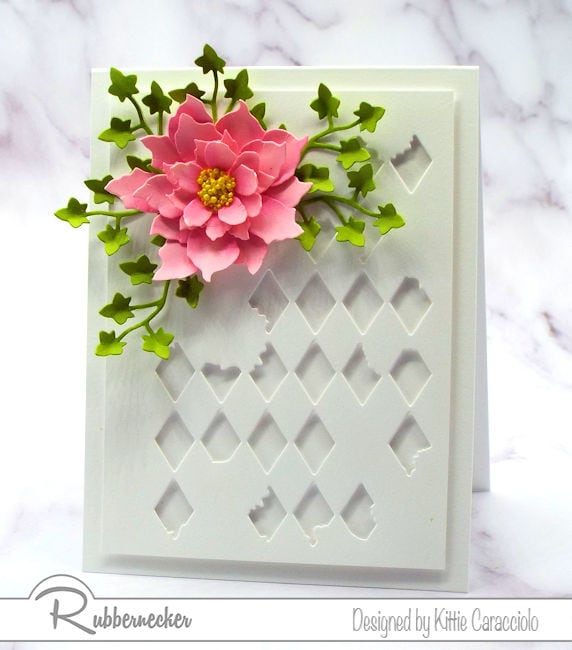 Card Base and Decorative Layer
Use white cardstock to cut the A2 sized card base and a 5.00″ x 3.75″ layer.
Apply strips of mounting tape all the way around the back edges of the die cut layer.
Reinforce several key spots on the back of the die cut layer with small pieces of mounting tape to make sure the layer stands away from the card base.  Pro Tip:  I always reinforce a die cut layer with mounting tape when a die cut pattern covers the major portion of the layer.  In this case the diamond cut made the cardstock so flexible that it wanted to buckle in and lay flat on the card base.  Placing pieces of mounting tape behind a few solid diamonds held the layer away from the base.
The Transformed Poinsettia 
Use pink cardstock to cut a couple sections of the poinsettia.
Apply Rose ink to the petals using a mini applicator.
Apply darker shades of pink to the flower centers and out to the outer edges 0f each petal using Blush ink and a mini applicator.
Place all the poinsettia sections face up on the molding pad .
Use a large round stylus to push down in the center of each flower layer and then push down and roll the stylus over each petal to push the petals up.
Attach the flower sections together using glossy accents and making sure to offset the layers for a natural looking flower.  Note:  For this flower I only used the three larger sizes of flower layers and used a couple of each size to create a natural looking flower.
Apply Connect Glue to the flower center and use yellow Prills to create the flower center.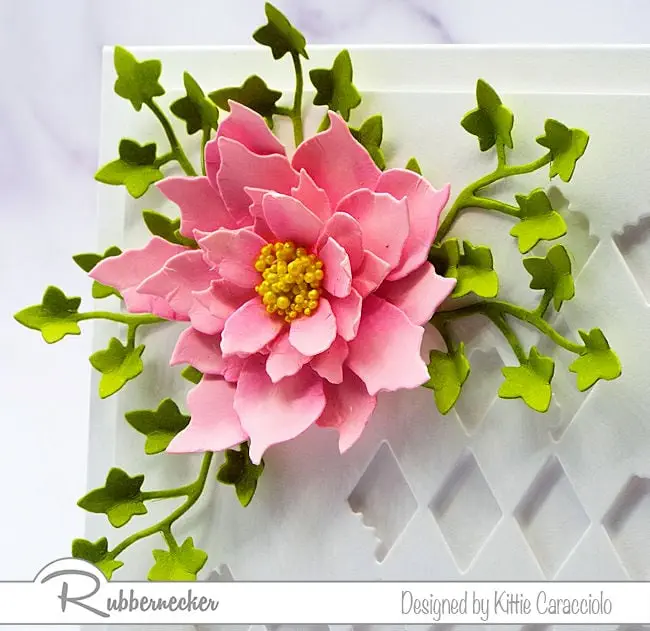 Arrange the Poinsettia and Ivy
Use green cardstock to cut several sections of ivy.
Place each branch on the molding pad and push down on each leaf using the leaf tool to add dimension.
Apply a good amount of glossy accents to the back of the back of the flower and attach it to the top corner of the die cut layer.
Allow the glue to dry a couple minutes to make sure the flower is secure.
Trim the ivy branches as needed to fit in the design and tuck them in under the flower and attach using glossy accents.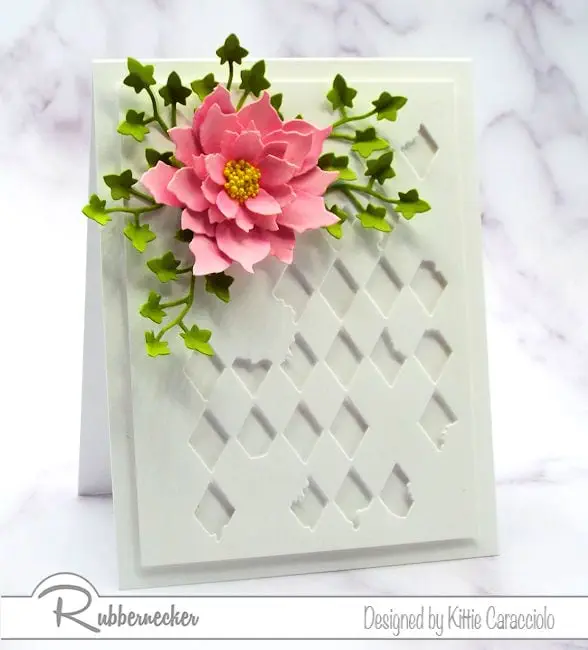 Did you seriously ever imagine that you could use your poinsettia die cuts to create something that looks so different? I truly do love all the flower dies from Rubbernecker because they really let me go full scale flower crazy and create all kinds of new looks using basic shapes. Try this out – you will LOVE it!
5304-02D Diamonds Tattered Die

Poinsettia #2 5169D

5162-02D Large Ivy

Color Fuse Set #5

PanPastel Sofft Applicators 12/Pkg
| | | |
| --- | --- | --- |
| Sizzix – Paper Sculpting Kit | Mini Glossy Accents, Ranger Accents | You Had Me At Yellow – Prills 3oz |
| Connect Glue, Gina K Designs | Scotch Foam Mounting Tape | ATG Kit, Advanced Tape Glider |
| Teflon Bone Folder, Essentials by Ellen | Scor-Pal Measuring & Scoring Board 12×12 | Crossover II Fabric & Paper Cutting… |
It's fun to create different flowers using poinsettia die cuts.