See how you can create this handmade western card with incredible details!
I am so excited to show you this handmade western card because I was so impressed with how detailed everything turned out thanks to the new Rubbernecker Saddle and Wagon Wheel die set paired with the Deckle Hills,  Deckle Frame and Picket Fence along with some textured card stock. The new dies have every single last detail needed to just cut, assemble and look like a paper crafting wizard! Read through for all my instructions and tips.
NOTE: I hear people say "Oh, I could never make that!" and I am here to tell you that YES you CAN! When I tell you that the dies do all the hard work, I am being totally truthful! You can pick up the tips and tricks for assembly here from me – I always share the details in project posts – and even if your card doesn't come out exactly the same, it will be fabulous!
OK – here we go!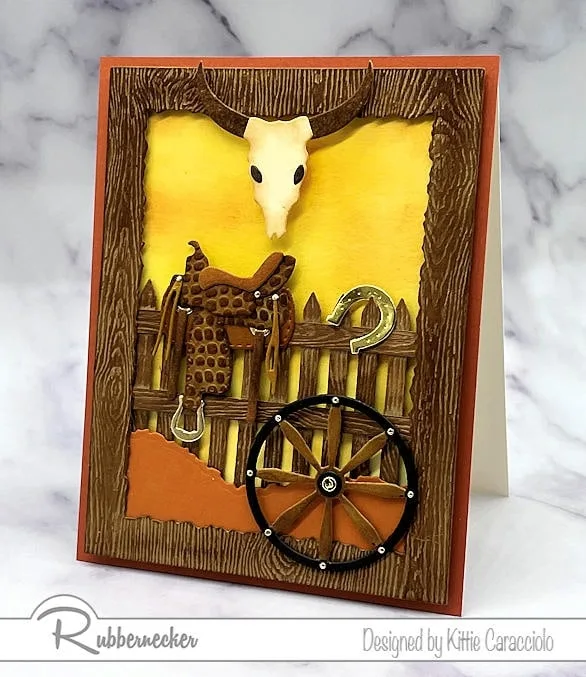 Card Base, Frame and Fence
Use white cardstock to cut an A2 sized card base and a 5.50″ x 4.25″ orange layer.
Attach the orange layer to the card base using ATG adhesive.  
Use white cardstock to cut the background layer and apply Custard and Citrus inks using a blender brush.
Attach the sky background layer to the card base using ATG adhesive.
Use woodgrain cardstock to cut the frame, four fence sections and two 4″ x 1/4″ strips and apply Cinnamon ink using a wet baby wipe.
Attach two fence sections together using glossy accents and repeat the steps for the second set of fence sections.  
Layer one fence section on top of the second and attach together using glossy accents.
Use the thin strips of cardstock to cover the two rail sections.  
Cut one section of Deckle Hills using orange cardstock. 
Assemble the Main Sections of Your Handmade Western Card
Attach the orange ground section to the back of the frame using double stick tape.
Apply strips of mounting tape to the back of the frame and attach the fence sections.
Apply double stick tape to the back bottom edges of the fence and tiny pop dots to the back of the pickets. Pro Tip:  Adding pop dots to the back fence pickets allows it to stand away from the background for added dimension.  
Attach the frame to the card base.  
Saddle
Use Kraft and gold metallic cardstock to cut the saddle sections.
Emboss the seat and fender saddle sections with a textured embossing folder.  Note:  I used the retired Cuttlebug Mesh Textured folder and I couldn't find it anywhere to link for you.
Apply Cinnamon ink to the embossed sections with a wet baby wipe to get into all the grooves.
While still wet rub the Cinnamon ink pad directly over the embossed sections again to add darker tones of color to the raised mesh to create the appearance of snakeskin texture.
Apply Cinnamon to the seat section using a wet baby wipe.
Use Caramel ink and a wet baby wipe to color the saddle strings.
Apply Cinnamon and Apricot inks to the top seat section using a mini applicator.
Attach all the sections together using glossy accents.
Use a large piece of mounting tape to attach the saddle to the fence.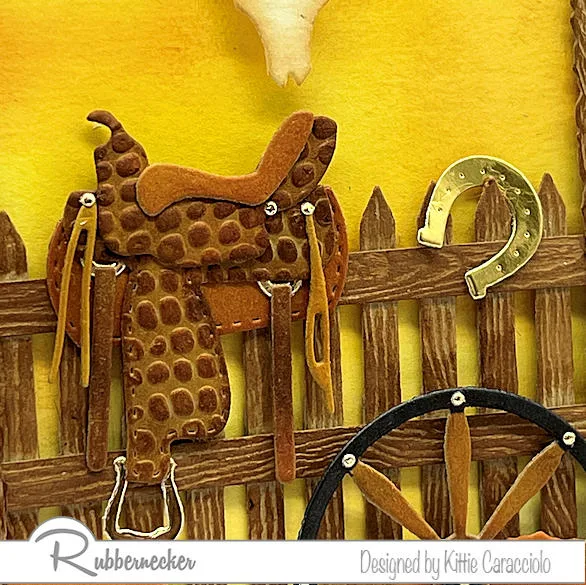 Wagon Wheel, Steer Skull and Horseshoe 
Cut the steer skull using cream cardstock.
Color the horns using a dark brown marker and the eyes using a black marker.
Attach the skull to the background using a piece of mounting tape.
Cut the wagon wheel using Kraft cardstock , color the spokes using Cinnamon ink and a mini applicator and the rim with a black marker.
Cut the trim pieces using metallic gold cardstock and attach to the wagon wheel using glossy accents.
Attach the wheel to the card base using tiny pop dots.
Use gold metallic cardstock to cut the horseshoe and attach it to the fence using glossy accents.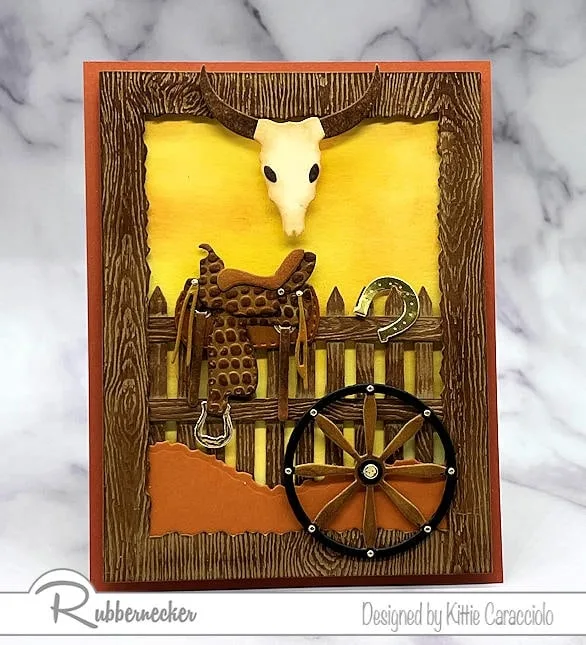 Do you see how when you break down the different parts of this handmade western card it's not that epic of a project but yields jaw dropping results? Grab up what you don't already have below and bookmark the post so that when your goodies arrive, you can start making your cards right away!
5424-07D Saddle and Wagon Wheel Die

5176-01D Deckle Frame Die

Picket Fence Die Cut 5152-01D

5173-02D Deckle Hills Die Cut

Color Fuse Set #1

Color Fuse Set #2

Color Fuse Set #3
| | | |
| --- | --- | --- |
| The Color Catalog by Sarah Renae Clark | Woodgrain Embossed 110 lb Tan – 10… | Metallic Gold Foil – 5pk, Bazzill… |
| Picket Fence Studios – Tools – Life… | COPIC Sketch Marker 100, Black | Mini Applicators, 12 pk, PanPastel Sofft |
| Susan's Garden Ultimate Tool Kit | Sizzix – Paper Sculpting Kit | Scrapbook.com – Magic Mat – Standard… |
| Scrapbook.com – Magic Mat – Standard… | Crossover II Fabric & Paper Cutting… | Amazon.com : Dahle 550 Professional… |
| Scotch Advanced Tape Glider & Tape | Mini Glossy Accents, Ranger Accents | Amazon.com: 1000 Pieces Foam Sticky… |
| Amazon.com: Mini Foam Dots… | Amazon.com: Scotch 1/2-Inch by… | Teflon Bone Folder, Essentials by Ellen |
| Scor-Pal Measuring & Scoring Board 12×12 | Glue Dots, Mini (3/16″) | Amazon.com : Accent Opaque White 8.5"… |

The western part of our country has such beautiful scenery and imagery and I am really happy that Rubbernecker has added these beautifully detailed die sets to their collection. The die set made it so easy for this Florida girl to create a handmade western card that is totally authentic and send-worthy!