Check out how incredibly easy it is to make a stunning card when you start with the Rubbernecker Scenic Route Paper Pad!
Recently I shared this card that I made using one of the designs from the Rubbernecker Scenic Route Paper Pad and you loved it. Today I have another one that was SO fast and easy to make and I think it's just so beautiful. Fellow Rubbernecker Design Team Member Melinda Stearns handpainted every design in this and her Watercolor Beauty 6 X 6 Paper Pad and I think she is just so talented! Her colors, her brush strokes, her ability to create light…..just beautiful. And when you use these paper pads as your starting points for your own cards, well, you are already ahead of the rest!
For this card, I used one of the designs from The Scenic Route 6×6 Paper Pad and added a few die cut details using Rubbernecker's Tabbed Birch Trees, Deckle Hills, Deckle Hills, Tiny Leaves #2 and the  Pine Tree Clear Set for the sentiment.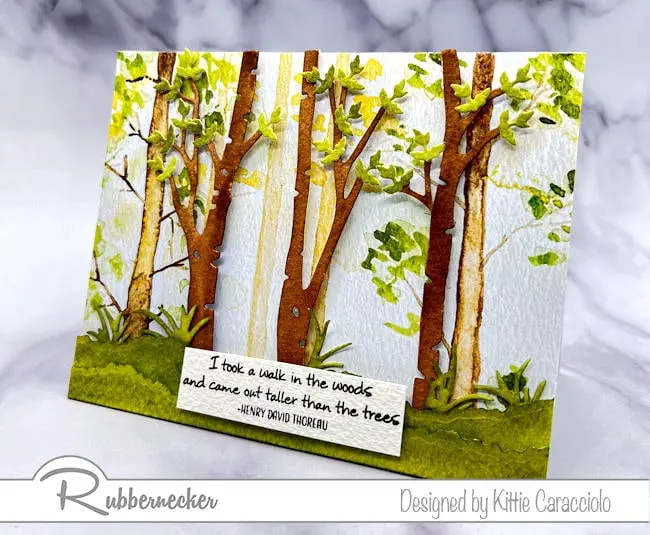 Let me walk you through the making so you can see how easy this card was to make.
Card Base
Use white cardstock to cut an A2 sized card base.
Cut a 5.50″ x 4.25″ piece of The Scenic Route 6×6 Paper Pad. I chose the hand painted copse of trees but the other designs, which I will show below, can all be adapted in this way; that is, adding die cut elements over the backgrounds. Easy, quick and no one will know how you made it!
Apply ATG adhesive to the back of the designer paper and attach it to the card base.  Pro Tip:  To guarantee a good fit for the designer paper layer I trim about  1/16″ off of one side and the bottom ends of the card base.  I started doing this  to line up the paper and base because I had messed up so many times.  LOL!
Die Cut Trees and Leaves
Use Kraft cardstock to cut the Tabbed Birch Trees.
Apply Pecan Color Fuse Ink from Set #3 to the trees using a wet baby wipe and dry with your heat gun.
Cut a piece of white cardstock large enough to cut out two sections of the middle  leaf section of the Tiny Leaves #2.
Lightly mist the cardstock and gently swipe the Fern Color Fuse Ink pad from Set #11 directly across the paper allowing lots of white show.
Follow up by swiping the Grass Color Fuse Ink pad from the same set to the cardstock but still allowing the lighter green  to show.
Finish by swiping a wet baby wipe of the cardstock to smear the two greens together but allowing both colors to show.  Pro Tip:  I took this extra step because I wanted my leaves to match the leaves on the designer paper.
Cut the leaves Tiny Leaves #2 and attach them to the tree branches using glossy accents.
Deckle Hills and Grass Twigs
Use watercolor paper to cut a layer large enough to use for the Deckle Hills and a few Grass #2 twigs.
Lightly mist the paper and lightly swipe the Grass Color Fuse Ink pad across the paper.
Finish by swiping a wet baby wipe across the paper to blend the ink.
Cut two sections of the Deckle Hills and one set of the Grass #2.
Attach the first hill section directly to the card base using ATG adhesive.
Use a strip of mounting tape to attach the front section of hill to the base.
Apply thin strips of mounting tape to the back of the trees, tuck them in behind the grass and attach to the card base.
Tuck a few sprigs of grass behind the grass layers and attach using glossy accents.
Stamp the sentiment on a small piece of watercolor paper using Nocturne ink.
Attach the sentiment to the front of the card using a piece of mounting tape.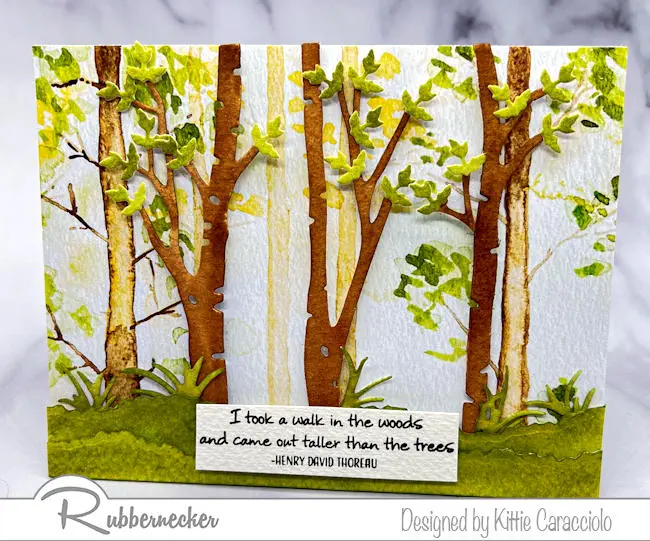 Now doesn't that card look like it was a LOT more work than that? Thanks to Melinda's artistic talents, I got to start this card with a ready to go mini masterpiece and just the addition of these few die cut pieces brought it to life! Here's what I used today:
Tabbed Birch Trees Die Cut 5167-02D

5334-02D Tiny Leaves #2 Die

5173-02D Deckle Hills Die Cut

5210-02D Grass #2 Die Cut

3460 Pine Tree set

2018 The Scenic Route 6×6 Paper Pad…

Color Fuse Set #3

Color Fuse Set #11
And then, because I get asked all the time, here are all my other favorite crafting tools.
Now, if you haven't seen all the designs in the Rubbernecker Scenic Route Paper Pad, let me share them here so you can get a full eyeful of how marvelous they all are.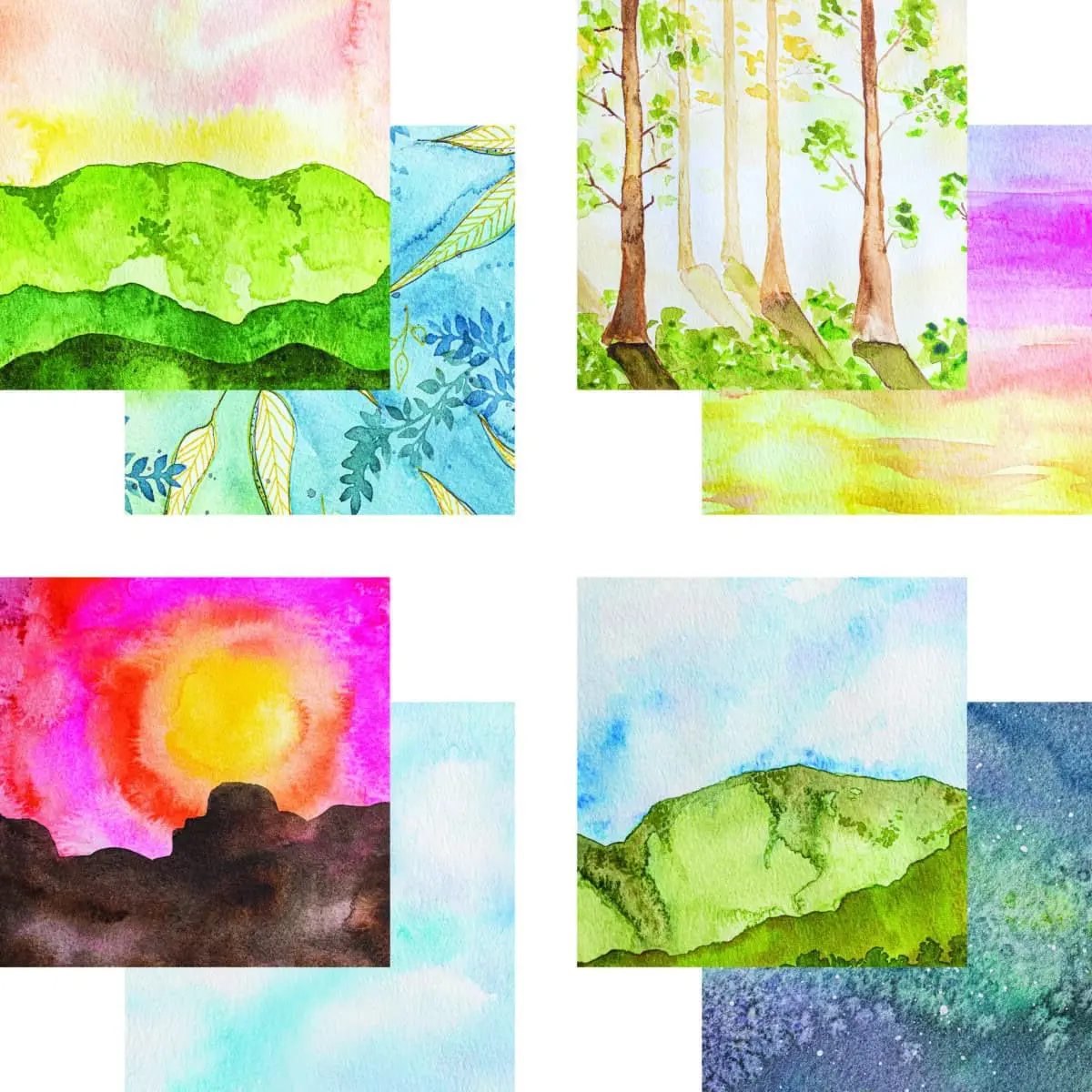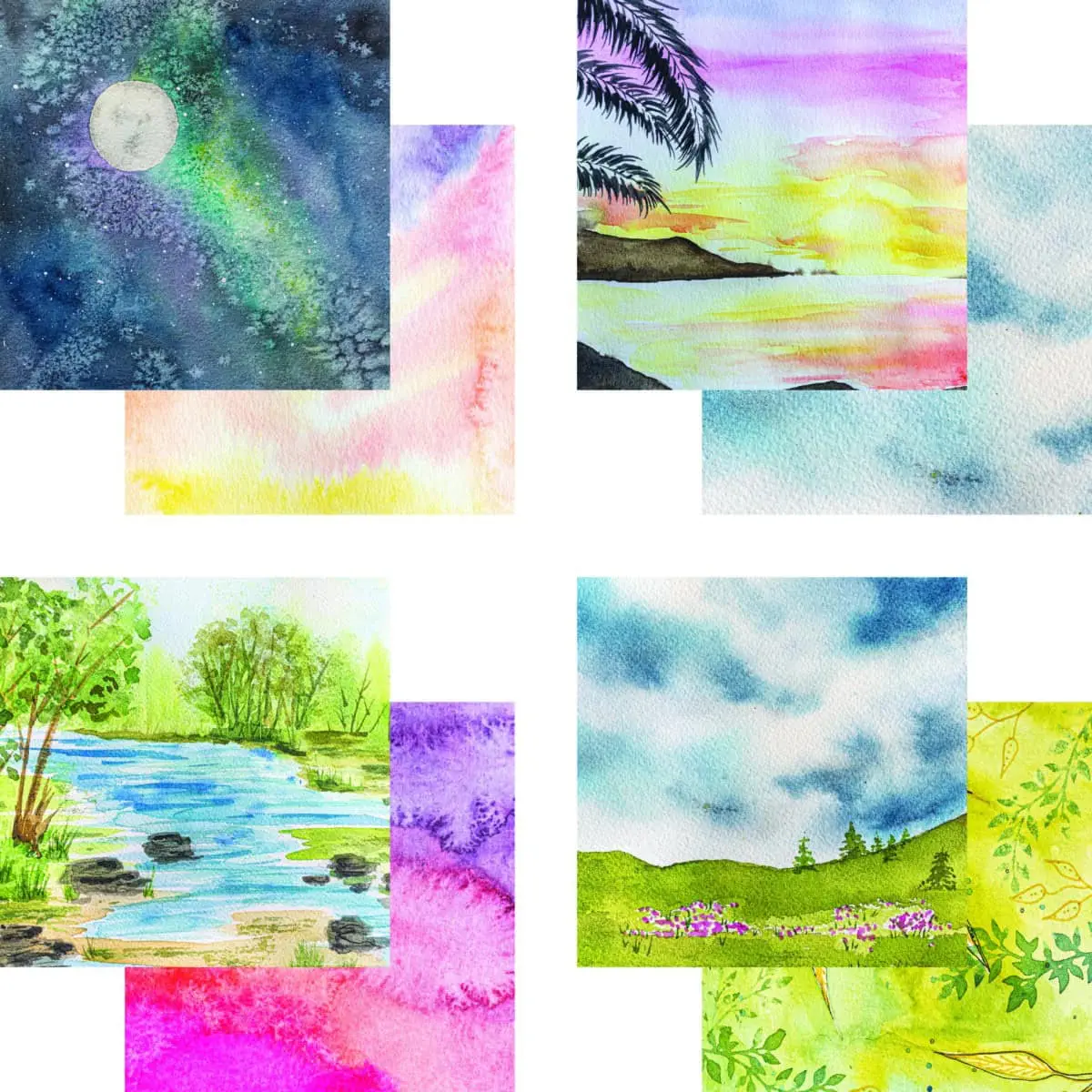 Gorgeous, right? And again, all you have to do to make a card really pop is to choose one of these designs, add some die cut elements to create a vignette and pop on any sentiment that you feel works for the card. There are endless card making options when you start with the Rubbernecker Scenic Route Paper Pad and I do so hope you pick one up on your next shopping spree so you can experience these yourself!