Come get my tips to make a die cut poinsettia be the stand out element on an easy holiday card!
Today I thought I would share some of my easy tips that you can use to make a die cut poinsettia really stand out on your projects. A little clever eye tricking shading and then a touch of physical shaping add just enough realism and dimension to these gorgeous die cut blossoms such that you can use one a single arrangement like this on an otherwise very low effort card and still end up with showstopper. I used Rubbernecker's Buildable Poinsettia die for the flower, their Holly #1 and Greenery #1 dies for my foliage, their Nested Rectangle with Small and Large Holes, for my simple sentiment layer, the new May the Season Sentiment Set for the greeting and set everything against a pattern from their new Frosty Adventures 6×6 Paper Pad.
I will let you in on a little secret – these die cut poinsettias really are pretty easy to make. I include every detail in my instructions so you don't have to leave anything to guessing so it looks like a lot. But once you make one of these, you will see that not only is it easy, it's actually kind of fun!  So while this is a very ornate looking card, it's not at all hard to make and you can sit yourself down in front of a good movie with all your die cuts and just make flowers. Pop one on each card and before you know it you've made a stack of stunners!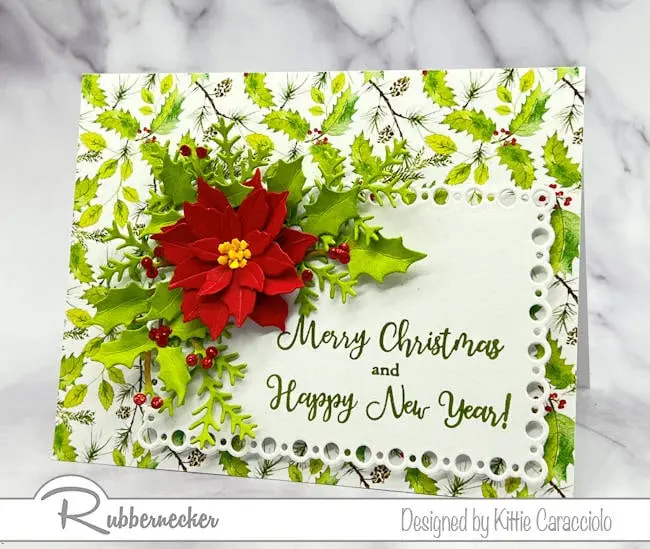 Let me give you all the glorious details.
Card Base and Sentiment Layer
Cut an A2 sized card base and a Nested Rectangle with Small and Square Holes using white cardstock.
Cut a 5,50″ x 4.25″ layer from a sheet from the Frosty Adventures 6×6 Paper Pad.
Attach the decorative layer to the card base using double stick tape.
Insert the white rectangle layer and sentiment stamp in the MISTI and stamp using coordinating ink.
Apply strips of mounting tape to the back of the sentiment layer and attach it to the card base.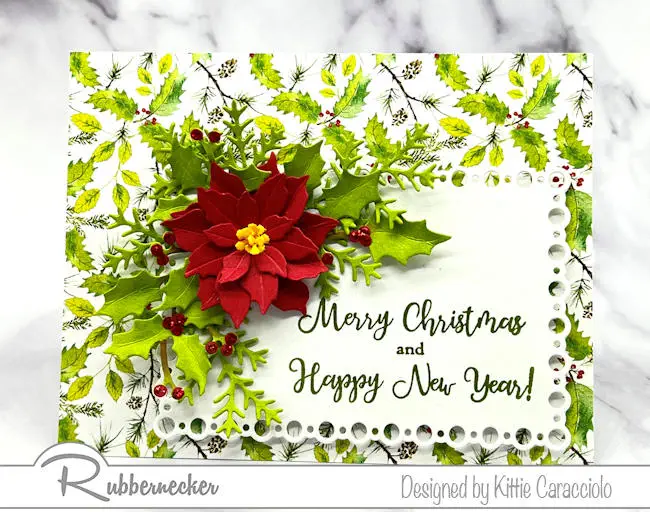 Die Cut Poinsettia and Holly Arrangement
Use green and red cardstock to cut the Holly and Greenery sections.
Apply touches of Clover ink to the holly leaves using a mini applicator.  Pro Tip:  I added the Clover ink to the leaves to mimic the holly on the designer paper.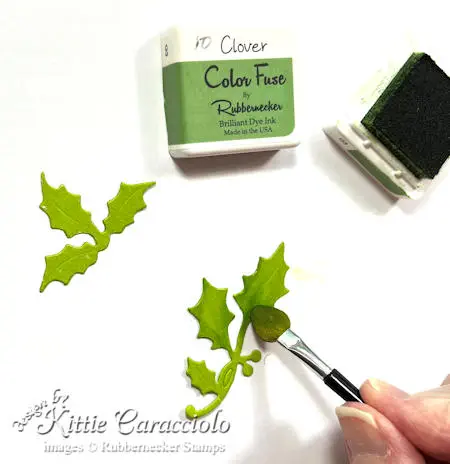 Use the mini applicator to apply touches of Pecan ink to the branch.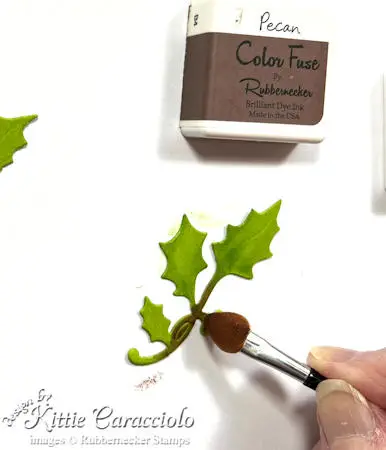 Cut the Buildable Poinsettia sections using dark red and yellow cardstock.  Note:  I cut two of the largest flower sections and one of the two smaller sizes. 
Place all of the flower sections on the leaf pad and score lines on the center of each petal using the leaf tool from my Paper Sculpting kit.
Place the flower sections face up on the molding pad and push down in the center of each using a round stylus.  
Assemble and attach the flower layers together using glossy accents.
Use glossy accents to attach the tiny yellow sections to the flower center.  Check out my Shaping and Assembling a Poinsettia video to see how I create the poinsettia. 
Apply a generous amount of glossy accents to the back of the poinsettia and attach it to the sentiment layer.
Tuck the holly and greenery branches under and around the poinsettia and attach using glossy accents.
Check out my how to Arrange Poinsettia and Holly on a Card Front video to the steps I used to create an arrangement like this.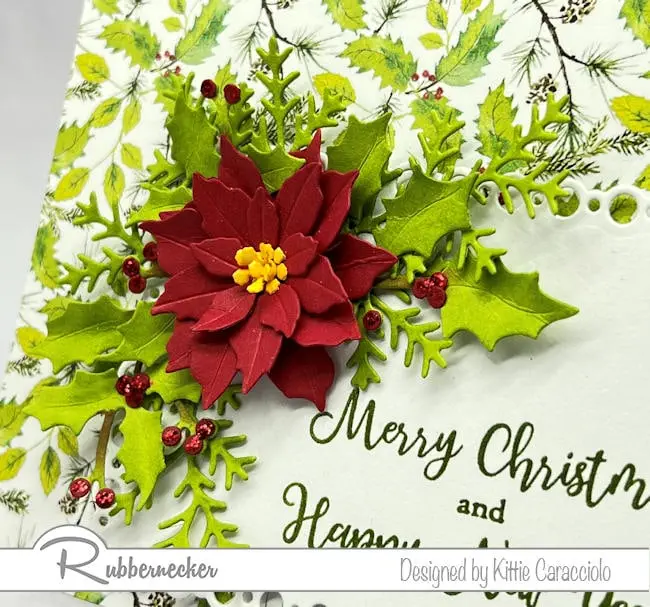 That's it! I know, right? I truly mean it when I say once you've made just one of these you will be astonished at the results and will want to make as many of these as you have time for! Here's what I used today from Rubbernecker:
5514-07D Buildable Poinsettia Die

5624D Nested Rectangle with…

Holly #1 Die Cut 5162-08D

Greenery #1 Die Cut 5162-09D

36004 May The Season

2103 Frosty Adventures 6×6 Paper Pad…

Color Fuse Set #3

Color Fuse Set #10
And here are all the other items I used from my stash in case you were wondering what something was that I used.
These little tips and tricks make a die cut poinsettia of any kind really stand out so try it out one whichever of the Rubbernecker poinsettia dies you have and see how much of a difference you can make playing around with shading and shaping. And browse all the Rubbernecker Paper Pads to find patterns you love to go with these beautiful blooms for endless ideas!