Good Monday morning.  Is it too cold where you live to think ahead to spring and summer?  I had the most fun making this project with it's flowering vine holding up the bee skep and bumblebees swarming around.  Can you call it swarming when there are only three?  LOL!
I started by cutting the twirling vine frame and attaching it to the card base with tiny strips of mounting tape. I cut the lavish branch, formed the leaves lightly with my stylus and mat and added lots of tiny formed flowers cut with the flower mound die. I attached the branch to the frame using glossy accents and several rolled glue dots.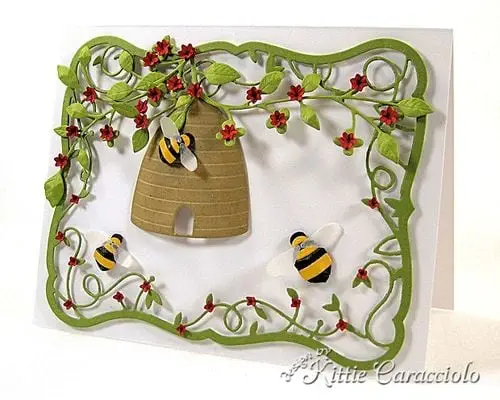 I cut the bee skep, sponged it lightly with antique linen using my ink blending tool, turned the edges inward to create a round look and attached to the base with mounting tape.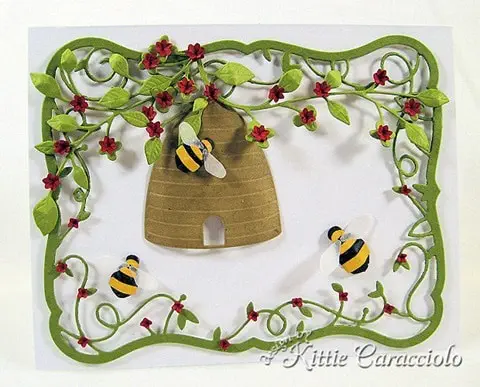 The bees were cut using black and yellow paper and the wings were cut with vellum.  I assembled the bee parts and attached them together with glossy accents.  They were formed using my stylus and mat to create that rounded effect.  I attached them with rolled glue dots. I added the tiny, tiny flowers around the edge of the frame to bring a little more color and interest for the finishing touch.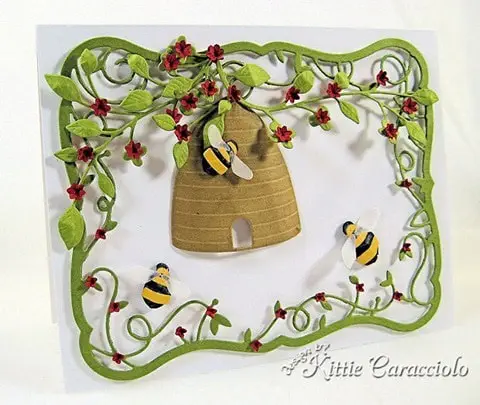 If you like adding tiny flowers to your projects and want to cut lots of them at once then the flower mound die is a perfect die to have in your collection. I used the larger flowers on the lavish branch and the tiny X shaped flowers around the frame border. Here is a larger view of the die.
I hope you have a wonderful week and I appreciate you stopping by.
Paper:  White, Olive, Red, Black, Yellow, Vellum    Ink:  Distress Ink Antique Linen     Accessories: Memory Box Honey Bee Skep, Jolly Bumblebees, Lavish Branch, Twirling Vine Frame, Flower Mound,  Glossy Accents, Mounting Tape, Metal Adapter Plate, Paper Piercer, Stylus, Teflon Bone Folder, ATG, Big Shot, Glue Dots, Inkssential Ink Blending Tool,