Good Tuesday morning.  My project today was made using the Impression Obsession Christmas Tree, Fence Trio and the holly from the Twig Wreath set. I love making snowy scenes with crimped snow and trees.  The holly and red bows pop against the white fence and snowy ground .
I cut the three fence sections and attached them together with glossy accents.  I could have made all three sections alike but thought the fence gate section added interest to the center.  I cut and crimped the trees with the straight crimper and hand cut the snowy ground with deckle scissors and crimped using the wavy crimper.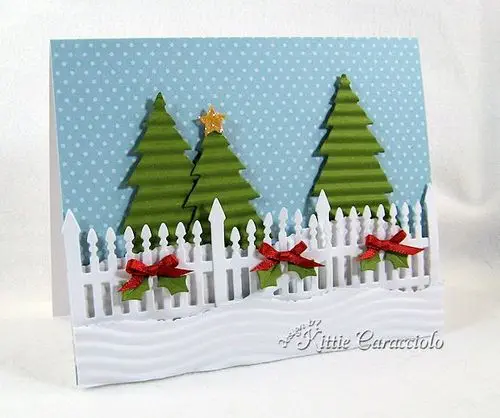 I applied adhesive to the side and bottom edge of the back ground snow and attached it to the card base.  I left the top unattached so I could slip the trees in behind it. The trees were attached with a small piece of mounting tape at the top so it would pop stand free from the background.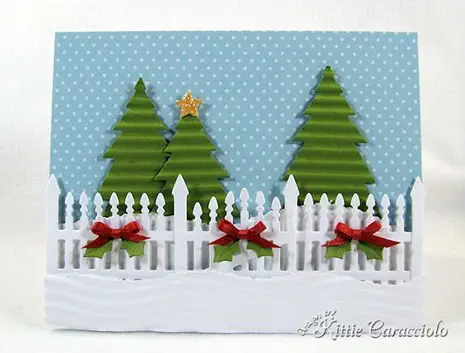 The fence was attached with mounting tape and the front ground snow was attached with a double layer of mounting tape for added dimension.  I added the sparkly tree star (you can't see the glitter in the photo), tiny bows and holly to the fence for the finishing touch.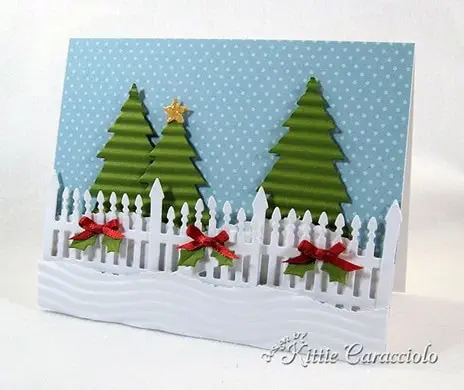 Let me talk about crimpers for a minute.  Both my straight and wavy crimpers were among the very first paper crafting tools I purchased when I started stamping back in 2003. I loved how they could add interest and dimension to paper. They definitely went out of vogue over time as the crafting accessories became more sophisticated but they never lost their appeal to me.  If you have a crimper you may want to dig it out of the back of your drawer and dust it off. 
I may have gotten the holiday cards out of my system for now but I 'm not sure.  Someone asked me if I would be making more flowers soon.  LOL!  Thanks for stopping by today and I hope you have a great day.
Paper:  Papertrey Pattern Pack, White, Olive, Apricot       Accessories:  Impression Obsession Christmas Tree, Fence Trio, Twig Wreath, Crimper, Wavy Crimper, Glitter, Satin Ribbon (Michaels), Glossy Accents, Mounting Tape, Glue Dots, Snips Metal Adapter Plate  , Glue Dots  , Paper Piercer  , ATG  , Big Shot  , Teflon Bone Folder, Guillotine Paper Cutter